British Pound Jumps into the Weekend, Seasonality Cited
© Adobe Stock
Pound Sterling is looking intent on ending the week on a strong footing - rising against all major currencies into the London close.
The Pound-to-Euro exchange rate is noted 0.42% higher at 1.1483 at the time of writing, taking it back to a key resistance level that it has been trying to break above for months now. This is interesting - will Sterling bulls capitulate once again or is the market setting itself up for a big break, finally?
The Pound-to-Dollar exchange rate is meanwhile quoted at 1.4088, 0.58% higher.
There is nothing on the charts to suggest the move in the Pound might be driven by moves in another major currency, for instance a sharp fall in the Euro which would help the GBP/EUR exchange rate higher.
This does in fact look to be a genuine lift in the Sterling exchange rate complex.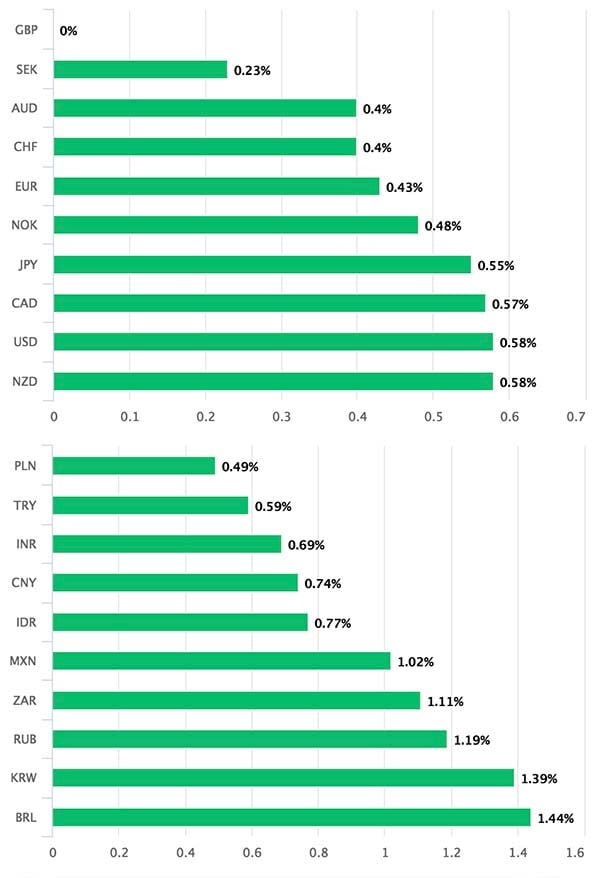 Above: The Pound advanced on all of the world's major currencies ahead of the weekend
The best explanation we have come across for the move is 'seasonality' - "so GBP's April seasonality looks to be kicking," says Viraj Patel, an analyst with ING Bank in response to the jump.
G10 #FX pairs show strong seasonal trends in April - with $GBPUSD at the top of the list (average +2.20% since 2010). $EURCHF & $EURUSD also show seasonal tendencies.
More broadly, April is typically a bad month for $USD (-1.6% on avg in last 7 years). History to repeat itself 👍 pic.twitter.com/AxvDShfqnJ

— Viraj Patel (@VPatelFX) April 3, 2018
We have noted that the British Pound "tends to Rally no Matter what" in April owing to factors concerning the end of the tax year and the dividend flows that are triggered.
"Within the G10 FX complex, there is no stronger seasonality than in GBP through April," says Kamal Sharma with Bank of America Merrill Lynch Global Research. "GBP/USD has rallied every single year for the past 14 years."
Sharma says this "remarkable outperformance" covers major events such as the financial crisis, general elections and the Brexit referendum, and suggests to him a consistently strong underlying flow which has trumped these idiosyncratic factors.
"A combination of the end/start of the UK tax year and a heavy month of dividend payments by UK corporates are factors which we think are at play driving GBP strength during April," says Sharma.
Bank of America are looking to bet on a rise in Sterling against the US dollar in particular and are entering a trade at 1.4080 eyeing gains as far as 1.4445.
Also turning bullish on the Pound this April are Deutsche Bank, who in a note to clients say we are "entering a period in which seasonal gains for GBP have been very strong as a result of dividend repatriation flows. GBP TWI has rallied each of the last fourteen years during the month of April."
"While Sterling denominated dividends are in structural decline, they might buck the trend this year as income from commodity-based FDI investments should be strong," says Oliver Harvey at Deutsche Bank.
Deutsche Bank - one of the world's largest foreign exchange dealers - have told clients they are turning "tactically bullish" on the British Pound, expecting further strength as recent Brexit developments have reduced tail risks to the economy, and currency.
Advertisement


Get up to 5% more foreign exchange by using a specialist provider to get closer to the real market rate and avoid the gaping spreads charged by your bank when providing currency. Learn more here.