Pound Sterling in Knee-Jerk Reaction to Bank of England Update
- Saunders and McCafferty want higher rates now
- But doubts over May interest rate rise are clearly evident
- Expect Pound Sterling to be volatile as markets settle on narrative
Above: The Bank of England MPC © Elif Miotti
Two members of the Bank of England's Monetary Policy Committee have voted to raise interest rates in the March meeting in a clear signal to markets that the Bank is in the mood to push interest rates higher.
Markets had expected a 7-0 decision in favour of keeping interest rates unchanged ensuring the outcome to be a positive one for the British Pound.
Saunders and McCafferty wanted an earlier hike having noted that "slack was largely used up and that pay growth was picking up, presenting upside risks to inflation in the medium term".
The minutes to the March meeting did however reiterated that future interest rate rises would be gradual and limited, in line with previous guidance and this will have seen markets pare back bullish expectations somewhat.
The initial response by currency markets was to buy Pound Sterling; the Pound-to-Euro exchange rate had risen 0.5% and shot above the key 1.15 barrier to be quoted at 1.1526 at one point while the Pound-to-Dollar exchange rate was seen 0.26% higher at 1.4180 at one stage.
The reaction confirms the call made by TD Securities that there was an 80% chance Sterling would go higher in reaction to the BoE event, the full article can be found here.
However, we note the move appears to be something of a knee-jerk reaction and caution that Sterling's moves might be erratic in the minutes and hours following the decision as markets settle on a narrative.
Therefore gains could quite quickly turn to losses.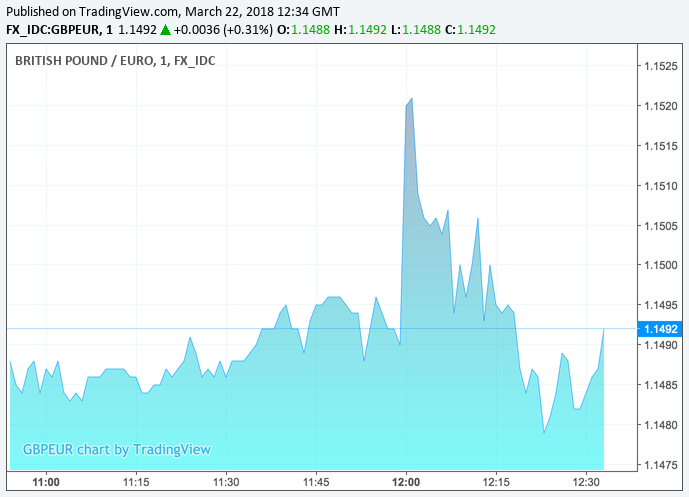 Above: GBP/EUR struggles to make sense of the MPC's guidance on interest rates.
Samuel Tombs, Chief UK Economist with Pantheon Macroeconomics reckons markets could be in for a nasty surprise if they think the Bank will raise interest rates in May.
"Ignore the split rate vote; the real news is that the Committee has chosen not to signal an imminent rate rise as clearly as it did last year. Back in September - the meeting before it hiked rates in November - the Committee said it would hike 'over the coming months'. Today, the Committee has not given any time-bound guidance," says Tombs.
Indeed, the Bank has reiterated its conclusion from February that an "ongoing tightening of monetary policy over the forecast period would be appropriate".
We do however note that this in itself is not a surprise with many in the market expecting such an outcome.
The Committee's confidence has been knocked by a "few surprises in recent economic data", which Pantheon Macroeconomics assume to refer to the below-consensus PMIs, soft retail sales figures and February's 2.7% CPI inflation rate, which was below the Committee's 2.9% forecast.
"A rate increase in May still is under active consideration, but the likelihood is nowhere near as high as the 80% chance priced-in by markets before this meeting. We continue to expect activity and inflation data to surprise the Committee to the downside, ensuring that it waits until August to raise interest rates again," says Tombs.
If currency markets adopt a similar view we would expect the British Pound to come off its recent highs against the Dollar and Euro.
Paul Hollingsworth at Capital Economics believes "a May hike is not set in stone" saying if the economy were to turn out much weaker than the MPC expects (it forecasts Q1 GDP growth to come in at 0.3% q/q, revised lower since February due to the severe weather), or wages growth to soften markedly, "then the Committee might decide to pause a while longer".
But Capital Economics say their base-case view is that rate rises are coming. "The MPC will hike interest rates in May. And if the economy continues to surprise on the upside, as we expect, then that should allow the MPC to raise interest rates twice more before the end of this year," says Hollingsworth.
That said, opinion on the matter is quite divergent with Kallum Pickering, Senior UK Economist with Berenberg Bank saying they are actually upping their forecasts for Bank of England interest rate rises over coming months.
Berenberg cite an expected healthy acceleration in nominal wages and real GDP growth now that inflation is starting to fall back.
"We upgrade our BoE outlook to four 25bp hikes over the next two years, up from three before, with two hikes in 2018 and now two in 2019, up from one," says Pickering.
This would take the bank rate to 1.5% by the end of 2019.
"We look for the next 25bp hike in May 2018. With its negative real rate and large balance sheet, the BoE will remain accomodative well into the medium term. The normalisation of monetary policy reflects the improvement in the economy. It poses little threat to it," says Pickering.
Advertisement


Get up to 5% more foreign exchange by using a specialist provider to get closer to the real market rate and avoid the gaping spreads charged by your bank when providing currency. Learn more here.