Pound is 'King of the Currency Markets' as EU and UK Agree Transitional Brexit Deal, More Gains Ahead say Analysts
- Deal represents major removal of uncertainty for businesses
- Analysts agree the door to further gains has been opened
- Ireland remains a sticking point

© European Union, 2017 / Source: EC - Audiovisual Service / Photo: Lukasz Kobus
Pound Sterling was the best performing major currency at the start of the new week on news a deal on a transitional Brexit period between the UK and EU has been agreed.
Chief EU Brexit negotiator Michel Barnier released a Draft Agreement on an implementation period, hailing the move as a "decisive step" towards an "orderly withdrawal" of the UK from the EU saying the vast majority of outstanding issues concerning the UK's exit had now been agreed.
"We were able to agree on a large part of what will make up an international agreement for an ordered withdrawal of the UK," says Barnier.
"Sterling is king on currency markets today after chief negotiators Barnier and Davis reached a conditional deal on a transition period after Brexit. The two parties also reached complete agreement on the financial settlement and on EU citizens rights," says Piet Lammens a currency analyst with KBC Markets in Brussels. "The pound rallied with GBP/USD breaching through 1.40 and EUR/GBP diving towards 0.8750. Avoiding a hard brexit facilitates the BoE's tightening process."
Barnier also told journalists that negotiations are not yet at the end of the road and warned the Irish border remains an issue while also reminding his audience that nothing is agreed until everything is agreed.
Nevertheless, for Sterling the news represents a significant removal of uncertainty; it is uncertainty that has kept the currency under pressure in the run up to, and in the wake of, the June 2016 referendum.
"This is what businesses have been calling for since last summer. It brings a welcome gift of time for firms on both sides. While some sectors may need more than 20 months to prepare for post-Brexit life, this is a victory for common sense that will help protect living standards, jobs and growth. It shows what can be achieved when people and prosperity are placed above politics and ideology," says Carolyn Fairbairn, CBI Director-General.
"With a year to go, this breakthrough must set the pattern for the future. Other hurdles on the Brexit path now need to be cleared in the same spirit, including urgent resolution of the Irish border," adds Fairbairn.
The CBI head adds that a year ago both sides ruled out an early transition deal but "today both sides have agreed one. The voice of prosperity and evidence from the business community is being heard. This spirit of compromise must be maintained, as tough choices lies ahead on the route to a final deal."
More Gains for the Pound Likely
On the news, the Pound-to-Euro exchange rate leapt by over half a percent to reach 1.1433 as traders voted on the news with their 'buy' buttons: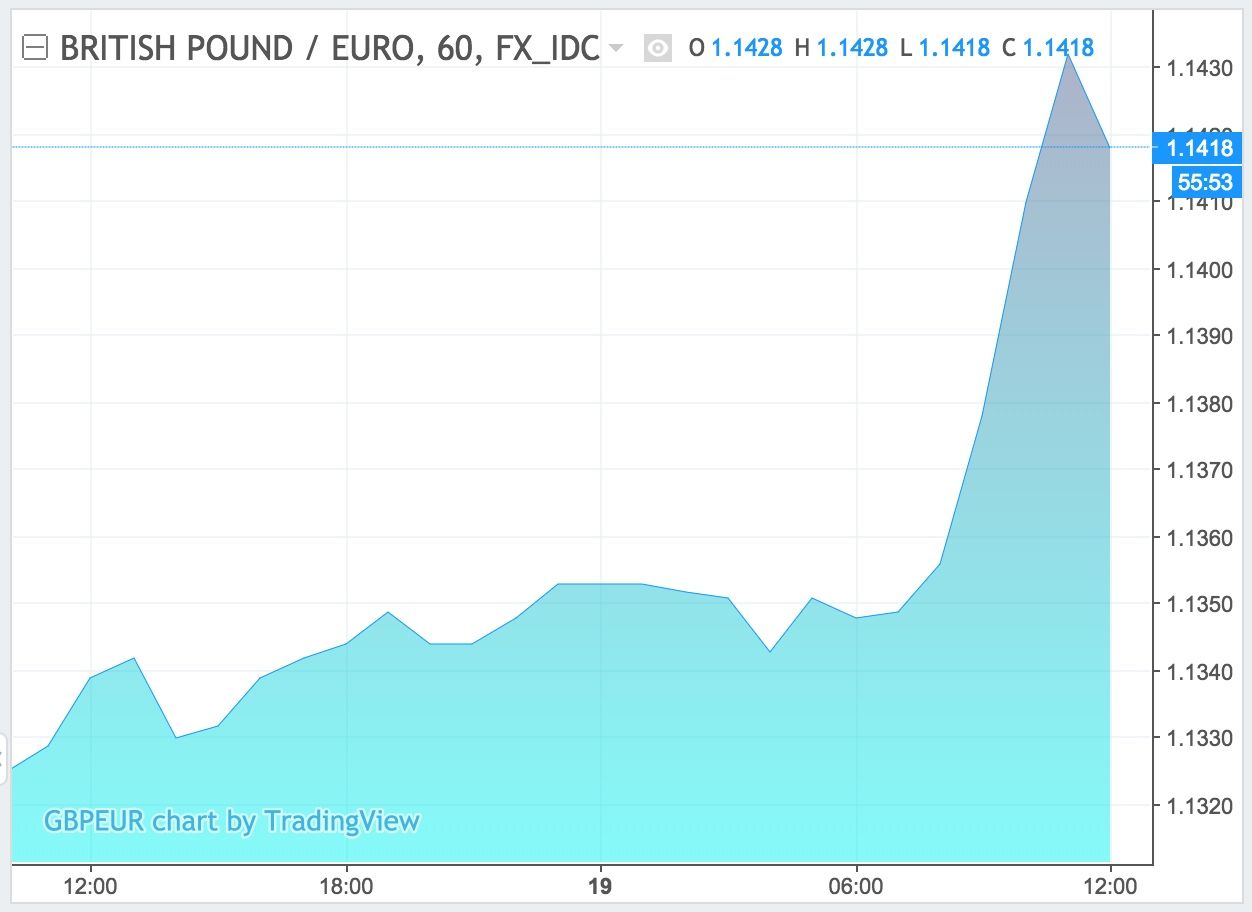 The Pound-to-Dollar exchange rate 0.6% higher at 1.4027 and gains can be seen right across the GBP market: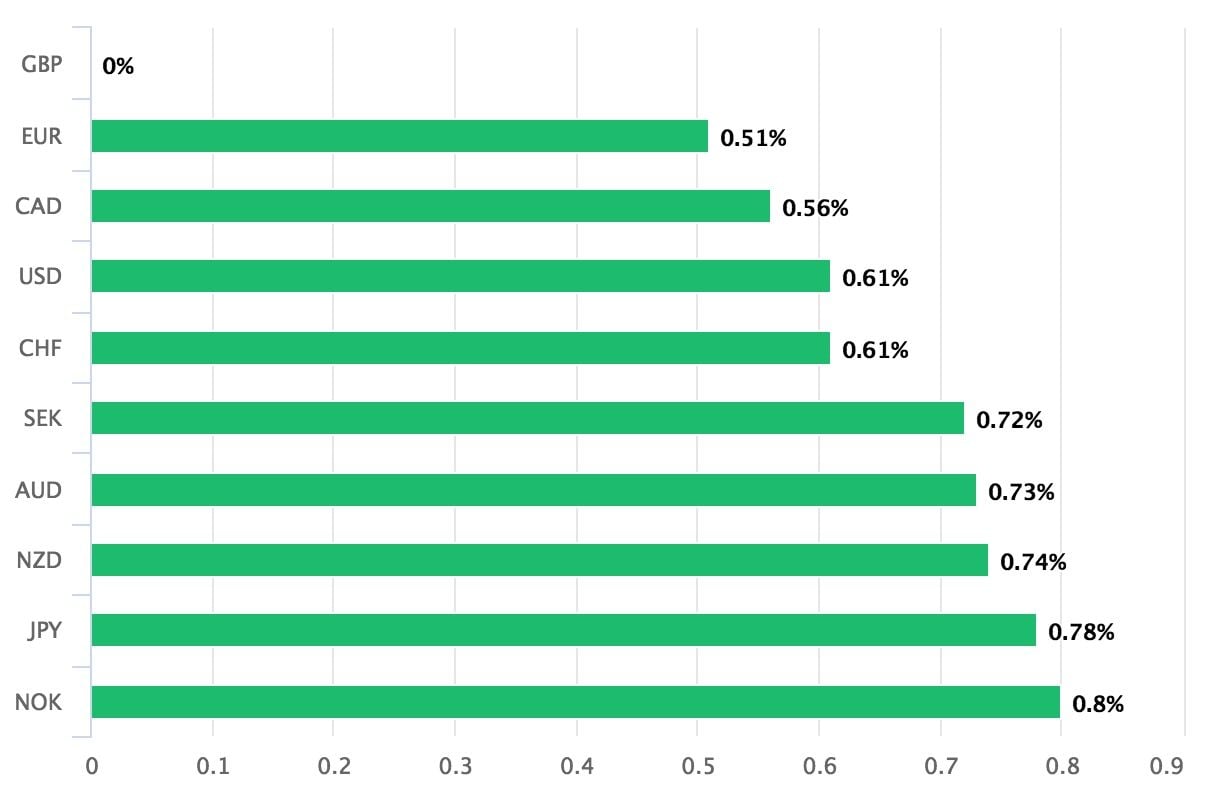 Above: Sterling records strong gains against all the major currencies
Advertisement


Get up to 5% more foreign exchange by using a specialist provider to get closer to the real market rate and avoid the gaping spreads charged by your bank when providing currency. Learn more here.
"If a deal can be finalised this week, we would expect GBP to see a sharp knee-jerk move higher - noting that this would be a positive surprise given that investors have downgraded their expectations for a transition being agreed as early as this week's summit," says Viraj Patel, a foreign exchange analyst with ING Bank.
Indeed, a survey of investors by Barclays confirmed most were not geared up for a transitional deal being struck this week, rather many saw October-November as being the date when the deal would be done.
"The Pound's reflexive jump was magnified by the element of surprise. Few marketwatchers had expected an agreement at all, let alone such an apparent convergence of the British and EU positions," says David Lamb, head of dealing with FEXCO Corporate Payments. "While this is just one step on the long road to Brexit, the warmth of the language - and the common ground on some of the trickiest elements - suggest the two sides are, for once, heading in the same direction."
The release of the draft report now effectively means the EU Council summit on March 22-23 will effectively be a rubber-stamping exercise and eyes now turn to the heavy slog that lies ahead that takes the shape of the future trading relationship.
Barnier will now await a mandate from European leaders as to the position he must adopt in upcoming trade negotiations. Further work on hammering out the outstanding points of contention in the withdrawal agreement will continue in the background.
In a big win for the UK, the Draft Agreement confirms, "during the transition period, the United Kingdom may negotiate,
sign and ratify international agreements... provided those agreements do not enter into force or apply during the
transition period, unless so authorised by the Union".
Draft Withdrawal Agreement marking progress by the negotiators of the European Union ???????? and the United Kingdom of Great Britain and Northern Ireland ????????.

????Text: https://t.co/quaZ2wSPMq

— UKREP ???????????????? (@ukineu) March 19, 2018
"We believe that GBP's re-pricing of Brexit transition optimism is now complete – and revert our attention back to UK economic fundamentals to determine the scope and extent of any GBP appreciation over the coming weeks," says ING's Patel.
ING are optimistic on Sterling's prospects provided both sides can formally agree on a Brexit transition deal as this "would go some way to reducing the long-run risks surrounding the UK economy".
Patel reckons if the rest of the week were to go Sterling's way, the currency could rise a further 2%.
"A Brexit transition agreement is one element of GBP's bullish trifecta this week; if all the cards were to fall perfectly into place – and we also see a status quo hawkish Bank of England policy message and constructive UK wage inflation data – then we would not rule out a sharp move in GBP/USD up towards the year-to-date highs around 1.4250-1.4300," says the analyst.
Risk-reward suggests to Patel "that an extremely cheap GBP has greater room for a cyclical recovery over 2018", ING are still look for a 3-5% sterling appreciation in trade-weighted terms this year.
The recent advance in Sterling against the Euro suggests to analyst Alvin Tan at Société Générale that a transition deal has now been priced into Sterling; i.e. further gains on this particular piece of news might be limited.
"Any additional surprises for Sterling are therefore likely to come more from the data releases and/or BoE meeting this week," says Tan in a note released in the wake of the Barnier-Davis press conference.
Société Générale say they retain a bullish "EUR/GBP view, but it is clearly under pressure".
Advertisement


Get up to 5% more foreign exchange by using a specialist provider to get closer to the real market rate and avoid the gaping spreads charged by your bank when providing currency. Learn more here.