Today Pound Sterling is "Top of the Pack" as Cabinet Approaches Unified Line on Brexit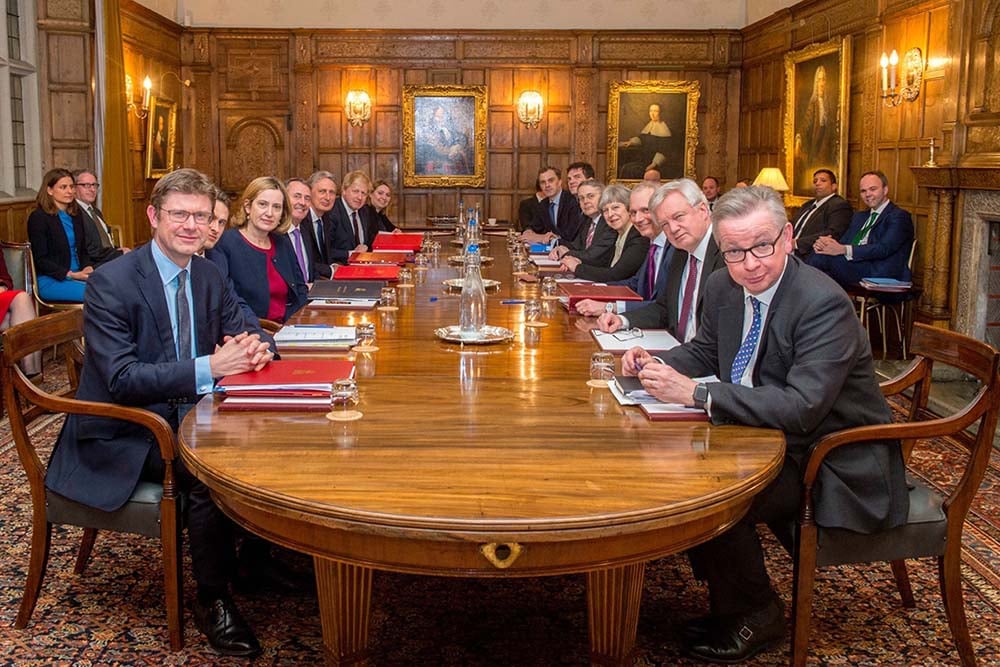 Above: Official government photo of the Chequers cabinet meeting.
The British Pound was seen as one of the better performing global currencies ahead of the weekend, with markets eyeing domestic Brexit developments and judging them to be positive.
The promise of Conservative party unity on the issue of Brexit is a rare commodity, but this could well be on offer following Theresa May's decision to lock her top team in a room in the English country side and let them out only once agreement had been sought.
The details of the meeting are not known but reports suggest some agreement has been found.
"Things are looking up at Chequers. After eight hours of talks, factions in UK prime minister Theresa May's team have stitched together a fragile compromise on a plan for Britain's future EU relationship," reports the Financial Times in a morning briefing.
"GBP is top of the pack by a small margin, as reports suggest the cabinet is closer to agreeing a unified line on the UK's post-Brexit relationship with the EU after the Chequers meeting ended late last night," says Adam Cole, Chief Currency Strategist with RBC Capital Markets.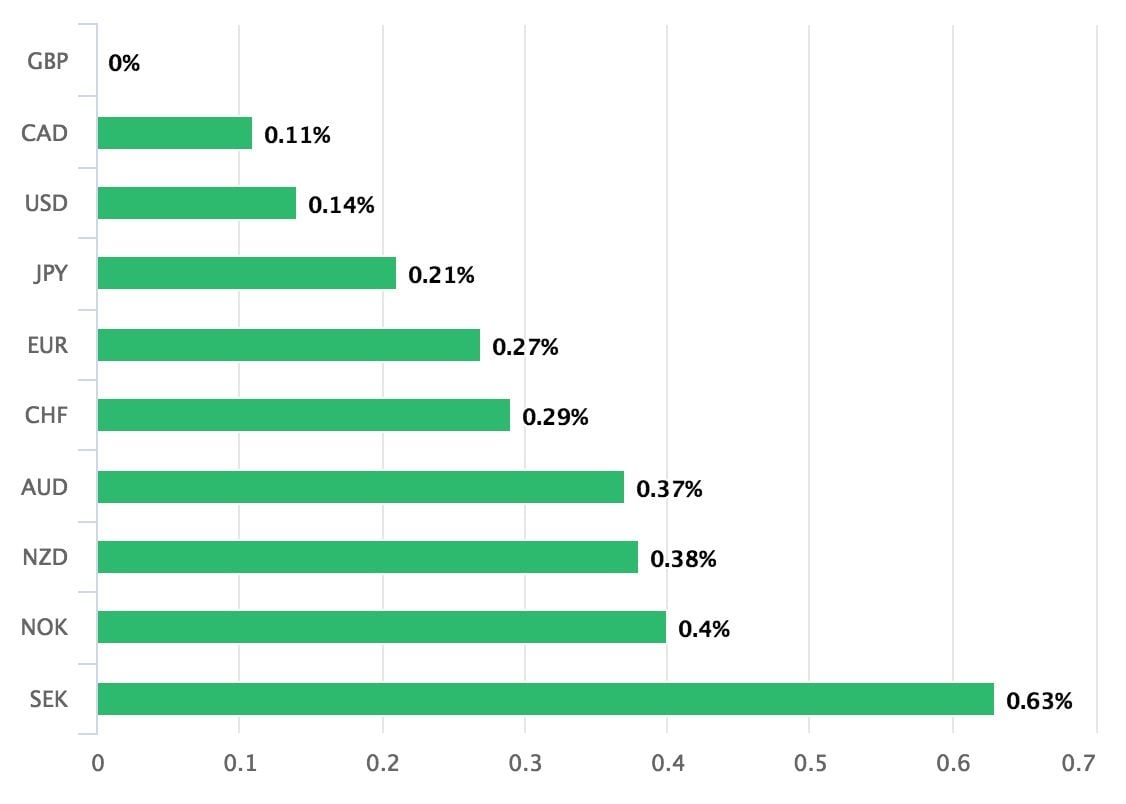 According to the FT, the 11-member Brexit cabinet committee was said by those at the Chequers meeting to have endorsed a proposal dubbed "Canada plus plus plus" by David Davis, Brexit secretary.
The report went on to say: "Everyone seemed happy. Brexiters proclaimed that Britain was on course to make a clean break with the EU... Everyone thinks they got what they wanted."
"There was a very, very good atmosphere and we agreed on the way forward," adds Environment Secretary Michael Gove in an interview with Sky News.
Chancellor Philip Hammond - a key voice who has often advocated for maintaining as close a relationship as possible with Europe after Brexit and is seen as a strong voice for the "remainer" contingent - has also backed the outcome of the meeting:
Positive and constructive meeting at #Chequers last night.

December was a decisive moment and we're now making steady progress to delivering #Brexit – with a real sense of momentum as we move towards March European Council and agreement on implementation period.

— Philip Hammond (@PhilipHammondUK) February 23, 2018
"I Wouldn't read too much into GBP moves today (it's all a bit erratic).... but if there's anyone on the Cabinet - apart from the PM - that investors should focus on it's probably the Chancellor given that he's calling for an economically rational Brexit (i.e., does the least damage)," says Viraj Patel, analyst with ING Bank N.V. in London.
The Health Secretary Jeremy Hunt says UK won't be in a customs union post-Brexit. He argues there are other ways to achieve "frictionless trade" #r4today pic.twitter.com/u9ZPblnszR

— BBC Radio 4 Today (@BBCr4today) February 23, 2018
But what is a 'Canada plus plus plus deal'?
According to Peter Dixon, an economist with Commerzbank, the UK can really only expect a Canada-style agreement owing to their and the EU's negotiating red-lines; something that Davis now clearly acknowledged.
"This only leaves a Canada-style free trade agreement in which the partner countries still have self-determination over their own external tariffs. Although the UK wants sovereignty over its external borders, a free trade agreement alone would not suffice," says Dixon.
Such a deal would include services, aviation, nuclear policies, and data handling.
"But trade would probably no longer be quite so free. We expect a "Canada plus" agreement that would guarantee tariff-free trade in goods – although agricultural products would probably be excluded. In addition, services are likely to enjoy some degree of tariff-free access, although we do not expect financial services to be included," says Dixon.
Conservative party unity on the matter cannot come too soon amidst signs the opposition Labour party is to finally make a clear position on Brexit negotiations with an apparent desire to remain in the customs union becoming clear.
"The upside the market has been looking at is the growing possibility that Labour will announce they prefer to stay in a customs union of sorts. If they do this then they would possibly manage to get some Tory remainers to vote with them and be able to force the government into a union," says Mark Palmer, an analyst with Hamilton Court FX.
Whatever the case, Sterling looks a little more cheery ahead of the weekend.
The Pound-to-Dollar exchange rate has recovered back above 1.39 and is quoted at 1.3939, a weakening of the US Dollar has a lot to do with the move however.
The Pound-to-Euro exchange rate is quoted at 1.1337, this contrasts to the current week's low of 1.1237.
But let's take a second to consider price action in GBP/EUR - it really is uninspiring and it looks like the exchange rate is stuck.
The quote of 1.1337 we are seeing now compares to:
The Average Exchange Rate of the Past 5 Days: 1.131
The Average Exchange Rate of the Past 20 Days: 1.1326
The Average Exchange Rate of the Past 50 Days: 1.131
The pair really is stuck on this 1.1310 area and the safest suggestion on near-term direction would be to say, more of the same!
"Prices are languishing mid-range," says Robin Wilkin, a technical strategist with Lloyds Bank who sees a slight bias to the upside with the range.
The next resistance targets are located at 1.14-1.1430.
Advertisement


Get up to 5% more foreign exchange by using a specialist provider to get closer to the real market rate and avoid the gaping spreads charged by your bank when providing currency. Learn more here.