For the Pound, a Leaked Brexit Report and May Leadership Angst are Simply of No Concern
Above: Theresa May is unlikely to leave the post of Prime Minister. © Lee Goddard / Number 10 Downing Street
Pound Sterling will ignore the latest headlines over the sustainability of Theresa May's leadership and a leaked government report on the economic impact of Brexit.
Some members of the foreign exchange commentariat have suggested Pound Sterling's poor start to the month-end period are down to renewed uncertainty over Theresa May's leadership of her party and country.
Both the Pound-to-Euro exchange rate and the Pound-to-Dollar exchange rate have retreated from their recent highs which were achieved during an exceptionally good week for Sterling. The comedown appears to be raising eyebrows and as always commentators are looking for a sexy reason to pin the move on.
The problem is they could be missing the real drivers of Sterling.
And on Tuesday, January 30 one reason doing the rounds is the Pound is weak because a report into the economic effects of Brexit has been leaked, and it reveals there are no good outcomes for the UK economy on any Brexit scenario.
Here is why, I don't buy either reason is of significant relevance to recent moves in Sterling and, importantly, I don't believe markets are buying them either. Therefore these two reasons are at best just great fodder for the copy & paste desks at the tabloid press.

Firstly, May is not Going Anywhere Anytime Soon
Late January sees factions in the Conservative party jockey for their vision of Brexit to be adopted by the UK Government ahead of the next round of Brexit negotiations.
Part of this strategy involves underhand threats and insinuations pertaining to May's leadership if these demands are not met. Yet, there is a risk that the issue is conflated beyond mere political strategy.
I have long been sceptical of the idea that Theresa May is in danger to an internal Conservative party rebellion - precisely because those who would get rid of her risk losing their seat in the inevitable ensuing general election.
The public are fed up with Conservative party squabbling and the party will likely pay for it if the public get the chance to cast their ballot again.
Furthermore, those ardent hard-Brexiteers who are pushing May so hard would see their long-hoped for style of Brexit disappear once their party are out of office. May is their best shot at getting even the slightest of Brexits.
Hence, the noise surrounding May's leadership has often - in my opinion - been a case of various factions pushing their own agenda, but they are never likely to push quite hard enough as to trigger the fall of the Government.
Yes, the Conservatives could install a new leader and Prime Minister, but these figures rarely have the legitimacy and clout of PM's elected by the people, hence one shaky leader will be replaced by another shaky leader, albeit one with even less legitimacy.
"There is speculation some Conservative party lawmakers are poised to trigger a no confidence vote against UK Prime Minister Theresa May," notes Elias Haddad, a currency strategist with CBA in Sydney.
"We believe any leadership challenge will not result in increased government instability. As such GBP/USD will continue to lift reflecting our expectation of USD weakness and an eventual EU‑UK trade agreement," says Haddad.
Advertisement
Get up to 5% more foreign exchange by using a specialist provider to get closer to the real market rate and avoid the gaping spreads charged by your bank when providing currency. Learn more here

Secondly, this Leaked Economic Forecast Report is Devoid of New Information
Buzzfeed have leaked a Government report on the negative economic impact of Brexit; subsequent reporting from other organisations suggests it comes from Treasury employees.
The report details how under all Brexit scenarios the UK economy will suffer; nothing new here.
Currencies trade on new information that alters the economic and financial outlook and another report that suggests the UK economy will suffer on Brexit adds absolutely nothing new to the dynamic.
The report is great for political intrigue, but it is nothing more than that as far as currency traders are concerned.
"The leak of GDP forecasts for a post-Brexit UK saw GBPUSD trade briefly below $1.40, but there will be more than a few people noting that these forecasts come from the same 'Project Fear' types who raised the spectre of an immediate recession should the UK vote to leave. As stock market strategists have found out this year already, prediction is a tough game," says Chris Beauchamp, Chief Market Analyst at IG.
Indeed, Alex Wickham, News Editor at Guido Fawkes points out the following: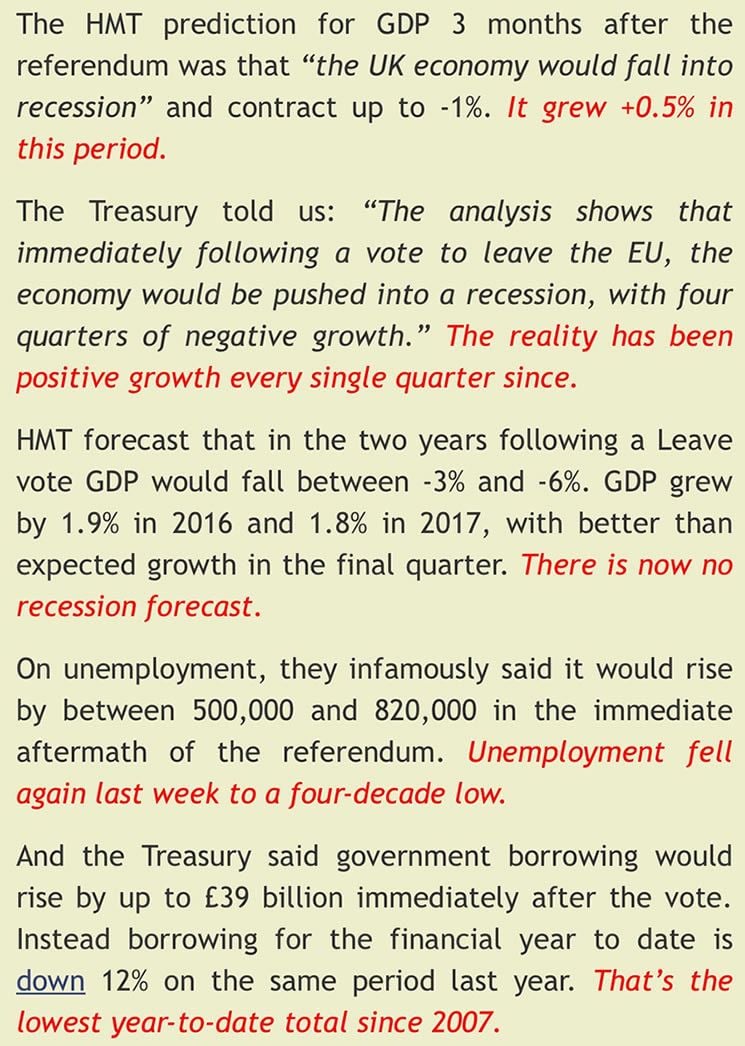 Forecasts on economic performance pertaining to Brexit are particularly redundant owing to the fact the variables involved under Brexit are unprecedented and hard to model.
"While the vote for Brexit almost certainly had a negative effect on UK GDP growth last year, this reflected the temporary squeeze on real incomes prompted by the drop in the Pound. There was little evidence of the broader negative effect from Brexit uncertainty that many forecasters had anticipated," says Jonathan Loynes, Chief Economist at Capital Economics.
Loynes notes that, indeed, Brexit has had a negative impact on the economy, but it is vastly overstated and the result are constant and sizeable GDP upgrades down the road by economists who got it wrong.
"Surveys of firms' investment intentions suggest that investment growth is likely to accelerate this year, rather than decelerate as consensus forecast assume. Meanwhile, the combination of strong global growth and the competitive pound looks set to fuel a further pick-up in the growth of exports," says Loynes.
In 2018 Capital Economics are forecasting UK GDP at 2.0% where consensus see 1.4% growth.
Markets are waking up to this potential mistmatch, and rest assured these leaked forecasts for chronic UK economic underperformance will be ignored.
So what Matters for the Pound?
Our coverage at Pound Sterling Live continues to try and identify the real reasons behind Sterling's moves. Unfortunately they can be quite boring at times.
They can also be quite opaque - for instance, month-end flows could have a say in how Sterling is trading as is often the case. The vast flows created by investment portfolio managers adjusting for currency moves is incredibly hard to fathom, but it is there nevertheless.
Technical considerations are key too - the Pound was overbought against the Dollar, as we note here, and a pullback was always likely. Nevertheless, many strategists are approaching Sterling as a 'buy on dips' as a result and believe the broader trend higher is still with us.
And, Pound Sterling pairs have in early 2018 been particularly prone to moves of other currencies, for example the big move in GBP/USD was largely a function of Dollar weakness.
This move in GBP/USD was seen helping other cross pairs. Now, when the Dollar recovers from oversold levels, so the GBP/USD falls.
Hence, we would advise readers to keep an eye on the subtleties involved.
Yes Brexit will still be absolutely key going forward, but it is the substance of Brexit negotiations that will matter rather than redundant internal economic forecasts.
Advertisement
Get up to 5% more foreign exchange by using a specialist provider to get closer to the real market rate and avoid the gaping spreads charged by your bank when providing currency. Learn more here