Pound Pares Gains vs. Euro, Dollar as Traders Book Profit But Momentum Lies with Sterling
FX Quotes:
Pound-to-Euro exchange rate today: 1 GBP = 1.1382 EUR
Euro-to-Pound exchange rate today: 1 EUR = 0.8787 GBP
Pound-to-Dollar exchange rate today: 1 GBP = 1.3983 USD
Pound Sterling has given back some of its recent impressive gains but analysts believe the currency can continue its advance.
The declines in the British Pound are largely because the headline GBP/USD exchange rate found a barrage of sell orders clustered around the key 1.40 level with traders using the round number to book profit on what has been an impressive rally.
Indeed, the move to $1.40 by Sterling represents the longest winning streak seen in the currency since 2014. "Sterling briefly poked above a major psychological level but its inability to make a convincing break prompted a wave of profit-taking," says analyst Joe Manimbo with Western Union.
No doubt, the prime driver behind Sterling's impressive rally is an improvement in sentiment with markets acknowledging that Brexit is not going to be the car-crash that was initially assumed.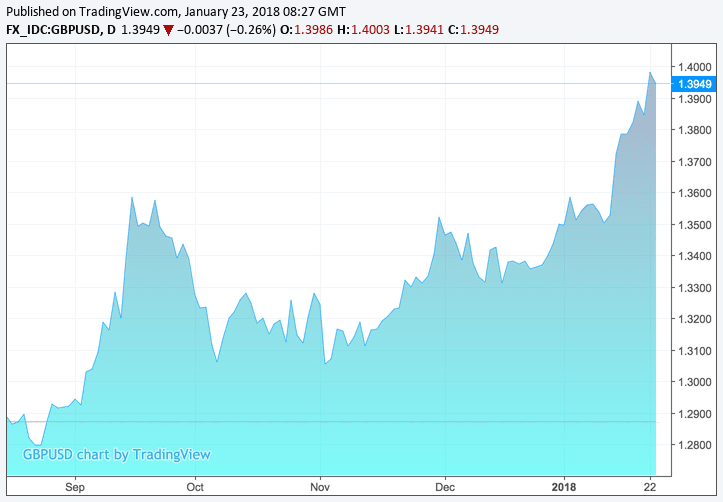 And what happens in GBP/USD matters for the smaller crosses such as GBP/EUR, GBP/AUD etc. as they often take cues from the larger cross. Hence we are seeing gains in Sterling pared back across the board alongside the sell-off in GBP/USD.
The key question becomes, can the rally be sustained?
"Having briefly hit its post Brexit-high around 1.40, the British Pound's recent rally may have run its course. Much of the optimism stemmed from positive Brexit commentaries rolling back hard Brexit fears towards securing a trade deal. The reality ahead is that hurdles will return once UK and EU start negotiations to finalise the Brexit deal this year. It is still too early to count the chickens before they hatch," warns Philip Wee, FX Strategist with DBS Group Research.
Obviously markets are taking a different view and believe now is in fact the time to count chickens.
Markets are confident that a worst-case no-deal Brexit scenario will now be avoided and there is an assumption that the settlement of a two-year transitional period will be relatively straight-forward to agree.
"The recent report that the UK has "agreed in principle" to a "Norway-style" transition period with the EU supports our view that a transition agreement could be secured quickly to provide reassurance to businesses, households and financial market participants. A smoother Brexit outcome is a key assumption behind our outlook for a stronger pound in 2018," says Lee Hardman at MUFG.
MUFG say recent price action supports their outlook for a stronger Pound in the year ahead.
"The Pound has been the best performing currency since the summer of last year, driven by the BoE's decision to begin raising rates gradually and favourable Brexit developments which have reduced the risk of a more disorderly "No Deal" Brexit outcome," says Hardman.
Robin Wilkins, an analyst with Lloyds Bank's Commercial Banking unit in London is wary of the Pound's ability to crack above 1.40 in the short-term but acknowledges that such a move will inevitably happen.
"Long term, we are getting further evidence that the bear cycle that started back at 2.1160 in 2007 completed at 1.1490. A clear break through the 1.3900 region would be another tick in that box, suggesting a multi-year mean reversion back towards 1.50-1.60. However, sharp pullbacks on negative Brexit news remain a high risk, with 1.30-1.27 important supports," says Wilkins.
Indeed, it is worth remembering that the GBP/USD exchange rate has historically never occupied the region below 1.40 for extended periods; a move above 1.40 therefore represents a more sustainable long-term level.
The same optimism can therefore extend to the Pound-Euro exchange rate which should find some support from a stronger Dollar.
Analysts at Barclays have confirmed they have raised their GBP/EUR exchange rate recently.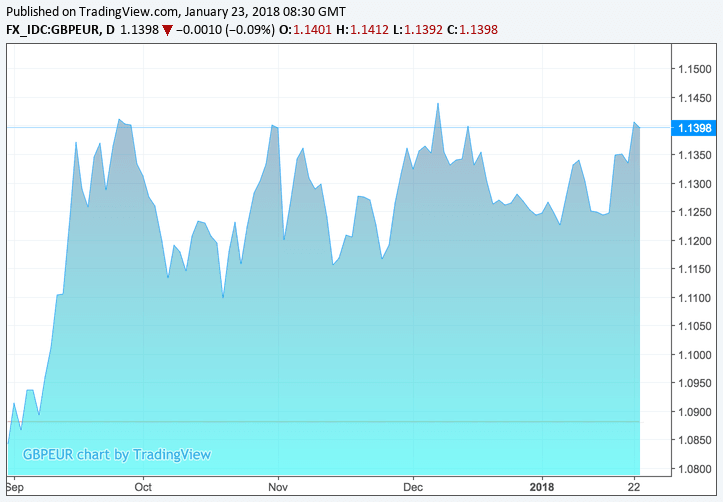 "We believe that the meaningful involvement of Parliament on the final deal brings transparency to the process and reduces the risks of a crash out. As such, we have revised our EURGBP forecast path lower, to reflect the pricing out of the negative tail risk event," say Barclays in a note to clients.
Near-term, we expect momentum to favour Sterling in the absence of any negative headlines. We also warn readers to keep an eye on Thursday's ECB meeting which could shake the Euro and give foreign exchange markets a new focus which may or may not benefit the Pound.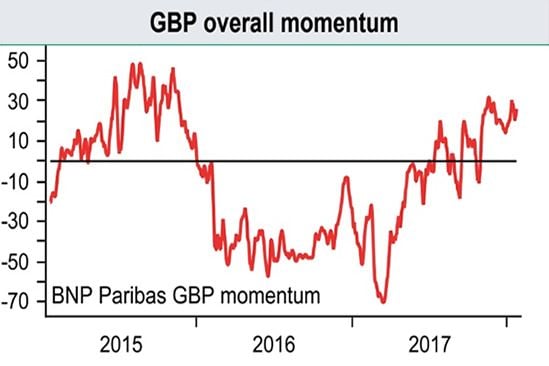 The above graph explains why Sterling is doing well at the moment - it simply has the momentum and when there are no major news events to drive a currency it is usually momentum that wins the day.
The graphic is supplied by BNP Paribas who observe that momentum is often a good indicator of longer-term trends in a currency.
BNP Paribas FX Momentum measures the strength of a currency's bullish or bearish trend, providing a score for each currency between +100 and −100. The larger the score for a currency, the stronger its trend appears to be.
"When an exchange rate has a trend, it means future moves are likely to be in the same direction as past moves," says a note from the French investment bank on the matter.
Advertisement


Get up to 5% more foreign exchange by using a specialist provider to get closer to the real market rate and avoid the gaping spreads charged by your bank when providing currency. Learn more here.
Featured Content
Mortgage Direct - a Spanish mortgage broker specialising in the provision of mortgages for expats - have confirmed they have secured their Spanish license.