Pound Sterling is Week's Best Performer, and "we Expect Further Gains" vs Dollar, Euro says Analyst
Sterling Performance Snapshot:
Pound to Euro exchange rate: Current: 1.1370, 1-month high: 1.1396, 1-month low: 1.0743
Pound to Euro exchange rate: Current: 1.3589, 1-month high: 1.3615, 1-month low: 1.2774
The Pound is forecast to extend recent gains based on latent positive momentum delivered by the large jump seen in the week 11-15 September.
"The best performing currency this past week was Sterling, which hit a 15 month high. More gains are possible as there is always a period of adjustment when investors learn that their expectations are misaligned with the central bank's views," says Kathy Lien, Director at BK Asset Management in New York.
The Bank of England this week forced through a major adjustment in market expectations for future interest rate levels in the UK with communications suggesting that the first interest rate rise in ten years might come as soon as November.
The Bank is clearly the dominant force for Sterling - perhaps more so than Brexit-related sentiment; "the surge in the Pound at the hint of a rate rise suggests that Bank of England policy since the Brexit vote significantly added to Sterling's weakness in the past year," says former Bank of England policy-setter Andrew Sentance.
After lowering their GDP and wage growth forecasts in August, the Bank prompted interest rate hike odds below 20% but events this week have seen odds on tightening before the end of the year hit 66%.
The Bank of England voted 7-2 to leave interest rates unchanged but Sterling embarked on a sizeable rally after the minutes to the meeting revealed "a majority of monetary policy members see scope for stimulus reduction in the coming months."
The message was subsequently hammered home by Governor Mark Carney and uber-dove Gertjan Vlieghe. Both are seen as 'reluctant raisers' so suggestions these two members are eyeing a rate rise suggests there will be little resistance to a move on the Monetary Policy Committee in November.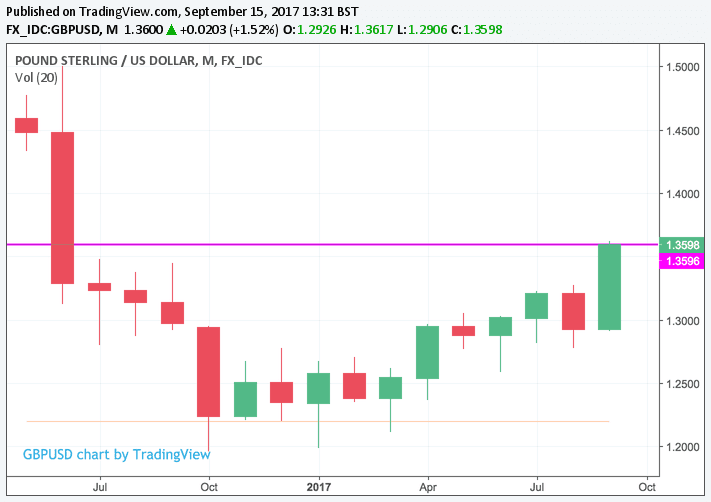 Above: Sterling reached its highest levels against the Dollar since the EU referendum of June 2016.
Inflation is the key concern to the MPC, this week it was revealed headline CPI growth hit 2.9% on an annualised basis in August. Rather than downplay the increase, the BoE said they see inflation exceeding 3.0% next month, well beyond their 2% target.
Furthermore, "eroding slack reduces their tolerance for faster inflation," which is why the central bank believes the market is underpricing the chance of a rate hike.
"The tone of the BoE statement was unambiguously hawkish and BoE Governor Carney confirmed that he is among the majority on the MPC who see the need to change stimulus," says Lien.
BK Asset Management expect further gains in GBP, helped by the upcoming retail sales.
"It may not be long before we see GBP/USD at 1.38 with even stronger gains for GBP versus AUD and NZD," says Lien.
Get up to 5% more foreign exchange by using a specialist provider by getting closer to the real market rate and avoid the gaping spreads charged by your bank for international payments. Learn more here.