Pound Sterling Tipped to Recover v Euro and Dollar as Negative Sentiment Now too Extreme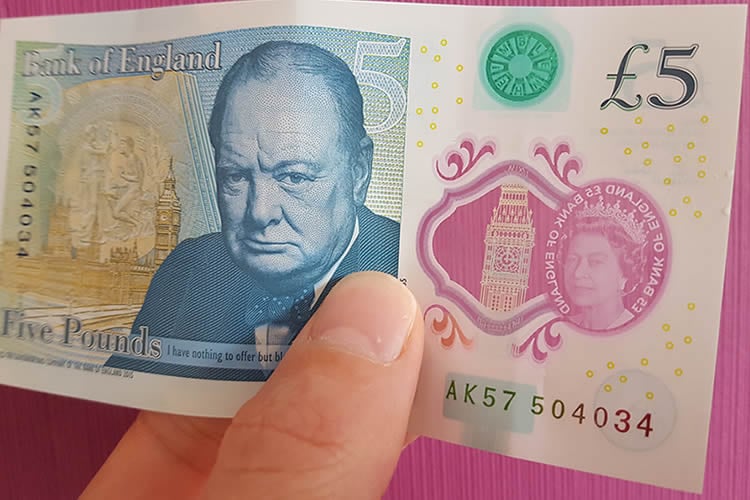 Pound to Euro exchange rate today: 1 GBP = 1.1301 EUR, day's high: 1.1345
Pound to Dollar exchange rate today: 1 GBP = 1.2893 USD, day's high: 1.2928
Pound Sterling is seen consolidating against the US Dollar and Euro with markets finding very little inspiration from the current eco-political backdrop in the UK to drive a big directional move.
Brexit headlines are of little inspiration for traders at present and the economic data docket is empty.
But, the tempo should elevate from mid-week onwards and we are sticking our necks on the block by suggesting things will go Sterling's way.
Why Data Surprises Matter
In short, we think Sterling is due a break from apparently negative relentless pessimism, a view echoed elsewhere.
"We still think there is one more leg up for GBP," says Hans Redeker at Morgan Stanley.
Redeker is overall negative on the currency's broader prospects but believes some relief is possible nearer-term on increased speculation the Bank of England might raise interest rates at some point in 2017.
But Redeker is losing confidence in this view saying, "the upside is very limited as economic data has started to weaken. For this reason we are now turning neutral on GBP."
There is a sense amongst the analyst community that data is unlikely to go the way of the Pound over coming weeks.
This bias has been confirmed of late by the release of worse-than-expected manufacturing data released this June. Markets saw the Pound fall back down to 1.13 against the Euro and below 1.29 against the US Dollar as a result.
And, all Purchasing Manager Index data missed expectations suggesting the economy's second-quarter rebound is perhaps not as robust as many had anticipated.
That said, expectations with regards to the UK economy are now so low it's hard to see quite how they could get any worse.
And remember, in foreign exchange, it is how expectations are met that is key.
Look at this graphic that shows the evolution of data surprises - it reveals that UK data has been surprising to the downside for a long while now: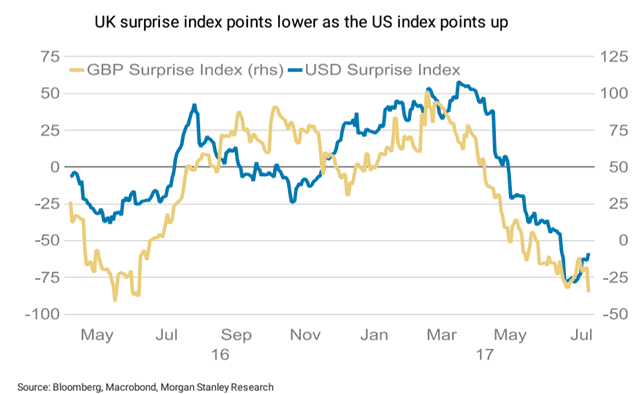 Is it any wonder the Pound has struggled of late, particularly against the Euro where the surprises are positive.
Against the Dollar trade has been more robust inline with the disappointments coming out of the US economy evidenced on the chart.
But things have picked up in the US of late data-wise and the surprise index has pointed higher once more, which could partly explain the drop in GBP/USD below 1.30.
Get up to 5% more foreign exchange by using a specialist provider. Get closer to the real market rate and avoid the gaping spreads charged by your bank for international payments. Learn more here.
Will the UK economy follow the US and start delivering upside surprises? With sentiment so overwhelmingly one-sided the chance of a reversal in trend is heightened.
While hardly a shot of fundamental confidence in Sterling, it does offer an olive branch of stability and short-term recovery.
We will be watching employment data out on Wednesday, July 12 for signs that the economy is headed in the right direction.
Watch for unemployment to fall further but arguably of more importance will be the wage rate.
Markets are looking for wages to rise 1.8%, anything less will hurt Sterling, anything more could prompt a good recovery.
Then next week the all-important retail sales data are released.
"UK retail sales data are expected to be strong this month but that may also be a sign of the weak GBP helping summer tourist spending, suggesting a near-term boost," says Redeker.
But, for Morgan Stanley, summer retail sales aren't where the action is - simply because they don't paint an accurate picture.
Rather, "what we watch instead is the activity data which has started to slow. Manufacturing PMI showed a slowdown with improvement in new work volumes at the weakest level in 11 months," says Redeker.
Politics also adds another dimension of sentiment that will impact Sterling, but again, expectations are so low you wonder how could they get worse.
"The UK sees labour market data and a return to business-as-usual for the government; 'As usual' in the sense that passing any legislation is going to be a tortuous affair," says Kit Juckes, an analyst with Societe Generale.
"It's hard to see Sterling thriving in that environment and last week's data was pretty solidly negative for the currency, but CFT data report that the IMM speculative market has been short GBP for almost 8 months now," adds the analyst.
"Positioning and valuation counter dismal news flow and the latter would need to get even more negative before GBP can fall significantly further," says Juckes.
We would say it would be quite difficult for news flow to get even worse, as per Juckes' observations.