Pound's Election-Announcement Rally a Mere Short-Squeeze
Foreign exchange analysts are warning that the Pound's jump in value on April 18 against the Euro, Dollar and swathe of other major currencies could be short-lived owing to the technical nature of the move.
Analyst Viraj Patel and ING Bank N.V. in London tells clients that Theresa May's decision to go to the country on June 8 has prompted what is known as a short-squeeze in the British Pound and the strength is not necessarily fundamentally justified.
Rather it is the result of a major market readjustment.
"Today's announcement of a snap General Election comes with a big warning sign and investors shouldn't forget the negatives – namely that the election prolongs UK political uncertainty, which has undoubtedly been GBP's Achilles heel for over a year now," says Patel.
Indeed, the recent spike in the Pound has not seen ING shift their opinion that Sterling will sink back towards multi-year lows later in the year.
The Pound has jumped to multi-month highs against the Euro, Dollar and other major currencies after Theresa May called for a vote to be held on June 8 under the premise that her Government needs its hand strengthened if it is to succeed in its negotiations with the European Union later in the year.
As such, much of the coverage of Sterling's rise has centred on the positives May might derive from growing her majority in parliament.
But if we are witnessing a short-squeeze then the outlook for Pound Sterling is more fragile than current strength would suggest.
How a Short-Squeeze Works
A short-squeeze occurs when investors are found to be overwhelmingly betting in one direction taking the market to saturation point.
If everyone is betting on the same outcome then the prospect of more entrants joining the trade and therefore pushing the price onwards becomes limited.
Sterling remains subject to near-record negative bets according to CFTC data and many an analyst has said this protects the currency from notable further downside.
When these bets are unwound - as is the case following May's call for an election - entrants are forced out of the market. Closing out bets against Sterling requires the buying of Sterling which drives the price higher.
You can see how this could result in an snowballing effect and is not necessarily related to some fundamental shift in opinion towards the Pound.
CFTC data shows the most recent wave of short GBP positioning had been built from late February/early March, when GBP/USD was trading in the 1.22-1.25 area.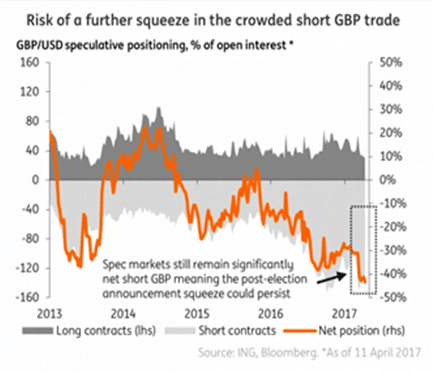 "The most recent data shows that barely 40% of those GBP shorts have been covered and indeed speculators were actually adding to GBP shorts in the most recent reporting week," notes Patel.
"Today's news has been a good enough reason for another squeeze in short GBP positions – in our opinion the most credible explanation for GBP's post-announcement rally," says Patel.
Others agree.
"As speculative investors have been excessively short for a while, this Sterling recovery has probably triggered the closing of some of these excessive speculative sterling short positions. A test and break of the 1.2775 in GBP/USD (December high) is likely in the near-term. If these speculative excessive sterling shorts are squeezed further, GBP/USD could easily reach and break 1.30 in the coming weeks," says Georgette Boele, a currency analyst with ING Bank N.V in Amsterdam.
If we are indeed seeing a short-squeeze, we would expect the momentum behind Sterling to eventually fade as market positioning adjusts and becomes more balanced.
Once this is done the UK currency could well be exposed to downside forces once again, particularly as a general election introduces fresh uncertainty.
And markets hate uncertainty.
International Money Transfers:
Get Quoted
into
Likely Amount Your Bank will Give:
EUR
0
This amount is based on the industry's average spread cost for the amount you entered as per research by Accourt
Likely Amount RationalFX will Give:
EUR
0
This amount is based on typical spreads charged by RationalFX
Request Quote from
RationalFX
Where Could the Pound go from here?
Dismissing Sterling's rally against the Euro and Dollar does not however necessarily preclude it from further advances, as noted by Boele's suggestion that there is further strength to be had from the current movep.
Indeed, Patel agrees the Pound can run yet higher.
"We see 1.2775/2800 as very strong GBP/USD resistance. Were polls/spread-betters to start showing very substantial gains for the Conservatives at the General Elections, based on current positioning we think a break of 1.2800 could be worth a move to 1.30-1.31 – with outside risk of clear-out to 1.34," says Patel.
The Pound to Euro exchange rate would certainly crack above the ceiling at 1.20 based on such a move.
However, longer-term the gains should be tempered.
"Today's snap election announcement is no reason for us to change our GBP outlook," says Patel. "
ING are forecasting the GBP/USD exchange rate to head back towards 1.20 later in the year while the GBP/EUR rate should slide back to 1.1366.
Analyst Kathy Lien at BK Asset Management points out that the Pound is a very 'trendy' currency and should extend higher for a while yet.
"While the move in GBP/USD is overdone and the polls will most certainly narrow, it is important to remember that GBP can be a very trending currency and after today's move, there is no resistance until 1.30," says Lien in a note dated April 18.