Pound Sterling Gets a Shot at Redemption as May Gives Parliament a Vote on Brexit Deal
Indicative rates to reference as of article's last update:
Pound to Dollar exchange rate today: 1.2340
Pound to Euro exchange rate today: 1.1552
GBP enters the mid-week trading session near recent highs against both the Dollar and Euro following its leap higher following the announcement of the UK Government's Brexit plan.
on Tuesday Theresa May set out a clear - and importantly - realistic vision for the UK's position in upcoming Brexit negotiations.
For the foreign exchange markets fireworks were lit when May unexpectedly announcement the UK Parliament will have a final vote on the Brexit deal.
I doubt Parliament in itself is friendly for Sterling - rather the message to markets is that the Government was genuine in reaching a consensus on Brexit.
"News that the Brexit deal will be put to a parliamentary vote has seen Sterling rocket – as has assurances from May of Britain's global intentions," says Dennis de Jong at UFX.com.
May was also clear that the UK would be exiting the single market as she realises the UK will be unable to abide by the Brexit mandate while obeying EU red lines on single market membership.
However, this was largely priced into the Pound ahead of the event thanks to weekend press reports on the matter.
Traders have woken up to the fact that they fell hook, line and sinker for May's stragey - get the bad news out of the way through leaks and then hit them with the good stuff at the big-ticket event.
By sparking a rally in the Pound she can argue that markets are unambiguously on her side when it comes to her vision for the future.
And some now see the prospect of a sustained recovery in Sterling being possible.
"May's speech provided clarity where there was uncertainty, and if there is anything markets hate, it is uncertainty," says Joshua Mahony at IG in London. "With everything now out in the open, there is a good chance we will see the Pound start to recover from here on out."
However, other analysts remains sceptical.
For Ned Rumpeltin at TD Securities in London, any spikes in value in Sterling should be sold as he anticipates a sustained decline from here.
"While the near-term landscape argues for some volatility, we think the chances for GBPUSD to squeeze meaningfully higher are limited," says Rumpeltin. We return to our sell-on-rallies posture for cable and think a break below support at 1.1841 will usher in another phase of sterling weakness," says Rumpeltin.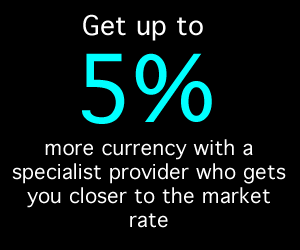 May's Plan
May further justified the decision to exit the single market saying it would undermine the EU in its quest for closer union; perhaps something our cross-channel neighbours would welcome.
Indeed, initial reactions from EU leaders has been positive as they welcome the clarity the speech provides.
However, opposition at home to the exiting of the single market is notable with Liberal Democrat leader Tim Farron hinting his party might block any deal that comes before parliament as exiting the single market as a theft of democracy.
Scotland's First Minister has also said that the prospect of another independence referendum has grown on the decision to exit the single market.
No Tariffs Please
The UK will instead pursue a free-trade deal with the bloc.
"I want tariff-free trade with Europe," says May, "I do want us to have a customs agreement with the EU... I want to remove as many tariffs to trade as possible."
Some have suggested the PM wants to 'have her cake and eat it' with this approach but her language does acknowledge that the UK will not get unfettered access to the single market.
And anyway, if South Korea can have a free trade agreement with the EU then surely the UK can too?
Another boost to Sterling came as the PM announced devolved UK Governments will be heavily involved in coming up with a Brexit deal.
Whether this placates Scotland remains to be seen.
Pound Leaps, as we Warned it Would
The initial foreign exchange market reaction confirms what we have been saying for the last 24 hours - the Pound was ripe for an upside correction going into the speech.
The strong reaction by Sterling confirms markets had digested the fact that the UK will be leaving the single market ahead of the speech.
It would have taken an incredibly market-negative announcement from May to trigger any further Sterling downside.
Key Points:
* The UK will respond in kind to a punitive deal with the EU by slashing tax rates to attract business
* UK will not pursue membership of single market
* UK will take balanced approach to cut deficit, the Pound liked this.
* No partial membership or associate membership of European Union. Will not seek to hold model adopted by likes of Switzerland and Norway.
* UK Parliament and devolved Government's will have say on Brexit deal
* Will try and guarantee rights of EU citizens as early as possible, but accuses 'some' EU leaders dragging heels
Reactions:
Philip Shaw at Investec:
"Our medium-term view on sterling is that a relatively soggy outlook for economic growth (our forecast for 2017 is +1.4%) does not justify the degree of sterling's undervaluation against other currencies; hence our end-year target is $1.35 and 85p against the euro.
"However we recognise that the Brexit negotiations will at times be very difficult and highly politicised and that sterling is likely to undergo periods of significant volatility."
Johnny Bo Jakobsen at Nordea Markets:
"We have adjusted our GBP forecasts somewhat to account for the fact that we no longer expect a soft, but rather a hard version of Brexit, which the market has already somewhat priced in. The uncertainty in the near term will remain high. Since the GBP has been already hit a lot and is already broadly undervalued, we expect it recover in the near term."
Paresh Davdra, CEO at RationalFX:
"The Prime Minister's statement that 'the UK can't be half-in and half-out' of the EU is bold, but it means more stability for businesses who have so far been uncertain over their future, and the post-Brexit rules. Even during the uncertainty of the last six months, the UK was able to attract tech giants and other international businesses over other European locations, and build new relationships with other FinTech hubs.
"May's promise of a UK that remains outward facing and dedicated to attracting the best pioneering talent is one that is likely to dispel the fears of businesses, who will have more clarity on what a post-Brexit UK will look like."
Dennis de Jong at UFX.com:
"While the announcement that Britain will leave the single market isn't what traders wanted to hear, it doesn't come as a shock. With markets bracing themselves for a worst-case scenario, the better-than-expected news in May's speech should help to buoy the beleaguered currency – at least for the time being."