BofA: British Pound Decline Against Dollar & Euro in its Infancy, Three Triggers to Further Weakness Cited

Momentum and historical precedent set by previous bouts of Pound Sterling weakness have Bank of America nervous that their official forecasts for the currency are far too optimistic.
Pound to Dollar exchange rate today (15-10-16) = 1.2191, Pound to Euro exchange rate today: 1.1111
There are three events that will determine Sterling direction over three months
And data isn't one of them
Current peak-to-trough move in Sterling's decline only 18% of the way through relative to 1975; 63% versus 1992 and 33% versus 2008.
GBP was the second-worst-performing currency in the G10 space for the week ending 14th October.
"The Swedish Krona is the weakest of the G10 currencies this week - knocking the pound off its dismal perch for once," notes Kit Juckes at Societe Generale in a brief to clients, "GBP's fall may be eclipsed by the SEK move, but the pound has fallen by twice as much as any other major currency over the last month."
The Pound at one point plunged below $1.15 for the first time since 1985 and it also fell briefly under €1.10.
The latest decline was triggered by confirmation that the UK will go ahead and start the EU withdrawal in March 2017 and market perceptions of an increased risk of a so called hard-Brexit.
With no one really knowing what a hard-Brexit looks like layers of uncertainty remain, providing the perfect vacuum within which Sterling can fall further.
Yet, triggers to further weakness are needed, and those with an interest in the currency's future direction should be aware of what they look like.
New research on the Pound by Bank of America Merrill Lynch Global Research suggests Sterling price-action will be dominated by three main events in the coming months.
The first is the Bank of England Quarterly Inflation Report (3rd November), the second is the Autumn Statement (23rd November) and the third is the timing of the triggering of Article 50 (sometime in 1Q 2017).
The first two events are relatively known quantities whereas the third is less so, and analysts Robert Wood, Kamal Sharma, Sebastien Cross and Mark Capleton think this will pose the greatest risks to the Pound owing to the uncertainty it poses to much-needed foreign investment flows to the UK.
Latest Pound / US Dollar Exchange Rates
* Bank rates according to latest IMTI data.
** RationalFX dealing desk quotation.
Current Account Deficit and Investor Inflows: The Pound's Achilles Heal
If you read a piece of institutional research on Sterling these days its not long before the topic of the UK's gaping current account deficit is brought up.
The current account is the UK's bank balance with the rest of the world - it is currently in deficit which suggests we pay out more than we bring in.
At present the current account deficit is at historical highs confirming a reliance on foreign imports and declining receipts from foreign investments.
Because we import more than we export logic dictates that the currency should fall we sell more Sterling to buy the foreign currency to fund our reliance on imports.
But, Sterling remains elevated above the fair value implied by the current account thanks to strong inflows from foreign investors, keen to invest in the UK.
UniCredit's Erik Nielsen points out that we must rely on about £10BN a month of foreign inflows to keep Sterling stable.
It is this inflow that has allowed funded our ability to stock supermarket shelves with cheap Marmite.
What would happen to Sterling if that inflow were to dry up?
"The UK's current account deficit makes the economy vulnerable to actions and words that could undermine the 'kindness of strangers', in Mark Carney's language, who fund the UK deficit," say Bank of America.
Bank of England Deputy Governor Ben Broadbent argued this week, the credibility of the UK's institutions has helped keep current account deficits sustainable in the past.
"Undermine that credibility, and sustainable could turn to unsustainable. That is probably one lesson of recent days," say Bank of America.
Analysts at UBS believe the Pound could actually par the Euro owing to the current account deficit.
The Pound will Likely Ignore Data
We saw Sterling snap its post-referendum decline in July thanks to better-than-anticipated data.
However, it is argued this support will be in short supply going forward as the Brexit process casts uncertainty over the UK's future economic landscape.
"That is why we have been, and remain, pessimistic about the economic outlook," say Bank of America.
The team doubt that the improvement in UK data will: a) continue and; b) provide support for the Pound.
It is believed the UK rates market will consequently be reluctant to react to any good news on the economy and the correlation between GBP and UK data surprises will remain weak: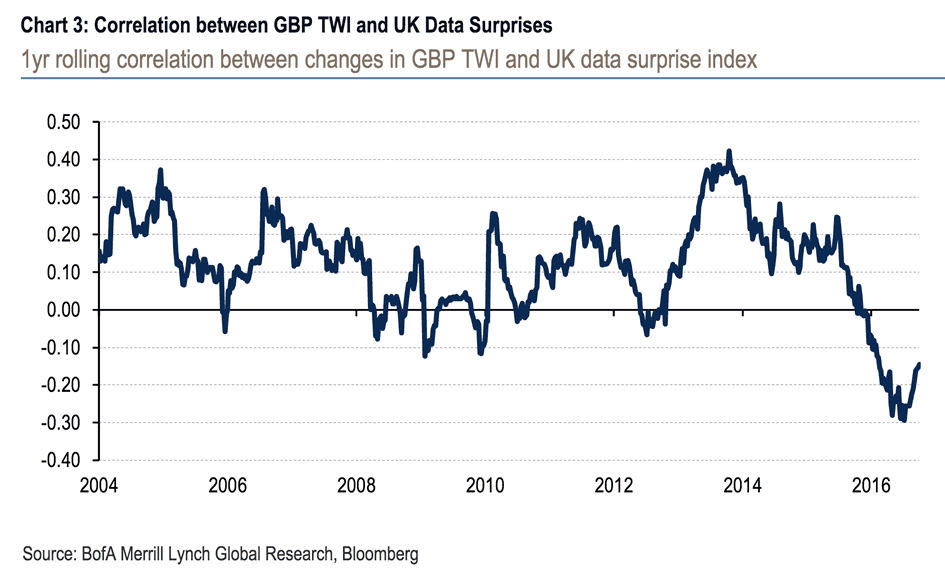 Furthermore, it is argued that the announcement of a triggering of article 50 and a hard Brexit will almost make the recent improvement in data redundant as the macro parameters have now changed and the risks are that data deteriorate once more.
The Pound's Decline is in its Infancy
An interesting clue on the likely direction of the Pound can be found in previous bouts of weakness.
The initial sell-off in GBP/USD following the EU Referendum was immediate and
resembled the price action in 1992 when the Pound was ejected from the Exchange Rate Mechanism (ERM).
If that pace of depreciation had been sustained, Bank of America note that GBP/USD would have been comfortably trading below 1.20 by now.
Such a decline has however been avoided as the improvement in UK data (relative to analysts' overly bearish expectations) has seen GBP/USD stabilise with its current trajectory more reminiscent of the price action during the financial crisis in 2008.
"Relative to previous idiosyncratic crises, the current fall in GBP appears to be in its infancy in terms of the number of days from peak-to-trough moves in the pound: 18% of the way through relative to 1975; 63% versus 1992 and 33% versus 2008," point out Bank of America.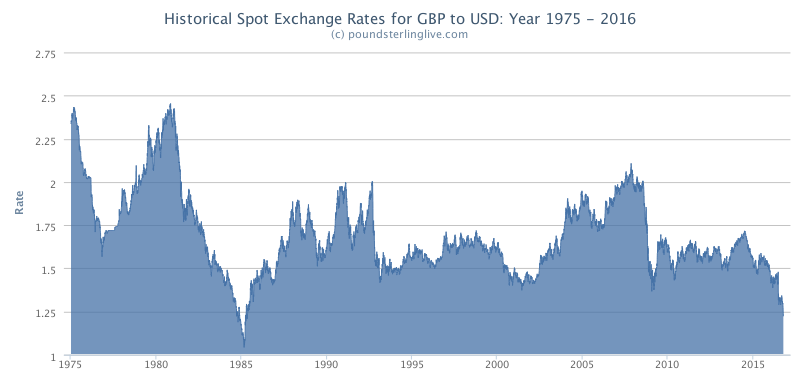 How Much Lower can Sterling Go?
Bank of America believe a two-year timeline for negotiations once A50 has been triggered will keep GBP under pressure and risks further new multi-year lows.
This view is supported by their analysis of previous peak-to-trough moves in GBP/USD through various UK idiosyncratic crises:
On average, GBP/USD has fallen by 30% through those previous episodes.
GBP/USD has already fallen by 14% since the Referendum.
Should GBP/USD decline at a similar average monthly pace as it has done since July (-1.3%) until end-2017 and in line with previous peak-to-trough declines, GBP/USD could target 1.05.
This projection would coincide with the 1985 low in GBP/USD ahead of the Plaza Agreement.
"We must emphasise that this does not constitute an official forecast but a projection based on previous idiosyncratic moves in Sterling," say Bank of America.
Bank of America had previously forecasted a low in GBP/USD of 1.25 in 2017, but highlighted that the risks were to the downside and the low could be hit sooner rather than later.
"At present, and despite the large short, there appears to be little respite for the Pound," say Bank of America.
BofA's Official GBP Projections
As acknowledged, the studies in this piece do not represent BofA's official forecasts but rather a convincing warning of potential moves.
Indeed, they appear more convincing than their official forecasts as of October.
The GBP to USD projection for December 2016 is 1.29, for March 2017 it is 1.29, June 2017 it is 1.26 and year-end 2017 it is 1.31.
The official EUR to GBP projection for December 2016 is 0.84, for March 2017 it is 0.84, for June 2017 it is 0.87 and year-end 2017 0.88 is forecast.