Pound Sterling "Bottom of the G10" for this Week, but Trade Talks Progress Could Prompt Recovery against Euro and Dollar
- GBP falls against all G10 peers
- Could trade negotiation update offer relief?
- Key risk for EUR is EU Council meeting which starts today
Above: File image of EU Chief Negotiator Barnier © European Union / Source: EC - Audiovisual Service / Photo: Etienne Ansotte.
Achieve up to 3-5% more currency for your money transfers. Beat your bank's rate by using a specialist FX provider: find out how.
The British Pound limps into the weekend having suffered another week of declines against all its major peers, however any suggestions of a breakthrough in EU-UK talks could help the under-pressure currency recover some lost ground.
Talks took place between the UK and EU in Brussels this week and we are expecting a potential update in early afternoon London time, however this itself cannot be guaranteed.
Anxieties over Brexit talks, volatility in global stock markets and falling UK gilt yields have all contributed to heap pain on Sterling over recent days and struggle to see either of the catalysts as likely to offer Sterling support in the near-term.
"Once again, GBP is at the bottom of the G10 pack this week, falling against all G10 currencies and cementing its position amongst the worst performing currencies in 2020," says Adam Cole, Senior FX Strategist at RBC Capital Markets.
The Pound-to-Euro exchange rate is nursing a loss of 1.22% for the week and is quoted at 1.1031, the Pound-to-Dollar exchange rate is down half a percent since Monday at 1.2561.
"We remain structurally bearish," says Cole. "Activity data have generally disappointed this week, but as the data flow dries up ... expect Brexit to come back to the fore as a driver of GBP."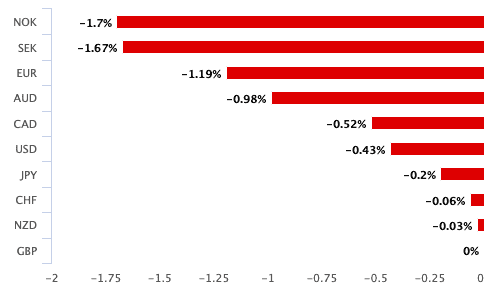 Above: Sterling has fallen against all its G10 peers this week
Achieve up to 3-5% more currency for your money transfers. Beat your bank's rate by using a specialist FX provider: find out how.
Trade negotiations between the EU and UK resumed on Wednesday this week, and we are therefore expecting an update to be delivered at some point on Friday from both sides, even though this itself cannot be guaranteed as the chief negotiators from both sides have an ad-hoc approach to briefing the press.
Regardless, any signs of progress would help Sterling recover some of the ground it lost this week but we remain sceptical that news will be good considering there is still a long way to go until October, which the Europeans have sketched as their deadline for a deal to be done if it is to be ratified by the various EU states before year-end.
We would nevertheless expect some contentious points to be dealt with in the run-up to October leaving all buy the most difficult issues to remain. Therefore, drip-fed reports of progress is likely, which could stop the bottom from falling out of Sterling.
We cannot forget that equity markets have had a major impact on Sterling this week, as the sharp fall in stocks on Monday and Tuesday appear to have been a catalyst for the majority of this week's declines in the currency. We noted in an earlier report, and this is an incredibly important point, that Sterling tends to be three times more reactive to falling markets than rising markets. Therefore any major slip-ups in equity prices over coming days could ultimately trigger further declines, and this is something to keep an eye on if you are looking to transact in Sterling.
"Sterling (vs the euro) is currently three times more sensitive to falling markets vs rising markets," says Petr Krpata, a foreign exchange strategist at ING Bank, "meaning that GBP suffers proportionally more in falling markets than it benefits in rising markets."
But perhaps the more important driver for the Euro will be the meeting of EU leaders to discuss the rescue fund to help economies recover from the covid-19 crisis and a new long-term EU budget.
The EU Council meeting will see leaders convene in Brussels on Friday but the meeting will only conclude on Saturday, therefore the outcome could have implications for the Pound-Euro exchange rate and other Euro pairs next week.
A €750BN fund for EU nations and corporations has been proposed to by the European Commission to help the bloc recovery from the covid-19 crisis, a generous package that has helped the Euro exchange rate complex outperform over recent weeks.
"If successful, it could be a strong elixir for the single currency, as well as providing welcome fiscal policy space for the beleaguered southern economies, especially Italy," says John Velis, FX and Macro Strategist at BNY Mellon.
But owing to opposition by some countries - namely the Netherlands - the fund is unlikely to be approved in its existing state, and this is a key risk to the Euro as a severely watered-down package would likely result in losses.
"Led by Dutch Prime Minister Rutte, the so-called "frugal four" has objections to the size, composition, and governance (conditionality) of the package as proposed," says Velis. "He has characterised his mood going into the summit as somber."
A breakthrough in talks ahead of the weekend could ignite fresh appetite for the Euro, however we expect the issue to be kicked down the road once more and would therefore expect markets to continue giving the single currency the benefit of doubt.
"We are optimistic that an agreement on the European Recovery Fund can be reached," says RBC Capital's Cole,
However, Cole notes that in a speech on 26 June, ECB President Lagarde also downplayed expectations saying that the EU may not agree on the recovery plan at the July 17-18 summit – "hence, this still remains a key risk this month".