Pound Sterling Reacts to Brexit Deal Defeat
Above: Prime Minister Theresa May speaks after the defeat of her flagship Brexit policy. Image (C) Parliament TV.
Prime Minister Theresa May's Brexit deal has been defeated by a massive 149 votes, and counter-intuitively the British Pound recovered some of its steep losses in response suggesting the currency has a firm floor below it.
Speaking after the vote, May said the government would now commit to allowing the House of Commons a 'free vote' on a 'no deal' Brexit on Wednesday.
Should MPs reject a 'no deal' then a vote will take place on Thursday as to whether the UK should request an extension to Brexit.
Importantly, the House of Commons will at some point be asked to decide what the reason for that delay would be.
Following the defeat May said voting against leaving without a deal and for an extension "does not solve the problems we face".
"The EU will want to know why we want that extension. The house will have to answer that question: does it want to suspend Article 50, does it want a second referendum, or does it want another deal, but not this deal," said May.
We believe this statement in particular is an interesting one: is there a mechanism in the pipeline that opens the door to 'no brexit' or a second referendum? We know such a shift is one that is widely considered to be positive for the Pound's outlook by foreign exchange analysts.
We noted a discernible spike in Sterling around about the point May delivered this particular line and wonder if some in the market locked onto it.
"More important votes will be held on Thursday, when the government will lay down an amendable motion to seek an extension to Article 50. A cross-party amendment proposing free votes on a range of different Brexit options likely will be tabled; it stands a better chance of succeeding this time, now Mrs. May's deal is effectively dead," says Samuel Tombs, UK Economist with Pantheon Macroeconomics.
However, the overall reaction by Sterling following the vote largely appears to be a classic "sell the rumour, buy the news" move and a lack of any follow-through to the intial rally leads us to interpreted the action as something of a dead-cat bounce.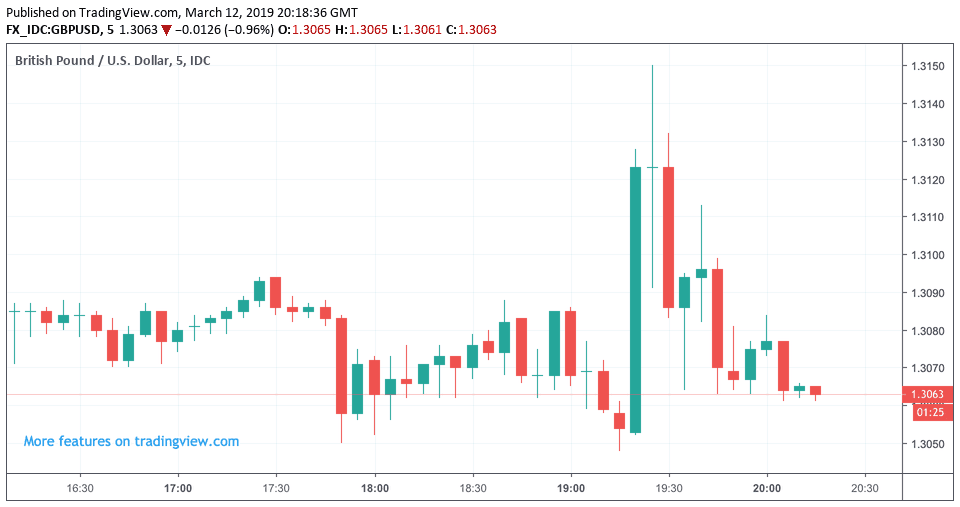 Above: Sterling volatility in the wake of the announcement of parliament's latest vote.
At the time of writing, the Pound-to-Euro exchange rate is quoted at 1.1586, having been as low as 1.1554 earlier in the day. The Pound-to-Dollar exchange rate is quoted at 1.3081, the day's low is at 1.2960.
What is certain - and this explains the Pound's positive price action throughout 2019 - is that a 'no deal' Brexit deal is avoided on March 29. Parliament is likely to vote through a delay to Brexit on Thursday, and this should ensuring Sterling remains supported going forward.
With the UK almost certain to request a delay to Brexit, the question now becomes for what reason?
The initial responses out of the EU appears to acknowledge the move and it appears they are keen to emphasise the nature of the requst must be one that reflects a significant shift in UK position.
"The EU has done everything it can to help get the Withdrawal Agreement over the line. The impasse can only be solved in the UK. Our 'no deal' preparations are now more important than ever before," says Michel Barnier, the EU's chief negotiator.
The European Council Donald Tusk's spokesman says "should there be a reasoned request for an extension, the EU27 will consider it and decide by unanimity. EU27 will expect a credible justification for a possible extension and its duration. The smooth functioning of the EU institutions will need to be ensured."
Take a step back and we can see the Pound still remains elevated against the Euro and Dollar on a multi-month basis, which suggests to us markets are holding the belief that a swivel to a 'softer' Brexit is coming.
Above: A longer-term view of the Pound shows it is elevated compared to where it was at the end of 2018. The avoidance of a 'no deal' Brexit is ascribed to this rise in value.
"An opportunity for an extension to Article 50, further indicative votes on alternative options and a potential shift to a softer Brexit should help dampen Sterling's downside risk, with the Pound likely moving to 1.3000," says Lee Hardman, a foreign exchange strategist with MUFG in London.
The base-case expectation at Pantheon Macroeconomics is that MPs will agree on a limited extension of around three months and then will force the PM to engage in cross-party talks, leading to an agreement for a Norway-style soft Brexit in Q2.
"The Withdrawal Agreement would be unrevised, but the Political Declaration would be overhauled to bring Labour MPs on side. We still see around a 30% chance of a second referendum, either called by Mrs. May or backed by a majority of MPs to break the deadlock, but believe the chances of another election remain slim," says Tombs.
However, Paul Dales, Chief UK Economist with Capital Economics says a General Election must be considered by currency markets: "we wouldn't rule out unscheduled developments too. It's possible that something could force May to resign and/or the Labour Party could try to trigger a general election."
Time to move your money? Get 3-5% more currency than your bank would offer by using the services of foreign exchange specialists at RationalFX. A specialist broker can deliver you an exchange rate closer to the real market rate, thereby saving you substantial quantities of currency. Find out more here.

* Advertisement