Pound Sterling at Risk as Brexit Talks Said to be Close to Collapse
Above: File photograph of Prime Minister Theresa May. Image (C) Number 10, Gov.uk.
- Further talks between EU and UK put on ice mere days before Parliamentary vote
- Brexit deal failure could be a major negative for Sterling
- Pound-to-Euro exchange rate @ 1.1691 today, Pound-to-Dollar rate at 1.3101
Reports out ahead of the weekend confirm Brexit talks between the EU and UK are close to breaking down, ensuring Prime Minster Theresa May's Brexit deal will be shot down next week in what could amount to a substantial negative shift in sentiment for the British Pound.
"Geoffrey Cox has scrapped a planned visit to Brussels today for further negotiations because the gulf between the EU & UK over what legal assurances will cut the mustard is so wide," says Mick Gutteridge, Brussels Reporter at The Sun. The report adds to further details from Gutteridge on Thursday that "backstop talks on verge of collapse.
We would expect any suggestion that talks have broken down to be notably negative for Sterling.
"The Attorney General tabled proposals for a new, independent arbitration system to rule on when the backstop could be ended. He said the question it should be asked is whether the UK had shown sufficient good faith in coming up with alternative solutions," says Gutteridge. "Michel Barnier rejected this approach. First, the EU feels Cox is trying to find a legal solution to a political problem by bringing in English law concepts like 'reasonableness' which are alien to them. They say when the backstop can end should be a decision for politicians. And second, the backstop involves what will be the new external border of the Single Market. And policing the Single Market is the job of the ECJ. The EU is incredibly jealous of this competence and sees Cox's proposal as an attempt to 'carve EU law' out of the process."
If the reports are accurate, and we tend to place a high regard on the reporting of Gutteridge based on his previous form, this suggests to us that May might not even be in a position to bring a vote to parliament next week, and we sense that the Prime Minister is running out of road. The odds of a General Election would spike substantially in the event of talks breaking down, and the British Pound has shown over recent years that it dislikes major votes, we are therefore cautious of the currency at this juncture.
The British Pound has been trending lower over recent days with traders increasingly wary that the UK will be unable to secure the kind of assurances required from Brussels to pass Prime Minister Theresa May's Brexit deal.
There will NOT be a meeting between the Brexit Secretary, the Attorney General and Michel Barnier today. (We had sort-of expected one but it was never confirmed.)

— Adam Fleming (@adamfleming) March 8, 2019
Attorney Generaly Geoffrey Cox failed to deliver a breakthrough in Tuesday's high-level talks with the EU. The government's most senior lawyer was in Brussels to secure the changes to the Brexit deal that would allow lawmakers to back it which would in turn an orderly exit from the EU on March 29.
However, Cox appears to be more upbeat on finding a solution than reports suggest. Appearing before fellow parliamentarians on Thursday the Attorney General said he is still in negotiations with the European Union as part of efforts to win concessions required to aid Prime Minister Theresa May's Brexit deal.
"We are discussing detailed, coherent, careful proposals, we are discussing text with the European Union," Attorney General Cox told parliament. "I am surprised to hear the comments that have emerged over the last 48 hours the proposals are not clear, they are as clear as day and we are continuing to discuss them."
Talks between Cox and EU negotiators earlier this week on changes to the so-called Irish backstop, an insurance policy to avoid the return of border controls on the island of Ireland, ended with no agreement.
A spokesman for the European Commission told a press briefing midweek at the Commission's headquarters that "Barnier informed Commissioners that while the talks take place in a constructive atmosphere discussions have been difficult. No solution has been identified at this point which is consistent with the WA including the protocol on Northern Ireland which won't be reopened."
We are not surprised to see Sterling coming off recent highs amidst the deterioration in sentiment. "Sterling remains trapped between the competing tensions of Brexit and the ebb and flow of the domestic economy. For now, Brexit remains the primary driver - by a very large margin. Uncertainty remains extraordinarily high and it is difficult to calibrate our GBP expectations with high precision," says James Rossiter, Senior Global Strategist with TD Securities.
We must also however keep in mind that a deal was only ever going to be forthcoming on the cusp of any deadline. Perhaps something will be delivered before Tuesday: We don't expect any major move in Sterling until some decisive clarity has been provided.
Analysts at TD Securities say they believe a variant of May's deal will be approved, but this is likely to come later in March - not next week.
"We think Sterling faces a more difficult road," says Rossiter, "a lot of good news is already in the price and that investors may have gotten a little ahead of themselves in hoping for further positive developments."
"With the UK's data and event calendar relatively light until the 12th, we think Sterling may start to feel the effects of gravity once again," says Rossiter.
Time to move your money? Get 3-5% more currency than your bank would offer by using the services of foreign exchange specialists at RationalFX. A specialist broker can deliver you an exchange rate closer to the real market rate, thereby saving you substantial quantities of currency. Find out more here.

* Advertisement
Risks to Sterling if Brexit Deal Fails Next Week
Analysts warn that should Prime Minister Theresa May's Brexit deal be shot down next week, the British Pound could find itself coming under notable pressure, even if UK parliamentarians vote to delay Brexit.
According to analysts at Commerzbank, one of Germany's largest lenders, markets could be too complacent on the prospects for Sterling should May's Brexit deal fail.
Current market assumptions are should May's deal be defeated, parliamentarians will simply pass a vote that requests the UK ask the EU for a delay to Brexit, thereby ensuring a 'no deal' Brexit is avoided on March 29, which is held to be a positive outcome from a currency perspective.
However, there is a risk that markets react poorly to a defeat for May and it becomes clear merely extending the Brexit process does little to eliminate uncertainty. "Even if a 'no deal' Brexit is likely to be taken off the agenda next week, the uncertainty of what would happen in case of a postponement remains," says Esther Maria Reichelt at Commerzbank in Frankfurt.
The warnings come as the British Pound is seen coming off 2019 highs with market nerves apparently starting to build ahead of next week's planned vote.
The Pound has come under pressure in response to news EU and UK negotiators failed to make progress in a key meeting held on Tuesday, with EU sources saying the talks had not gone well.
Reports out on Thursday suggest the EU and UK might even agree there is little point to holding further negotiations.
"EU/UK Brexit talks apparently went badly, and Sterling is suffering a bout of nerves," says Kit Juckes, foreign exchange strategist with Société Générale in London, referencing Tuesday's talks. The Pound-to-Euro exchange rate is quoted at 1.1627 at the time of writing, down from last week's high set at 1.1723 while the Pound-to-Dollar exchange rate is quoted at 1.3134, the previous week's high is set at 1.3350.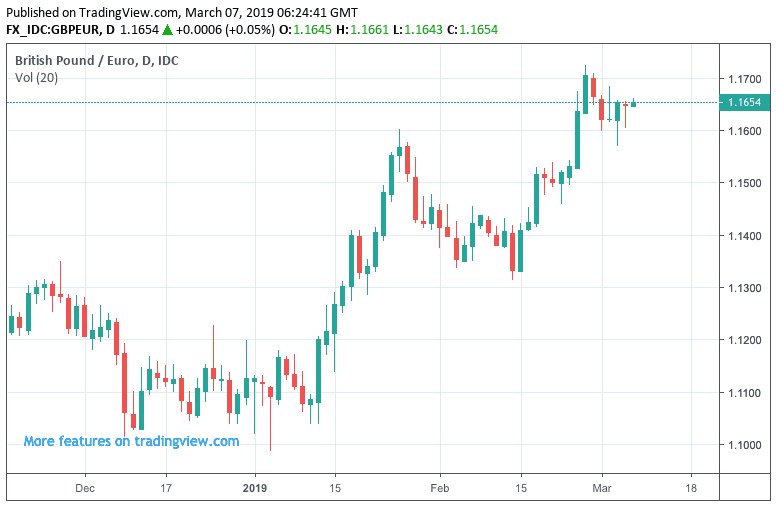 Above: Sterling has come off its highs as markets await fresh information on the direction of Brexit negotiations.
"The Brexit drama enters the next round. Negotiations in Brussels ended without an outcome. As a result Sterling started the day weakened, in particular as the negotiations did not go well according to the EU," says Commerzbank's Reichelt.
Also prompting Commerzbank to adopt a wary stance towards the British Pound is a poor parliamentary arithmetic which appears to have made little material progress since the Brexit deal was defeated by 230 votes in January.
The Conservative's Chief Whip Julian Smith has this week warned that a majority for May's Brexit plan next week was uncertain.
That the arithmetic still remains pitted against the Prime Minister does not surprise the Commerzbank analyst who says it has always been clear that a small group of Conservative party MPs does not want to vote in favour of May's compromise under any circumstances.
May therefore requires some Labour votes, and she is expected to make a pitch to Labour and announce a package of measures designed to safeguard workers' rights on Wednesday as part of a last-ditch attempt to boost support for her deal.
However, on Tuesday John McDonnell, the effective second-in-command of Labour, said it was unlikely many Labour MPs would vote for May's deal.
Furthermore, May simply cannot afford to lose the votes of Northern Ireland's DUP, who have pledged not to vote for the deal if there are no material changes forthcoming from Brussels
"That is why the negotiations in Brussels are so important. If the EU does not make further concessions the vote next week is probably doomed to fail as the votes of the DUP and the ERG depend on exactly that. GBP traders cannot ignore this fact," says Reichelt.
Sterling could struggle next week if May's deal is defeated, and we expect the scale of the defeat to determine the scale of the moves.
Another drubbing on the scale of January's defeat would be taken particularly hard as it will all but seal the fate of the deal, with May unlikely to bring the deal back for a third vote.
A small defeat could buoy Sterling however, as this suggests the deal could pass on a third attempt provided a few more tweaks are made.
Analysts at TD Securities have told clients their 'base case' scenario, at a 70% likelihood, remains that some form of the Brexit Withdrawal Agreement (WA) is approved by Parliament in the next few months, and most likely later in March.
"Here, the UK leaves the EU with a transition agreement in place by the summer," says Rossiter.
Reichelt says that even if a no deal Brexit is likely to be taken off the agenda next week, the uncertainty of what would happen in case of a postponement remains.
Only the EU can decide on the length of any Brexit delay, and reports suggest the delay already being mulled by the EU could last up to two years.
Sterling rallied on the news, suggesting markets like the ideas of a prolonged period of certainty.
However, Reichelt rightly points out that the delay makes the prospects for May's government unclear, as it promised to deliver on Brexit. Could the government ultimately fall?
We believe it could under a lengthy delay with pro-Brexit MPs making it impossible for the government to pass legislation. Should another General Election be called we would expect Sterling to struggle as the currency tends to underperform during times of political uncertainty.
"As a result things remain tense for Sterling," says Reichelt.
"We think Sterling faces a more difficult road," says Rossiter, "a lot of good news is already in the price and that investors may have gotten a little ahead of themselves in hoping for further positive developments."
Time to move your money? Get 3-5% more currency than your bank would offer by using the services of foreign exchange specialists at RationalFX. A specialist broker can deliver you an exchange rate closer to the real market rate, thereby saving you substantial quantities of currency. Find out more here.

* Advertisement