Pound Sterling in the Red amidst Cocktail of Brexit Developments, Disappointing Data and Technical Selling
Above: Prime Minister Theresa May is today expected to address the issue of the Irish border in more detail. File Photo. © Lee Goddard / Number 10 Downing Street
- May to address Irish border issue in Northern Ireland visit
- HMRC 'no deal' planning confirms no 'hard' border with Europe for three months
- Service PMI data shows economy slows sharply
- Pound-to-Euro exchange rate @ 1.1361
- Pound-to-Dollar exchange rate @ 1.2974
The Pound is the worst performing currency amongst its G10 peers on Tuesday with a combination of Brexit angst, technically-driven order flow and softer-than-expected economic data being seen behind the losses.
On the Brexit front, there is little discernible new information in the news flow that would raise eyebrows, but we suspect Prime Minister May's commitment to her cabinet that the UK is leaving the EU on March 29, whatever the weather, as being notable.
This suggests the consideration of an extension to the Article 50 process and a delay to the Brexit date is not a serious consideration at this juncture. Thus, the market's estimation on the likelihood of a 'no deal' taking place will have risen somewhat we suspect, but we doubt by much. "It is reasonable to argue that May is determined to push for EU amendments to the existing backstop and failing that find some 'alternative arrangement'. That in turn suggests she seems prepared to play this right to the wire; a factor that could serve as a cap on GBP gains in the short-term," says a note from the NAB FX Strategy team.
On the data front, it was revealed the UK's service sector - which accounts for over 80% of the UK economy - barely grew in January with a reading of 50.1 being delivered, which surprised markets who were looking for a more robust number. The full details of this story can be found further below in this article.
"The Pound dropped sharply following UK service sector data. The service sector pmi showed that the UK's dominant sector almost ground to a halt in January. Brexit uncertainties saw clients delaying decisions on new projects and postponing orders which led to business activity in the service sector dropping to its lowest level since the Brexit vote aftermath. With activity in services, manufacturing and construction all sharply lower, we can expect UK economic growth to be virtually non-existent at the start of 2019," says Fiona Cincotta, Senior market analyst with City Index.
We mention technically driven orders being a consideration too. We note that a key level in GBP/USD has given way, and this could well be inviting further selling into the market which can be expected to weigh right across the Sterling complex. For further details of the technicals involved I recommend you read the views of Commerzbank's Karen Jones who called the move this morning.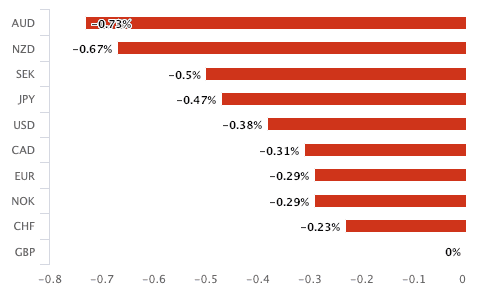 Above: Sterling is the worst performing currency in the G10 on Tuesday, February 05
Focus now turns to Prime Minister Theresa May who travels to Northern Ireland for a two-day visit, in what mounts to the first major political set-piece of the week which could provide some interest to Sterling exchange rate markets.
Markets will be interested in hearing whether there will be further details on the UK's evolving position towards the key Irish backstop issue: this is the part of the Brexit deal UK parliamentarians want removed, or altered significantly, if they are to vote thorough the Brexit deal.
May's decision to speak in Northern Ireland will no doubt mean she intends to deal with the subject in detail. The problem is it might be too early to deliver any new details as members of her party are currently locked in the process of finding a solution they can present to Brussels. Regardless any clarity on an emerging UK position as to what changes they will request from the EU could be of interest to traders, and therefore inspire some interest in the Pound.
May will return to Brussels on Thursday to meet European Commission President Jean-Claude Juncker to sound out new proposals, and a spokesperson for the Prime Minister on Monday told reporters urgent work was under way on formulating such a proposal.
We reported yesterday that various wings of the Conservative parliamentary party are locked in three-day-long discussions on formulating suggestions that May could take back to Brussels with the confidence they can command the backing of parliament.
Parliament heavily rejected the first version of the Brexit deal, with most MPs rounding on the Irish backstop saying it is designed to keep the UK locked into European trading arrangements on a potentially indefinite basis.
Indeed, fears that the backstop will become permanent are only being stoked by Ireland's Foreign Minister Simon Coveney who has once again repeated he sees no other solution to the Irish border question other than the backstop. He told reporters in Brussels on Monday that so far he has heard of no "alternative arrangements" that would work.
"The problem has been that none of those ideas around alternative arrangements have actually stood up to scrutiny. We certainly haven't seen any that have," Coveney said, according to a Reuters newswire report.
"We spent well over a year looking at different ways of providing the guarantee of no physical border infrastructure on the island of Ireland to protect an all Ireland economy which reinforces a peace process. Many hours were involved with coming up with a legally credible and pragmatic solution," he said.
"I have yet to hear any new thinking that goes beyond what's already been tested. What Ireland is being asked to do by some in Westminster is to essentially do away with an agreed solution between the UK government and EU negotiators and to replace it with wishful thinking. That is a very unreasonable request to ask the Irish government to be flexible on," he said.
Time to move your money? Get 3-5% more currency than your bank would offer by using the services of foreign exchange specialists at RationalFX. A specialist broker can deliver you an exchange rate closer to the real market rate, thereby saving you substantial quantities of currency. Find out more here.

* Advertisement
An Impending Breakthrough?
At Pound Sterling Live we have been saying for some months now that the EU will make use of a codicil to satisfy UK demands for legal assurances that the Irish backstop will be time limited.
Importantly, a codicil will also meet the EU's often stated position that the Withdrawal Agreement won't be opened. This is because a codicil is in effect an attachment to a treaty that has legal force, and is the obvious win-win for the UK and EU that will allow for a breaking of the Brexit impasse.
A decent hint that a codicil is being cooked up came on Monday when Martin Selmayr, Secretary General of the European Commission, reportedly told a group of UK parliamentarians visiting Brussels that he was prepared to make significant concessions on Theresa May's withdrawal agreement.
Selmayr offered to give the prime minister a legally binding assurance that the backstop would not lock Britain into a permanent customs union with the EU, the MPs said.
Critically this legal assurance must come without the Withdrawal Agreement being opened.
Codicil it is then.
The problem is that Brexiteers in the Conservative party might not like this, as they have demanded the Withdrawal Agreement itself is opened up. It appears that both sides will have to compromise and settle on a codicil.
We believe this direction of travel - towards a codicil - will prove supportive to Pound Sterling as the UK could end up with a deal that parliamentarians, while not necessarily liking 100%, will ultimately settle for.
Services PMI Shows UK Economy in Sharp Slowdown
The UK Services PMI for January read at 50.1 according to a report released by IHS Markit on February 05, a figure that places the UK economy's largest sector marginally in growth territory with anything below 50 signalling contraction.
Markets had forecast a reading of 51.1 which would be more in line with December's reading of 51.2. The disappointment is therefore a negative for Sterling as it signals the economy is slowing down at the start of the year.
According to IHS Markit, January data indicated a renewed loss of momentum for the UK service sector, with a decline in incoming new work reported for the first time since July 2016. Subdued demand conditions meant that business activity was broadly flat at the start of 2019, while concerns about the economic outlook weighed more heavily on staff recruitment.
"The latest PMI survey results indicate that the UK economy is at risk of stalling or worse as escalating Brexit uncertainty coincides with a wider slower slowdown in the global economy," says Chris Williamson, Chief Business Economist at IHS Markit, which compiles the survey.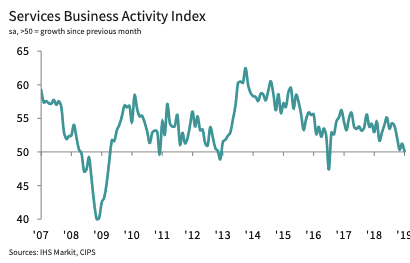 Following the release of the data Pound Sterling was seen trading softer against most currencies, but the impact we believe will ultimately be immaterial as markets are focused primarily on the state of ongoing Brexit negotiations.
Economists are of the belief that a Brexit deal struck before March would allow for a pickup in UK economic activity as stalled investment is released and businesses operate with more certainty.
"Brexit uncertainty continues to be at the heart of the malaise as clients delayed orders and consumers were deeply reluctant to spend under the continuing cloud of hesitation, indecision and ambiguity," says Duncan Brock, Group Director at the Chartered Institute of Procurement & Supply.
According to the report, survey respondents overwhelmingly linked the slowdown in business activity growth to heightened political uncertainty at the start of 2019. A number of service providers reported that Brexit related concerns had dampened client demand and resulted in delayed decision making on new projects.
Sector data suggested that Transport & Communication and Financial Intermediation were the weakest performing areas of service sector activity.
New business volumes declined for the first time in two and-a-half years during January, although the rate of contraction was only modest. Political uncertainty was the most commonly cited reason for lower new orders, with firms noting that Brexit concerns had led to more cautious spending among clients and risk aversion in relation to new projects.
UK Commits to Keeping Borders Open in 'No Deal' Brexit Scenario
The Pound traded steady on Monday, February 05 with a bounce against the Euro in the afternoon session being attributed by some market commentators to news that the UK would not look to impose a hard border on March 29 in the event of no Brexit deal being reached between the UK and EU.
HM Revenue & Customs said that "for a temporary period" it would allow "most" shipments into the country before companies have even informed them they've arrived.
i.e. there will be no border checks and mile-long queues in the event of a 'no deal' Brexit.
"For a temporary period, HMRC will allow most goods moving from the listed roll on roll off locations to leave the UK port or train station before you've told us that the goods have arrived," reads official guidance laid out by HMRC on the procedure that would likely take place in the event of a 'no deal' Brexit.
Richard Pace, a foreign exchange analyst with Thomson Reuters, says the Pound received a lift on the news, noting "HM customs will avoid checking goods from EU to avoid hold ups at ports."
Exporters will have 24 hours to fill in electronic declaration. This would however, only be for a temporary period.
The news eases some immediate concerns about the potential damage posed by a 'no deal' Brexit. A 'no deal' Brexit remains the starting point for all discussions over the current valuation of the British Pound, and crucially, is the starting point for all analyst forecasts.
In short, a 'no deal' Brexit is the worst possible outcome possible on March 29 for the UK economy and its currency. As fears of such an outcome have eased of late we have seen the currency rise, ensuring 2019 has gotten off to a flyer for the currency.
The Pound has paused in early February as markets reevaluate expectations for a 'no deal' Brexit, and any news that provides concrete information on what a 'no deal' would look like will be welcomed by Sterling, as is the case with this article on a customs waiver from the UK.
The report has therefore played positive for a currency fixated with the issue of a Brexit deal.
Time to move your money? Get 3-5% more currency than your bank would offer by using the services of foreign exchange specialists at RationalFX. A specialist broker can deliver you an exchange rate closer to the real market rate, thereby saving you substantial quantities of currency. Find out more here.

* Advertisement