Pound Sterling Bouyed on news Government has Three Days to Present a 'Plan B' if Brexit Deal is Voted Down Next Week
Image © Photocreo Bednarek, Adobe Stock
- May says talks with EU ongoing

- Don't buy Sterling in current environment: Commerzbank
- Anti-Brexit cabal flex muscles, but pundits say they can't prevent no-deal from taking place

- Pound-to-Euro exchange rate at 1.1110, Pound-to-Dollar at 1.2743

The British Pound was bouyed midweek after Conservative party MPs rebelled against the government to join forces with Labour to pass a rule that forces the government to come back to parliament with a 'Plan B' within a mere three days should the Brexit deal be rejected by MPs next week.
The government is expected to lose next week's meaningful vote on the Brexit deal struck between the UK and EU back in October 2018, and rebels are hoping that the government might come back to parliament and introduce an alternative path forward to avoid a 'no deal' Brexit taking place in March 2019. The defeat is the second suffered by the government at the hands of remain-leaning MPs in 24 hours, leading some commentators to suggest there is no parliamentary support for a 'no deal' to take place in March.
Analyst Viraj Patel, FX & Global Macro Strategist at Arkera says, "the Brexit amendments may have arguably reduced risks of disorderly GBP decline".
According to Patel, the three-day 'plan B' deadline limits lengthy political impasse, the majority of MPs would prefer a softer Brexit and the Finance Bill means no-deal Brexit is highly unlikely. "GBPUSD looks pretty cheap at 1.26-1.27," says the strategist.
The defeat suffered by the government comes on the day parliament begins a lengthy debate process ahead of the January 15 vote on the Brexit deal. Kicking off proceedings, UK Prime Minister Theresa May told parliament that she is engaged in talks with EU leaders on securing further assurances to ease concerns over her Brexit deal, doubling down on her warning that Britain could leave without an accord if parliament votes against her.
"I've been in contact with European leaders ... about MPs' concerns. These discussions have shown that further clarification over the backstop is possible and those talks will continue over the next few days," says May.
She also said her government was looking at ways to hand parliament more power over Britain's talks with the EU on the future relationship, including on extending a transitional period rather than triggering the so-called Northern Irish backstop to prevent a return to a hard border on the island of Ireland.
At present, parliamentary arithmetic suggests the government will lose the vote owing to opposition from parliamentary members of her own Conservative party and Northern Ireland's DUP, all who must vote with the government to carry legislation.
May has has been wooing Northern Ireland's DUP over recent days according to press reports, a move we see as being critical to securing any deal. Indeed, the Reuters currency desk suggest today's gains in Sterling are testament to this news.
However, the DUP have confirmed changes thus far are not satisfactory as the legal text contained in the Withdrawal Agreement ensures regulatory separation between Great Britain and Northern Ireland in the event of the Irish backstop clause being triggered.
We expect Sterling to trade at current levels until new information on the trajectory of Brexit is forthcoming. With the result of the meaningfully vote, to be held on January 15, well signposted, we are wary that the current state of affairs for Sterling could last beyond next week.
Prime Minister Theresa May is widely expected to lose the vote, and it is what happens after the vote is lost that counts.
What is certain is that May needs fresh concessions from the EU to get her vote across the line, and the EU will be waiting until the last moment before offering her help, if they do at all.
"At this point, we don't expect much more than clarification on the existing deal; the EU is not likely to offer material changes until after Theresa May has proven she doesn't have the votes to pass the current deal," says a note from the currencies desk at TD Securities.
A second vote will therefore likely have more chance of seeing the deal passed, provided the EU offer substantive changes that can satisfy Northern Ireland's DUP in particular.
However, we are wary that the EU is watching the strong showing of anti-Brexit parliamentarians who on Tuesday formed a cross-party bloc large enough to defeat the government on a key piece of financial legislation that in essence clips the government's spending powers in the event of a 'no deal' Brexit. "In the UK, the government was defeated last night on amendments to the Finance Bill, which may suggest that a 'no deal' Brexit will be more difficult to implement," says Hann-Ju Ho, an analyst with Lloyds Bank.
The currency market rule book suggests that such an outcome should be positive for Sterling, but traders have given a verdict that the move only entrenches the levels of uncertainty dogging UK politics at present, hence the Pound hardly reacted to the outcome.
If the EU believes this cabal of MPs can find a way of thwarting Brexit they might simply leave the deal 'as is' in the expectation that the entire process will ultimately unravel in a pro EU manner.
Advertisement
Bank-beating exchange rates. Get up to 3-5% more foreign exchange by using a specialist provider to get closer to the real market rate and avoid the gaping spreads charged by your bank when providing currency. Learn more here
Parliament Cannot Stop 'No Deal' Brexit
However, a number of commentators, government officials and Brexiteer MPs maintain that the vote on the Finance Bill changes nothing: The UK still leaves the EU on March 29. The anti-Brexit cabal will have to at the very least force a delay of Article 50 - the process of leaving the EU - if they are to have any hope at all of stopping Brexit. How they can achieve this is still unclear. The government for its part has been keen to stress over the past 24 hours that it will not entertain a delay to the process of Brexit.
It's almost impossible to see where parliament will take the UK at this point, but from a currency perspective we see the ongoing bout of chronic political uncertainty as being neither helpful or hurtful to Sterling.
Markets are in wait-and-see mode and therefore it should come as little wonder that the Pound is hugging tight ranges against both the Euro and U.S. Dollar.
We expect any strength and weakness in Sterling to ultimately be short-lived. "Please do not go ahead and buy Sterling hoping that a no deal Brexit has become less likely following yesterday's vote. Beware of false hopes!" warns Charlie Nhuc Hiang Lay, an analyst with Commmerzbank in Frankfurt.
This view has been confirmed by a government official on Wednesday morning, according to Chris Heaton-Harris, a junior Brexit minister, parliament cannot stop Brexit from taking place on March 29.
"Is there a parliamentary route by which Brexit can be stopped? I do not believe so," Heaton-Harris told a parliamentary committee hearing. "With the legislation that we have passed, if we do not leave with a deal, currently, we will be leaving without a deal."
Indeed. Jacob Rees-Mogg, a leading Brexiteer in the Conservative party told Talk Radio this morning that anti-Brexit parliamentarians can change little and a 'no deal' Brexit is still likely. "It's an opening salvo with a pea-shooter in an attempt to model themselves on Donald Trump and have a government shut down," said Ress-Mogg in reference to the victory of the pro-Remain cabal in parliament overnight. "It is a really unimportant, uninteresting amendment passed with a small majority. It's not the end of no deal."
The Sterling Levels to Watch
The Pound is supported to the downside against the Euro by the 1.10 level with forays into this area proving short-lived. The 1.11s appear to be where the currency is more comfortable.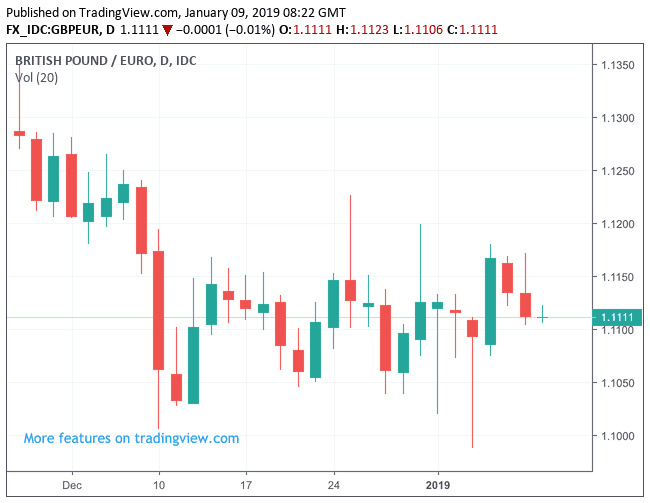 Karen Jones, a technical analyst with Commerzbank says, "further consolidation looks likely very near term."
Concerning the Pound-to-Dollar exchange rate, attempts to move higher appear to lack conviction.
"GBP has moved into a consolidation phase and is expected to trade sideways within a 1.2685/1.2770 range," says Quek Ser Leang, an analyst with UOB in Singapore.
UOB highlighted recently that the late-Dec high of 1.2814 is within strike but GBP eased off rapidly after touching 1.2797. U"pward pressure has eased and the 1.2797 high is likely a short-term top," adds Leang.