U.K. Inflation Misses Expectations
© IRStone, Adobe Stock
- GBP sags as inflation misses and parliament looms over Brexit deal.
- U.K. inflation defies consensus, BoE, and holds at 2.4% in October.
- As Prime Minister and MPs prepare for showdown over Withdrawal.
The Pound retreated from earlier highs Wednesday after official data showed inflation surprising on the downside in October and as a parliament-shaped question mark hangs over the Prime Minister's EU withdrawal agreement.
Inflation rose at an annualised pace of 2.4% in October, unchanged from the previous month, although consensus had been for a 2.5% increase.
Core inflation, hich removes volatile food and energy items from the goods basket and so is seen as a more accurate representation of domestically generated inflation pressure, was in line with expectations at 1.9%.
Prices of food, beverages, clothing and footwear all grew at a lesser pace during the October month, offsetting faster increases for some services and recreational goods to weigh on the main consumer price index.
"The consumer price figures support our view that, provided a Brexit deal is struck, inflation will probably be back at the 2% target next year," says Ruth Gregory, an economist at Capital Economics.
Above: Office for National Statistics graph showing categorical contributions to inflation.
"We already knew that the recent increases in utility prices would push up on CPI inflation. But this was offset by a sharper-than-expected fall in food price inflation. Note that the core rate (which excludes food and energy) held steady at 1.9%," Gregory adds.
Markets care about inflation because it has implications for interest rates, which are themselves the predominant driver of exchange rates.
Changes in interest rates are only normally made in response to movements in inflation but impact currencies because of the push and pull influence they have on capital flows and their allure for short-term speculators.
"We still think that CPI inflation will return to the 2% target in Q1 and will average just 1.8% in 2019, well below the MPC's 2.2% forecast. Below-target inflation won't rule out rate hikes, but it will ensure that the Committee can calibrate the pace of tightening according to the strength of the economy," says Samuel Tombs, chief U.K. economist at Pantheon Macroeconomics.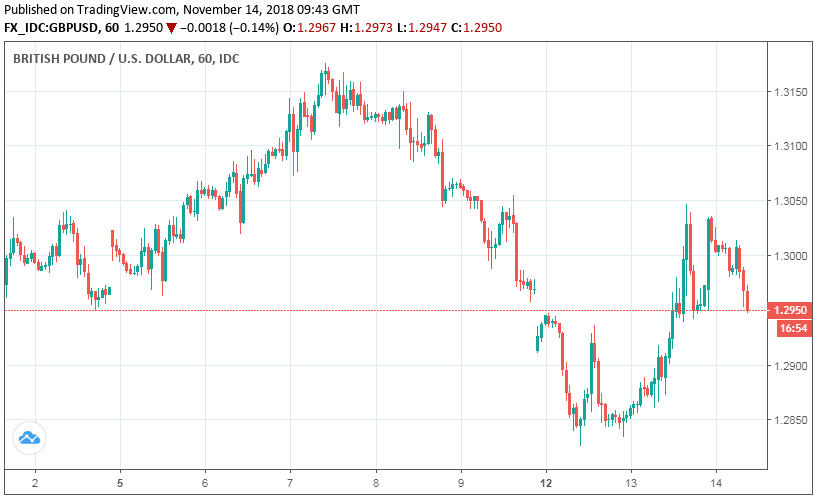 Above: Pound-to-Dollar rate shown at hourly intervals.
The Pound was quoted 0.36% lower at 1.2958 against the Dollar following the release and is now down -3.9% for 2018.
The Pound-to-Euro rate was 0.09% lower 1.1494 but is up 2.94% for 2018. Sterling was down against all G10 currencies for the session.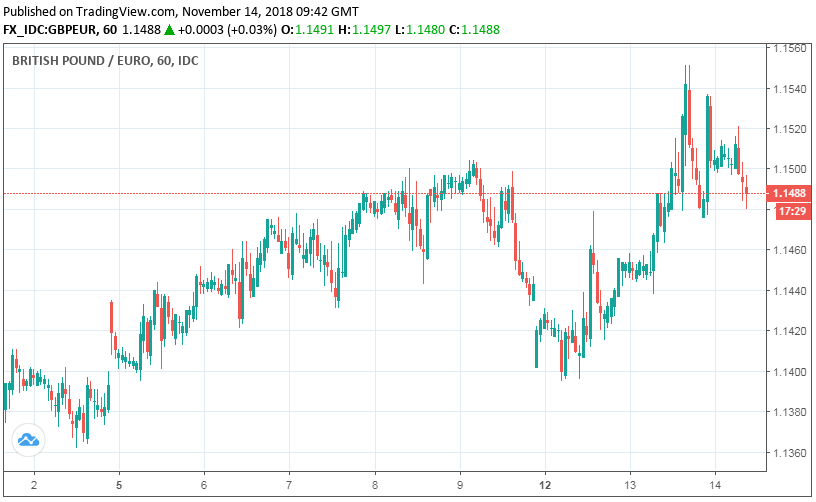 Above: Pound-to-Euro rate shown at hourly intervals.
Wednesday's data follows September's labour market figures, which showed U.K. wage packets rising at their fastest pace since 2008. Markets saw the data as likely to encourage a more "hawkish" Bank of England (BoE).
"Core inflation stayed below target again in October and is likely to stay there over coming months. But signs of rising wage growth are still the key for Bank of England policymakers and could prompt a rate hike in May," says James Smith, an economist at ING Group.
The Bank of England raised its interest rate to 0.75% in August, citing its own inflation forecasts that suggest the consumer price index will remain consistently above the 2% target over coming years. It's also been saying rising household pay will stoke even further inflation pressures during the quarters ahead.
This was the second rate rise inside of the last 12 months, although markets have since been reluctant to bet that another will be delivered any time soon, due largely to uncertainty over the trajectory of the Brexit negotiations and the impact that an eventual EU exit might have on the economy.
"Despite the positive headlines of the past 24 hours, there are still big questions surrounding the Parliamentary vote on the final deal. But if the deal is ultimately approved by MPs, then this would probably unlock a May rate hike from the Bank of England," says ING's Smith.
Prime Minister Theresa May reached an agreement with Brussels' officials on terms of the U.K.'s withdrawal from the EU late Tuesday and is reported to be attempting to drum up support for the deal among her cabinet.
In principle, the deal should remove the threat of a so called hard Brexit, or a "crashing out" Brexit, where the U.K. defaults to trading with the EU on World Trade Organization terms.
Passing it through the divided gauntlet that is the U.K. parliament is the final and most formidable obstacle blocking Pound Sterling from moving higher.
If the withdrawal bill passes, the U.K. will enter "transition" between March and December 2020, during which time little will change as officials negotiate the future trading relationship.
However, if the PM fails to secure passage through parliament for her agreement then the risk of an exit without formal arrangements will have risen.
So too will the level of noise in the U.K. political arena, given opposition politicians have been pushing for another election for some time already.
Both of those latter things would almost certainly be bad for the Pound.
Advertisement




Bank-beating exchange rates. Get up to 5% more foreign exchange by using a specialist provider to get closer to the real market rate and avoid the gaping spreads charged by your bank when providing currency. Learn more

here
Featured Content
Mortgage Direct - a Spanish mortgage broker specialising in the provision of mortgages for expats - have confirmed they have secured their Spanish license.