Pound Sterling Firms on Reports of UK-Wide Backstop being Acceptable to E.U.
Image (C) Adobe Images
- U.K-wide backstop reprents major win for P.M. May
- But, subtext takes some shine off the rally
- Market is again showing some Brexit deal optimism
- Pound-to-Euro exchange rate @ 1.1333 today, Pound-Dollar @ 1.2945
Pound Sterling rallied to the top of the leaderboard Tuesday on news a key sticking point to Brexit negotiations might be navigated allowing investors to hold onto their assumption a Brexit withdrawal deal will be struck before end-2018.
Ireland's RTÉ reports the E.U. will offer British Prime Theresa May a U.K.-wide customs union as a way around the Irish backstop issue, but it will have to be negotiated beyond the Withdrawal Agreement as a separate treaty. Markets did catch up with this caveat and it ultimately stalled Sterling's advance.
The news nevertheless suggests a key sticking point to negotiations - the Irish backstop - can be solved. If true, the news also presents a much needed win for U.K. Prime Minister Theresa May who forwarded the idea of a U.K.-wide backstop as one way of ensuring the Irish border remains open while ensuring the U.K. also remains united.
The backstop would only be activated if the U.K. and E.U. fail to reach agreement on how to prevent a hard border for goods on the island of Ireland at the end of the two-year transition period.
RTÉ understands that the promise of a U.K.-wide customs backstop will feature prominently near the top of a re-drafted Withdrawal Agreement, and that previous references to Northern Ireland being part of the E.U.'s "customs territory" will be dropped.
The British Pound remains highly attuned to sentiment on Brexit talks, and news of progress has inevitably seen the currency attract a bid.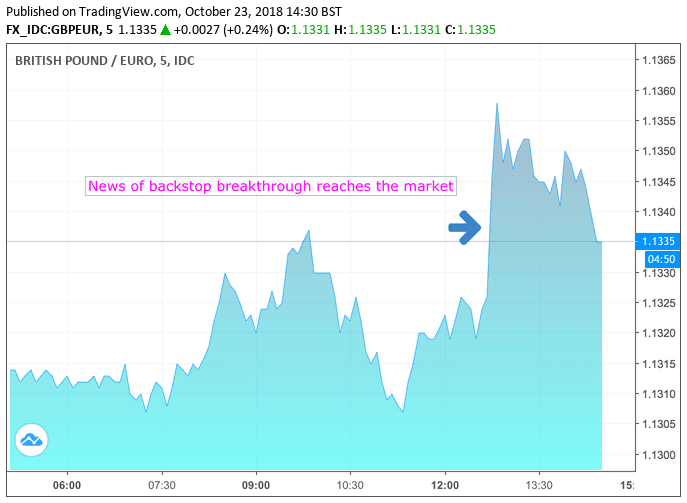 The Pound-to-Euro exchange rate trades at 1.1350, having been as low as 1.1290 this week.
The Pound-to-Dollar exchange rate trades at 1.2998, having been as low as 1.2938 earlier this week.
"The market is again showing Brexit deal optimism," says Peter Stoneham, an analyst with Thomson Reuters adding the RTE report should give U.K Prime Minister May confidence she can get a deal lawmakers can support.
????????#BREXIT: RTE reports EU may offer British PM a UK-wide customs union. Would solve some problems but not all. Also, the EU still insists there must be a Northern Ireland backstop. $GBP strengthens as it usually does on what seems to be positive news https://t.co/Y3pLf4plbs

— Danske Bank Research (@Danske_Research) October 23, 2018
The acceptance of a U.K.-wide customs union would represent a concession by the E.U. to May who knows she cannot gather the political backing to pursue a Northern Ireland only backstop.
However, some of the shine was taken off Sterling's rally as markets digested the subtext to the report.
"GBP/USD did get a lift on reports that the E.U. would offer the UK a wide customs arrangement, but that faded as it was later suggested that this comes after a withdrawal agreement is signed," says Quek Ser Leang with UOB in Singapore. "EUR/GBP's dip below 0.880 was marginal and brief."
Whether or not the backstop has a timelimit could also well be the next point of contention, serving as a reminder to markets there are still challenges that must be overcome, particularly in terms of domestic resistance to the Prime Minister's favoured Brexit strategy.
Prime Minister Theresa May's spokesman, when asked if the PM was expecting a no confidence vote, said that the PM is still focused on getting a Brexit deal and that PM May continues to believe we can secure a deal that all lawmakers can support.
He said that PM May will bring forward a proposal on regulation for the Irish backstop, and the work is being carried out on that.
The Prime Minister also now plans weekly update to ministers on deal and no deal scenarios.
May briefed parliament Monday that she would not accept an outcome in which the U.K. would remain "indefinitely" in either an extended transition or backstop. This outcome is a major fear to Brexit purists who are opposed to the backstop plan currently being proposed believing it risks the U.K. being locked in the E.U.'s regulatory arms for years to come.
"We would not accept a position in which the UK, having negotiated in good faith an agreement which prevents a hard border in Northern Ireland, nonetheless finds itself locked into an alternative, inferior arrangement against our will," said May.
The news appears to have staved off a potential rebellion by Conservative party members who were gunning to make some changes to the Northern Ireland bill due before parliament mid-week with the view of making a Northern-Ireland only backstop all but illegal.
That the rebellion has been avoided saw Sterling advance earlier Tuesday.
Looking ahead, Reuters' Stoneham warns the "choppy direction changes on Brexit news continues to make GBP a tough call."
Indeed, we reported earlier analysts remain wary of Sterling in the current environment of mixed news flow. "We think this noise is likely to keep the Pound on the back foot this week," says Viraj Patel, a foreign exchange analyst with ING Bank N.V. in London.
Advertisement


Bank-beating GBP exchange rates: Get up to

5% more

foreign exchange

for international payments

by using a specialist provider to get closer to the real market rate and avoid the gaping spreads charged by your bank when providing currency. Learn more here