British Pound Still at Crisis Levels, has Scope for Recovery say Nomura
Image © Adobe Stock
- Pound at levels consistent with a financial crisis
- Scope for recovery is substantial

- Even a fudge of Withdrawal Agreement can support the Pound
- Pound-to-Euro exchange rate @ 1.1404 today, Pound-to-Dollar rate @ 1.3077
Pound Sterling is still priced at historic lows and it could be that the only way is up, according to Jordan Rochester, an FX strategist at Normura bank.
The analyst says the current valuations of Sterling are consistent with a financial crisis, which the U.K. economy is not suffering, and the scope for a recovery to fairer values is therefore substantial.
"Zoom out; from 1975 to today, the Pound is trading at historic lows - or 1 or 2% from them. If you look at where it was in 1992, when we had Black Wednesday, ERM, Pound crashed and George Soros became a household name, we are trading at the same levels, and only in times of crisis has the Pound been trading around here," says Rochester, in an interview with Bloomberg news.
The inference is that Sterling cannot get any cheaper and a lot of bad news concerining Brexit has already been priced in. This could prove to be a huge relief for those hoping for a stronger Pound as it suggests Brexit might have already thrown everything it has at the currency.
The findings from the Nomura analyst come just a day after we published findings from ANZ - the Australia-based global investment bank - that suggests the "doomsday" scenarios facing the Pound expected by some analysts are overdone.
In ANZ's opinion the Pound will cannot realistically go much lower on any sustainable basis, even on a 'no deal' Brexit outcome. In short, Sterling is at levels commensurate with the toughest of Brexits.
Rochester says a Brexit Withdrawal Agreement of some kind - any kind - will probably emerge in 10 weeks, ready to be signed in November.
Markets are however nervousof both sides failing to strike a deal and therefore demand a risk premium for holding Sterling. However, the stakes are too high for negotiators to fail, and politicians will come up with something, even if it is some sort of fudge or delay.
"Last year we all got surprised when we got a deal agreed to in December. Everyone was saying it won't be done this year, it will be a catastrophe, and yet it was agreed at the last minute at 6.00am on a Friday morning if I remember rightly," says Rochester.
Even if they fail to get a deal in time, politicians will probably find a way to 'kick the can' down the road, and agree a 'transition period' in which to give the talks more time to reach a deal.
"With time running out, the prospect that much of the discussion over the detail will be kicked into the transition period suggests that GBP will not be able to rid itself of political risk next year," says Jane Foley, a foreign exchange strategist with Rabobank in London.
The great political fudge remains a prospect; but even this offers support to Sterling.
"Yes Brexit is a crisis, but it is one I think it is one we will get an answer to," says Rochester. "Even if the answer is Canada or even WTO, the main thing the market will care about is do we get a transition - do we get a soft landing to that hard place? If we get that transition it is another 21 months of E.U. membership, in all but name."
With a 60% chance of a decent deal, the eventual endgame will be positive for Sterling, but in the short-term, the currency could weaken before it strengthens - a view that most foreign exchange analysts can agree on.
"To get there the road is going to be quite rocky. Best way to get there is short Sterling because we think initially the news will be quite bad," says Steven Saywell, multi-asset specialist at BNP Paribas.
Although the Pound is at historic lows it is not necessarily 'oversold'.
Data from futures exchanges shows most speculative traders have covered their Sterling shorts and the "market is neutral".
This means the currency could still go lower - If the positioning had shown the market was heavily short Sterling it would have indicated the risk of a reversal higher but as things stand the exchange rate could still go lower.
BNP Paribas' negative short-term forecast for Sterling is conditional on there being no good news from talks between now and late October/early November.
Advertisement


Lock in Sterling's current levels ahead of potential declines: Get up to

5% more

foreign exchange

for international payments

by using a specialist provider to get closer to the real market rate and avoid the gaping spreads charged by your bank when providing currency. Learn more here
Sterling Pares Gains at Start of New Week
The British Pound reversed recent gains made against the Euro, U.S. Dollar and other major currencies at the start of the new week, but we believe the conditions remain in place to keep the currency supported over coming days.
Indeed, one analyst believes any weakness might be best viewed as an opportunity to purchase the currency at a discount.
The Pound-to-Euro exchange rate rallied to a three-and-a-half month high at 1.1392 Monday, before retracing back to 1.1368 while the Pound-to-Dollar exchange rate went as high as 1.3133 before reversing 0.5% down to 1.3059.
In fact, a look at the relative performance board shows Sterling to be in a poor position: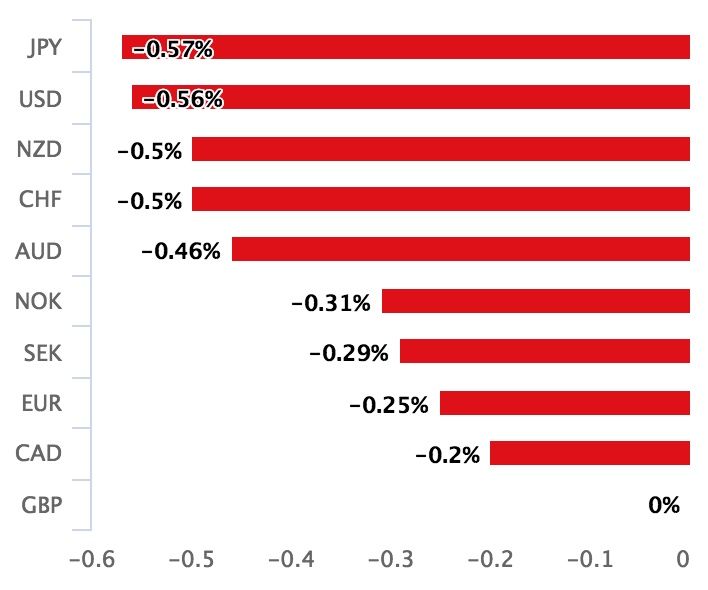 There are no immediate headlines to pin the decline in Sterling too, which suggests to us that weakness should be considered temporary until we see a more concerted deterioration on the charts.
"Current pullback could provide better buy levels into a developing trend," says Peter Stoneham, a currency analyst with Thomson Reuters.
As we note in our week ahead forecasts, the Pound is in an appreciating trend against both the Euro and the U.S. Dollar and we therefore see a bias for further gains over the short-term.
Risks from any negative Brexit headlines do remain an ever-present danger for Sterling.
"Politics is likely to remain at the forefront of the market's attention, although the game of 'headline roulette' makes managing risk difficult. Brexit negotiations resume, after last week's Conservative Party Conference with UK Brexit Secretary Raab back in Brussels this week," says Robin Wilkin on the Global Cross Asset Strategy desk at Lloyds Bank.
The news that the EU was going to offer its British partners a further reaching ("supercharged") free trade agreement than ever entered with anyone else before provided decent support for Sterling at the end of last week. In my view the reaction was not justified for several reasons.
However, weekend headlines remain positive, which leads us to draw a conclusion that the conditions that saw Sterling outperform its rials in the previous week remain in place.
European Council President Donald Tusk said on Saturday it was possible to agree a deal by the end of 2018.
Speaking on the sidelines of a conference in Krakow, Poland, Tusk said: "We will try for it in October... and I think there is a chance to have an accord by the end of the year."
"I have a hope, which is close to certainty, that at the end we'll manage to achieve an exit deal and a declaration about future relations which will be the best possible," adds Tusk.
The President of the European Commission, Jean-Claude Juncker, meanwhile said on the weekend he is sure a Brexit agreement could be reached in November, if not sooner.
Juncker told three Austrian newspapers that Brexit without a deal "would not be good for the UK, as it is for the rest of the union".
He added:
"I assume that we will reach agreement on the terms of the withdrawal agreement.
"We also need to agree on a political statement that accompanies this withdrawal agreement - we are not that far yet.
"I have reason to think that the rapprochement potential between both sides has increased in recent days, but it can not be foreseen whether we will finish in October.
"If not, we'll do it in November."
This week we await new plans concerning the question of the future of the Irish border from the U.K. and Europe's initial response to the plans could well move Sterling.
"Recent developments are encouraging as they help to dampen the risk of a more disorderly no deal Brexit outcome. A Brexit breakthrough in the coming weeks would open up further upside potential for the Pound heading into year end," says Lee Hardman, a foreign exchange strategist with MUFG.
Advertisement


Lock in Sterling's current levels ahead of potential declines: Get up to

5% more

foreign exchange

for international payments

by using a specialist provider to get closer to the real market rate and avoid the gaping spreads charged by your bank when providing currency. Learn more here