2017-2018 Forecasts for Euro, Pound, Dollar and Norwegian Krone Updated at DNB Markets
Economists at DNB Markets have released their latest foreign exchange forecasts covering the Euro's prospects against the Dollar, Pound, Norwegian Krone and other Scandinavian currencies.
Analysts at Norway's leading financial services provider remain bullish on the Dollar's prospects noting the positive US growth effects from expansionary fiscal policy under the country's new administration and expect 3+2 hikes from the US Federal Reserve over the 2017 to 2018 period; more than market is currently pricing.
The US Dollar has struggled since the Fed raised rates at their March meeting while failing to hint at a more aggressive pace of rate hikes over coming months.
If DNB Markets are correct then the Dollar will ultimately make up lost ground.
Analysts also believe further signs on fiscal policy from Trump will give a boost to USD strength.
However there are questions as to just how far the Dollar can go as rising oil prices going forward and negative effects from USD strength on the US economy should limit the potential for notable Dollar strength.
Political risks will meanwhile weigh on the Euro but these risks are said to be subsiding and DNB note the European Central Bank is turning a little more hawkish - i.e. more agreeable to the prospect of stepping back from providing further stimulus to the Eurozone economy.
Eurozone core inflation is forecast to remain low and DNB believe the ECB will keep up asset purchases asset purchases, albeit at a slower monthly pace.
Elsewhere, the Pound will meanwhile be hampered by slower economic growth.
"Higher inflation is rapidly lowering real wage growth which slows consumer demand. Retail sales have fallen for three months. The start of the Brexit negotiations will likely create more uncertainty which could hamper hiring and investments going forward," say DNB Markets.
Hence, analysts do not believe there will be a need for Bank of England to hike rates in order to slow inflation which should keep the Pound under pressure.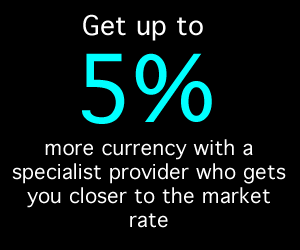 Norwegian Krone: No More rate Hikes
Norges Bank kept the policy rate unchanged at 0.5% in March, and kept a 40% probability for rate cut later in 2017
Unchanged rates are likely going forward based on worries over the housing market and household debt.
There is a downside risk envisaged by DNB Markets in the form of a further drop in inflation and falling home prices
"A slower recovery and higher unemployment than Norges Bank expects will hinder rate hikes further out. We expect unchanged policy rates the whole forecast period," say DNB.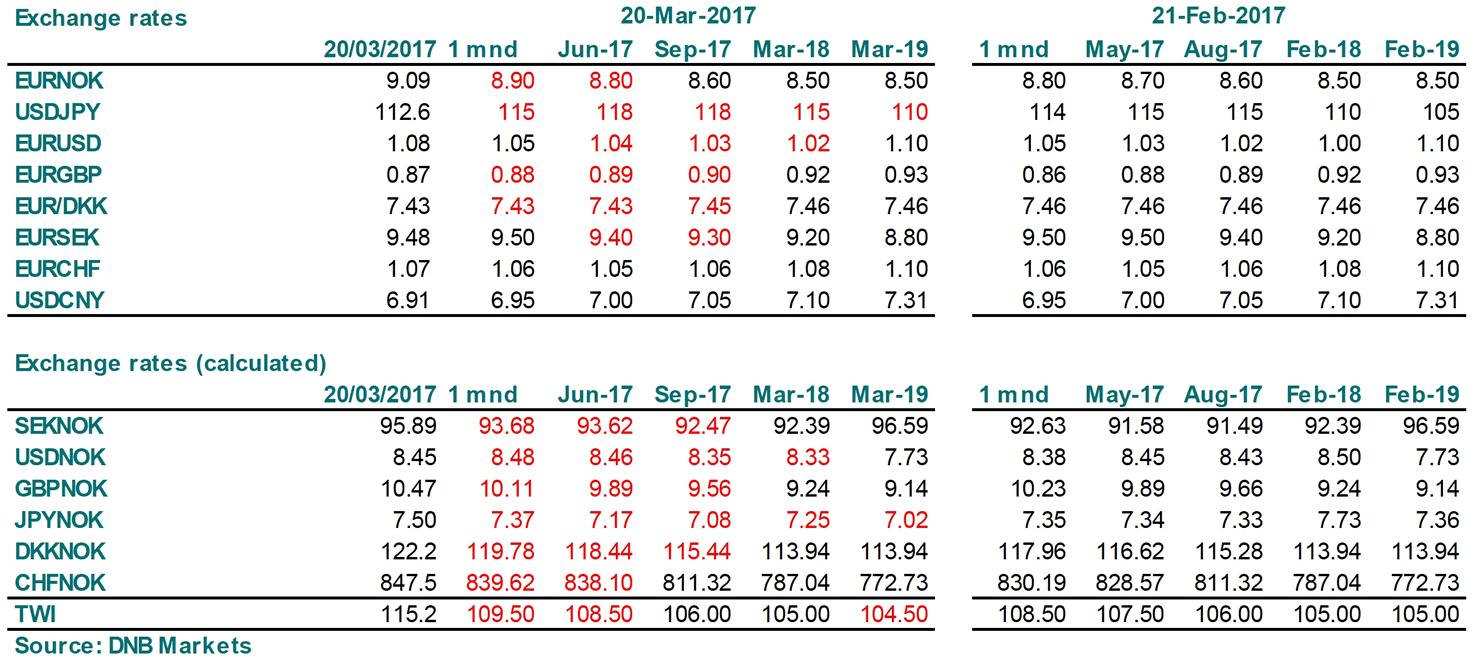 Above: The latest set of forecasts from DNB Markets showing changes on last month's forecasts.