For EUR/USD, this Italian Coalition Idea isn't as Bad as Many had Expected
- M5S, League to agree coalition government, nominate Prime Minister.
- Public spending and budget deficits in focus, both are set to rise.
- Return of anti-Euro rhetoric and policies cannot be ruled out.
Matteo Salvini, image © European Union - European Parliament, reproduced under Creative Commons licensing

The Euro traded higher Monday amid reports that Italy's two largest eurosceptic political forces, M5S and League, are close to forming a coalition government and may nominate a candidate for the role of Prime Minister at any moment.
Ahead of the Italian elections, many analysts suggested that this exact outcome would form a worst-case scenario for markets.
UBS Wealth Management's Chief Investment Office wrote following the elections that a broad grand coalition would be well received by markets as it could result in political stability and fiscal discipline. Repeat elections could prolong uncertainty and weigh on Italian assets.
"An anti-establishment alliance of M5S and Lega, the worst case scenario for markets, looks unlikely due to different programmes," warned UBS in a noted dated March 5.
Italy's March election was indeed once billed as an event that could tip the currency bloc back into crisis given the ascent of M5S and League, both "populist" forces who have at various stages advocated that Italy abandon the Euro and are still touting a programme of fiscal largesse that is sure to place Italy on a collision course with Brussels-based budget hawks.
However, both parties have kept a lid on rhetoric about the single currency in the months since the election and resurgent fears of a Eurozone breakup have remained consipicuously absent from financial commentary, leaving analysts and economists to contemplate the likely costs and benefits of both parties' election manifestos and core policy platforms.
"The fundamental differences between Italy's Five Star Movement and League suggest that even if they agree to form a government together, they will not implement either party's more extreme and costly policy proposals," says Jack Allen, a European economist at Capital Economics.
Judging by the latest commentary, a sudden increase in public spending and an associated rise in the budget deficit are about the greatest threat Italy's new government is likely to pose to the Euro in the short term.
However, economists are still wary that a renewed push by either party to withdraw Italy from the Euro will remain a risk that hangs over the head of the single currency for the duration of the next government.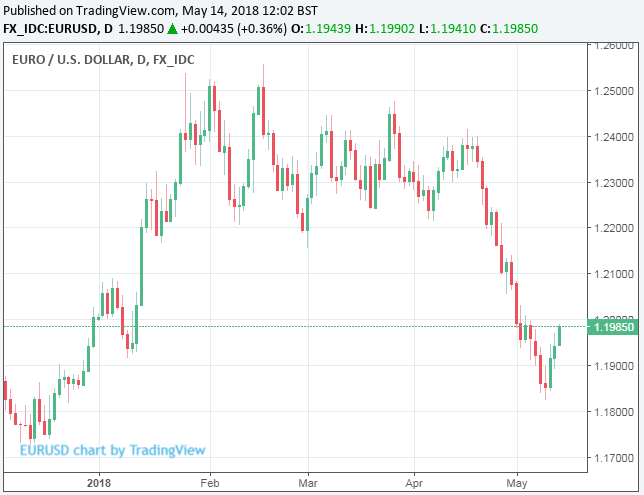 Above: Euro-to-Dollar rate shown at daily intervals. Captures 2018 trend.
Whether this risk eventually crystalises into a reality or not will be key to whether markets remain as calm as they are at the moment about the regime change underway in Rome. And the next government's handling of a key manifesto pledge by League to introduce a "parallel currency" in Italy will mark the first test of just how radical the "populist" coalition will or won't be when in power.
"It really is no more than one of former Greek Finance Minister Varoufakis' mad voodoo ideas – and it won't fly," retorts Eirk Neilsen, chief economist at Italy's UniCredit Bank.
Both the Five Star Movement (M5S) and League emerged from the March election as potential kingmakers in a new government, with M5S the largest singular political party while League won the lion's share of the vote for a coalition of centre-right parties that included former Italian PM Silvio Berlusconi's Forza Italia. But both camps lacked an absolute majority and have been in talks ever since the vote over how to form a viable coalition government.
While talk of a possible referendum on Euro membership has long-since been bottled, both parties have touted policies that could bring about a large increase in government spending that would all but undo the work of past governments to bring down the Italian budget deficit and repair the nation's finances.
Both policy agendas were material to the parties' respective victories but, if implemented, may mean a clash with Europe's budget hawks in Brussels and turbulence in financial markets.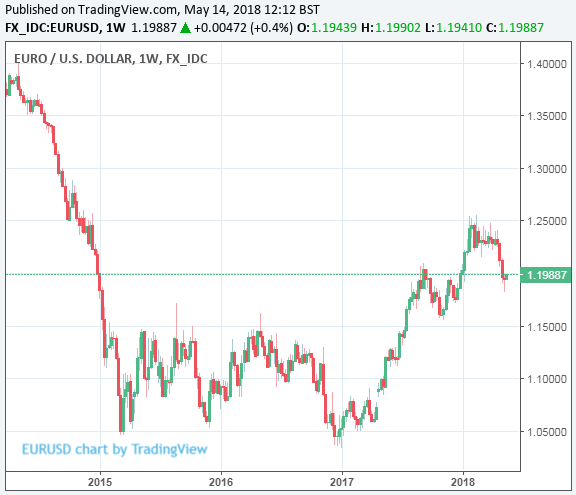 Above: EUR/USD rate at weekly intervals. Captures QE and negative interest rate years.
M5S, the left-leaning half of a likely coalition, campaigned hard in the poorer South of Italy on a pledge to introduce a monthly "basic income" of at least €780 per month. Some estimates have put the likely cost of this policy at €17 billion per year, which is almost half of Italy's estimated €38 billion primary surplus for 2019, although it will be difficult for M5S or a coalition to abandon this pledge without electoral consequences.
"My guess would be that some of this may be phased in. M5S swept Southern Italy in the election, very much on this promise, and they'll need to deliver something in this regard," Nielsen adds.
League, the right-leaning half of a likely coalition, placed tax cuts and reforms at the heart of its electoral policy agenda. It wants to replace the existing tax regime with a simple 15% tax rate for family income of up to €80,000 and 20% for anything over this level. This was a policy aimed at voters from all segments of the socioeconomic spectrum but the mooted cost of the pledge could see Italy's budget deficit rise by up to 3% of GDP, according to UniCredit.
"The constitution requires the tax code to be progressive. Hence, there is a real question what they can get away with in this space without first changing the constitution, or risking legal challenges. As presented, the proposal would be absurdly expensive, maybe – according to the press - on the order of EUR 60bn per year," says Neilsen.
Neilsen and the UniCredit team say the tax reform policy is unlikely to be approved as it stands because it would be too expensive and open to legal challenge, but a variation of it that still pushes up the budget deficit cannot be ruled out due to its prominence in the League manifesto.
The fate of these policies will provide an early steer on just how radical a "populist" coalition will be. So too will the subject of earlier pension reforms, which both parties are seeking to reverse. These saw the Italian budget deficit but at a cost of a higher retirement age for many Italians and reduced levels of inflation protection.
Above: Euro-to-Dollar rate shown at monthly intervals. Captures long-term trend.
"If Italy indeed gets a M5S-Lega government, the economic (and European) policy outcome will almost certainly fall somewhere between the Portuguese and Greek experience. Remember, before the present Portuguese government came to power, many fretted about its policy promises, only to see a set of rather reasonable policies, which markets – slowly - turned out to appreciate very much," Nielsen concludes.
Of course, the Greek experience was somewhat different to that of the Portuguese, with meeting and negotiations over the Greek budget continuing into the early hours for weeks on end, amid heightened speculation the country could be forced to depart the single currency bloc. However, the Italian government's current position is also different to that of the Greek government, with Italy currently enjoying an economic recovery while the nation's sovereign debt market is stable.
"In the short term, we would expect a moderate fiscal stimulus to lead to a wider budget deficit but somewhat faster GDP growth," says Capital Economics' Allen. "In the longer term, a M5S-League government might have a detrimental effect on growth."
European Union rules limit national budget deficits to no more than 3% of GDP. Although many nations have always flouted this rule, the years since the debt crisis has seen Brussels' budget hawks become more stringent about the spending plans that they will and won't approve.
It is this heightened focus on budget discipline in Brussels that could lead to clashes between Italy's new government and Eurozone officials and, ultimately, a renewed push by the coalition to leave the Euro. This would be the point when the calm that prevailed across currency and debt markets on Monday suddenly dissipates.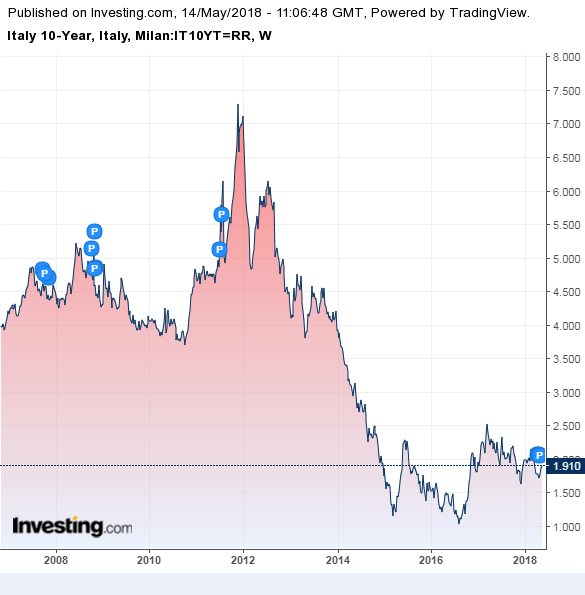 Above: Italian 10 Year Government Bond Yield. Captures post-crisis decline.
For those in the Eurozone, Brussels' objections to proposed budgets can be problematic. Allen says it will be difficult for economists to gauge the likely seriousness of any Italian fiscal impasse until exact details of the future government's policy agenda become known, but warns the long-term consequences of a "populist" government in Italy are clear.
"Undoing those reforms would be very costly, meaning fiscal policy would need to be tighter in the future," Allen writes, in a recent note, of plans to reverse earlier pension reforms. "What's more, it has been suggested that the parties would reverse some or all of the reforms that were implemented in 2015 to Italy's particularly rigid labour market."
Allen and the Capital Economics team credit the last government's deregulation of the labour market, which made it easier for companies to fire workers, with reducing the Itlian unemployment rate from 12% at the beginning of 2017 to 11% in April 2018. This labour market recovery could be placed at risk were a new government to roll back the Democratic Party reforms, which would be negative for the economy over the longer term.
"In all, we would expect a M5S-League alliance to prompt an increase in Italian bond spreads. That is supported by the increase in spreads over the past few days," Allen concludes. "We have pencilled in an increase in the 10-year yield from around 1.90% today to 2.50% by the end of the year. But if it loosened fiscal policy significantly or step up their anti-euro rhetoric, there is clearly a risk of a bigger sell-off."
Advertisement




Get up to 5% more foreign exchange by using a specialist provider to get closer to the real market rate and avoid the gaping spreads charged by your bank when providing currency. Learn more

here

.