Euro to Continue Rising Versus Dollar in 2018, Says Deutsche Bank
© ARTENS, Adobe Stock



Lack of inflows into US to weigh on Dollar and outweigh stronger economic outlook.
Analysts at Deutsche Bank have maintained their forecast for the Euro-to-US Dollar to rise substantially in 2018.
They say they are "structurally bullish" the pair owing to large current account imbalances. These favour the Euro to strengthen and the Dollar to weaken.
The current account is a measure of the balance of payments in and out of a country or region, when it is in deficit it is generally negative for the currency; when in surplus positive.
"The US is struggling to fund its current account + net equity flow deficit running at nearly $600bn. This is the mirror image of the EUR struggling to recycle its $600bn current account + net equity surplus," says Deutsche Bank macro-strategist Alan Ruskin, adding:
"This is the big EUR tail wind. It is also an ongoing headwind for the USD, requiring very substantial unhedged bond inflows to balance the BOP without a weaker currency."
The US's huge current account and net equity flow deficit is the main reason why the Dollar is not rising despite an otherwise ostensibly bullish fundamental backdrop.
Interest rates, which are arguably the most important FX driver, are now relatively high in the US and expected to rise more rapidly than in any other G10 country, the economy is growing at a fast pace and unemployment is at historic lows.
Yet the Dollar won't rise.
Part of the reason is that the overvalued US stock market is not drawing the inflows it used to, and US Treasury Bonds (UST) have also fallen out of favour, resulting in a net flow deficit which must be plugged by a devaluing Dollar.
The Euro, on the other hand, benefits from a trade surplus, has diminishing political risks (although not negligible as Italian elections this Sunday proved) and resurgent economic growth.
This leads Deutsche to conclude that the pair will continue rising throughout 2018.
By the end of Q1 they expect the pair to be trading at 1.22, by the end of Q2 1.24, Q3 1.26 and by the end of the year they forecast EUR/USD to be at 1.28.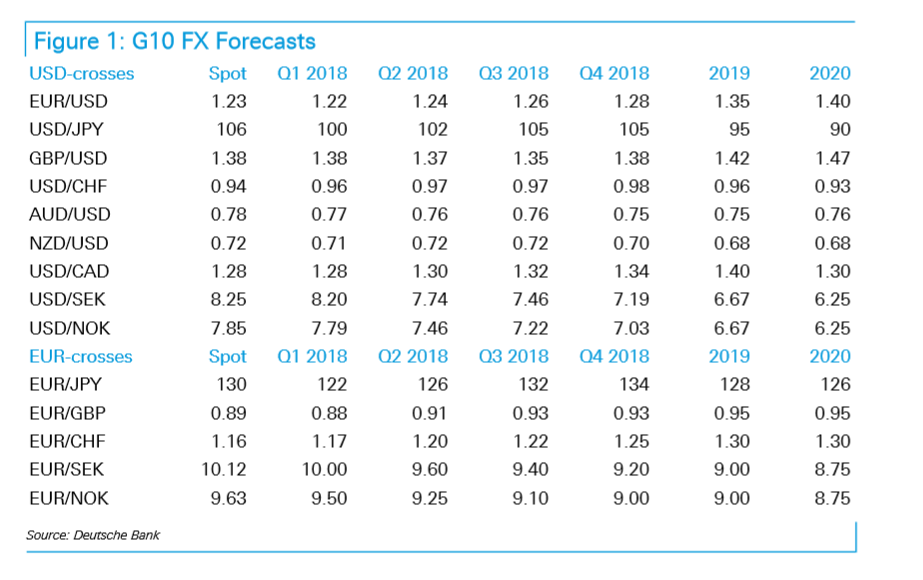 Get up to 5% more foreign exchange by using a specialist provider to get closer to the real market rate and avoid the gaping spreads charged by your bank when providing currency. Learn more here.