EUR/USD Rate Forecast to hit Parity by Societe Generale

Societe Generale join the band of analysts anticipating the Euro to Dollar exchange rate to hit parity in the current cycle.
The Euro has slipped to an exchange rate of $1.0537 - it's lowest level since March 2015.
Momentum is negative and based on various technical indicators we would have to advocate for further losses at this stage.
One warning - the pair is oversold according to studies of the RSI which sits at 24 - any number below 30 indicates oversold conditions which should be corrected by a period of consolidation or recovery.
However, any relief will likely be temporary argues France's Societe Generale who join other analysts in anticipating a fall to parity in the Euro to Dollar exchange rate.
We have been balancing the various views on the parity debate recently and have reported on the views held by Barclays who are anticipating a 1:1 exchange rate while the likes of Commerzbank say such a fall is too extreme.
Analysts at Societe Generale have updated their exchange rate forecasts for a new Trump era, and Dollar strength is on the menu.
"We published new FX forecasts yesterday, looking for EUR/USD to fall to parity ahead of the French Presidential elections next year," says report editor, analyst Kit Juckes.
Interestingly, Juckes and his team are not looking for any further significant downside to the Euro from rising US bond yields - the Treasury/Bund spread has seen the vast majority of its move wider.
"But nervousness about the political outlook and potential for yet another populist surprise will keep the euro under pressure," says Juckes.
Euro to Recover on French Election Outcome
Soc Gen expect to see EUR/USD reach parity in the run-up to the French Presidential elections in late April/early May.
"Given the success of populist campaigns in the UK and US, market participants are unlikely to stand in the way of further Euro softness until the Italian constitutional referendum and French Presidential election are out of the way," says Juckes.
While note stated in the research report, we assume this base-case scenario assumes a victory for anyone but Marine Le Pen.
Analysts at UBS meanwhile report that there is tangible evidence the Euro is being held down on nerves concerning the French election.
"The possibility that Mrs Marine Le Pen, leader of the eurosceptic National Front, is elected as President of the French Republic in May 2017 could raise questions around the future of the Eurozone. Importantly, French spreads vs Bunds have widened far more drastically than those of other Eurozone countries and the EUR has underperformed despite being 6 months away from the French elections and without any polling evidence that Mrs Le Pen is leading the race," says Lefteris Frmakis, a strategist with UBS in a note to clients.
Only once a traditional candidate wins France, but before the German elections, do analysts at Societe Generale expect the Eurozone's balance of payments position to trigger a Euro rally against both the Dollar and, even more so, against the yen.
The Eurozone continues to run a current account surplus in which strong exports and domestic savings mean the Euro will outperform those partners who are net importers and subject to a current account deficit, such as the UK.
US Dollar Stronger as US GDP Forecasts Upgraded
However, it's not a one-sided story.
Soc Gen's US economics team have raised their real GDP forecasts by 1.1% in 2018 and 1.2% in 2019.
The Fed Funds forecast has risen proportionately but while the CPI forecast is higher, the move is relatively modest, making for a dollar-friendly balance between growth and inflation revisions.
With real rates and yields set to rise, the dollar will benefit it is suggested.
The dollar followed inflation-adjusted Treasury yields down between mid-January and the summer, before bouncing back sharply.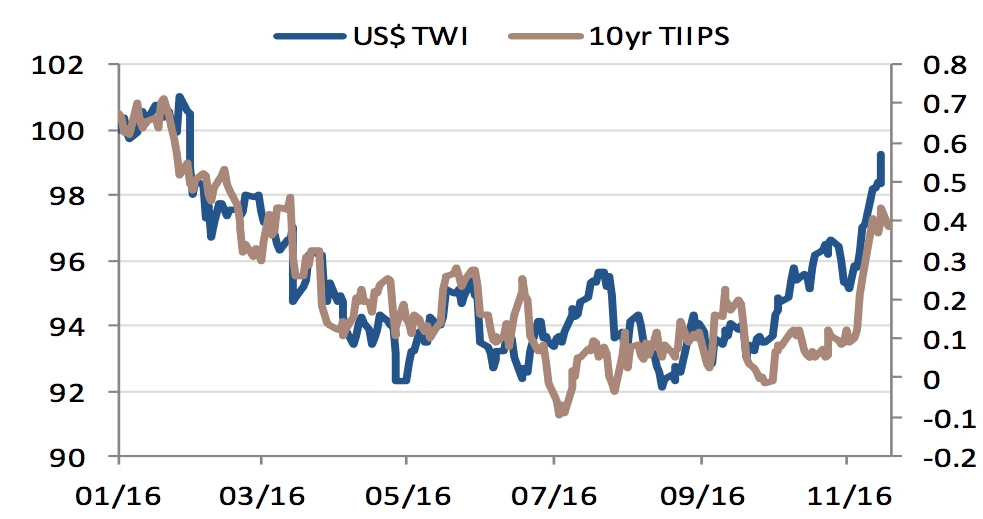 "Nominal10year yields have risen by a little under 50bp from their lows, and over that time the dollar has bounced by about 6% in trade weighted terms. We forecast of a further 60bp rise in nominal yields over the next year," says Juckes.
This should push the Dollar higher and feeds the EUR/USD parity story.