Euro-Dollar Bulls Turn Cautious as German Factories Put GDP Upgrade On Table 
- EUR edges lower as USD steadie, 1.19 offers resistance.
- Despite German factory surge pointing to a GDP upgrade.
- As EUR bulls grow cautious following 10% rally since May.
© Adobe Stock
EUR/USD spot rate at time of writing: 1.1834
Bank transfer rate (indicative guide): 1.1420-1.1503
FX specialist providers (indicative guide): 1.1656-1.1727
More information on FX specialist rates here
The Euro was edging lower from more than two-year highs Thursday as the Dollar steadied although backers of Europe's single currency are turning cautious even after Germany factories put an upgrade to second-quarter GDP on the table, with many now anticipating a correction lower.
Europe's largest economy suffered a contraction of historic proportions like many others last quarter but could now see an upgrade after factory orders rose much faster than was expected in June and suggested Destatis' initial estimate of the decline could have been too large.
Destatis said Thursday that factory orders rose 27.9% last quarter, when markets were looking for only a 10.3% increase, which is enough of a surprise to have gotten some economists looking for a strong outcome from Friday's industrial production data.
"The jump in orders leaves new orders just over 10% below its pre-crisis level at the end of Q2, which makes sense to us. We suspect this will be reflected in tomorrow's report for June industrial production, which is now looking as if it will surprise to the upside. Overall, new orders plunged by 22.8% quarter-on-quarter in Q2, and we're looking for a rebound in Q3, at just under 25%," says Claus Vistesen, chief Eurozone economist at Pantheon Macroeconomics.
Above: Pantheon Macroeconomics graph showing relative change in German factory orders and industrial production.
Industrial figures were unavailable at the time when Destatis said on July 31 that Europe's largest economy shrank by -10.1% last quarter, necessitating an estimate by Germany's top statistical authority.
But if Pantheon is right that factory orders will lift Friday's industrial production number by more than the 8.3% that consensus is already looking for, then it could mean a German GDP upgrade is just a matter of time.
Factory output feeds directly into measures of industrial production and Europe's economic powerhouse is also an industrial titan whose second-quarter contraction may after all have been closer to the numbers anticipated by Germany's Berenberg in late July.
Berenberg says an upgrade from -10.1% to around -9% could be likely.
"We do not like chasing EUR/USD higher at these levels as price action suggests that the move may be overextended. We prefer to remain patient, to see if we can buy dips closer to 1.16," says Bipan Rai, North American head of FX strategy at CIBC Capital Markets, after the Euro-to-Dollar rate failed for a third time to overcome technical resistance located between 1.1910 and 1.1920.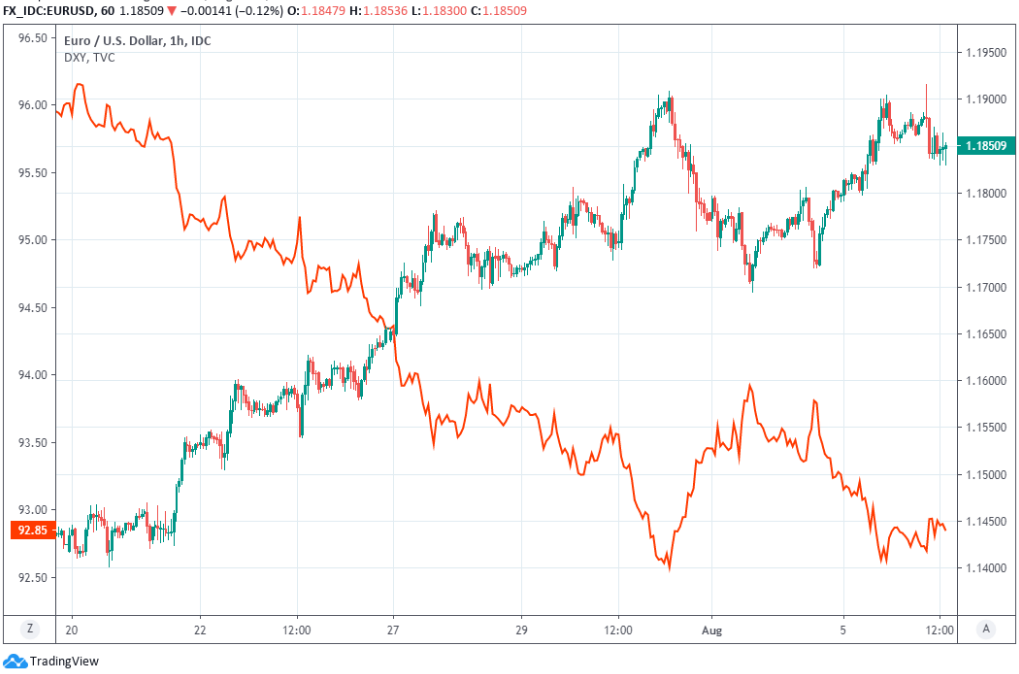 Above: Euro-to-Dollar rate shown at hourly intervals alongside Dollar Index (orange line, left axis).
The market's case for a rising Euro is multifaceted but relative EU-U.S. economic outperformance is fundamental to its foundation but yet to be borne out by official data. As a result, a German upgrade on or after August 25 might not go as unnoticed by the Euro as Thursday's factory numbers did.
However, and for the time being at least, the downtrending Dollar has steadied after a July month that saw investors shift from being net backers of the world's reserve currency to net sellers of it.
The steadying greenback and sheer scale of the single currency's recent gains have got even some of the most bullish voices around the market bracing for an extension of Thursday's dip lower in the Euro-to-Dollar rate.
"The European Recovery Fund has effectively reduced break-up risk to 0 for 2020 and arguably considerably longer, alongside cushioning future downside growth risks by opening the door to fiscal transfers. The ECB's have thrown off the shackles of issuer limits and the capital key with the new PEPP program, closing spreads and lowering the opportunity cost of fiscal. In response, European direct fiscal pledges have almost caught up to the US on a % GDP basis," says Adam Pickett, a strategist at Citi.
The Euro-to-Dollar rate rose 10% between May 18 when France and Germany first proposed a mutually financed rescue package for the Eurozone economy, and last Friday when bids and offers were accepted around 1.1908 for the first time since May 2018. But the pace and scale of gains, combined with the Euro's inability to get beyond 1.1908 since last Friday, have seen bullish proponents of more Euro upside turning cautious on the short-term outlook.
Above: Euro-to-Dollar rate shown at daily intervals with 200-day moving-average in green.
"Three potential major drivers of EUR and EURUSD upside to us are: i) Low real rates supporting risk appetite ii) shifting investor appetite towards Europe amid a cyclical global recovery iii) risk premia around Biden winning the US election," Pickett says. The confluence of these three factors should see a both persistent USD offer and EUR bid, leaving 1.25 as a conservative target."
Caution was reflected Thursday in the approach adopted by Citi, one of the world's preeminent currency dealers of the post-crisis era, when it described 1.25 as a "conservative" target ahead of the November 03 U.S. election.
Curiously, Citi chose to forgo much of the upside implied by this bullish forecast when advocating that institutional clients buy a derivative product built from FX options and known as an 'RKI call spread' that will pay out handsomely if the Euro trades above 1.23 but doesn't exceed 1.28 on October 19.
The structure offers exposure to a rising Euro while radically reducing the losses that would befall investors in the event that the single currency begins to unwind some of its recent gains. But such protection costs the gap between 1.19 and 1.23, which is equal to more than 3% based on Thursday's levels.
FX options have long been popular with speculators because they're effective at limiting losses, but they come at a cost and so any preference for using them over hard currency could be indicative of reduced confidence in the Euro rally.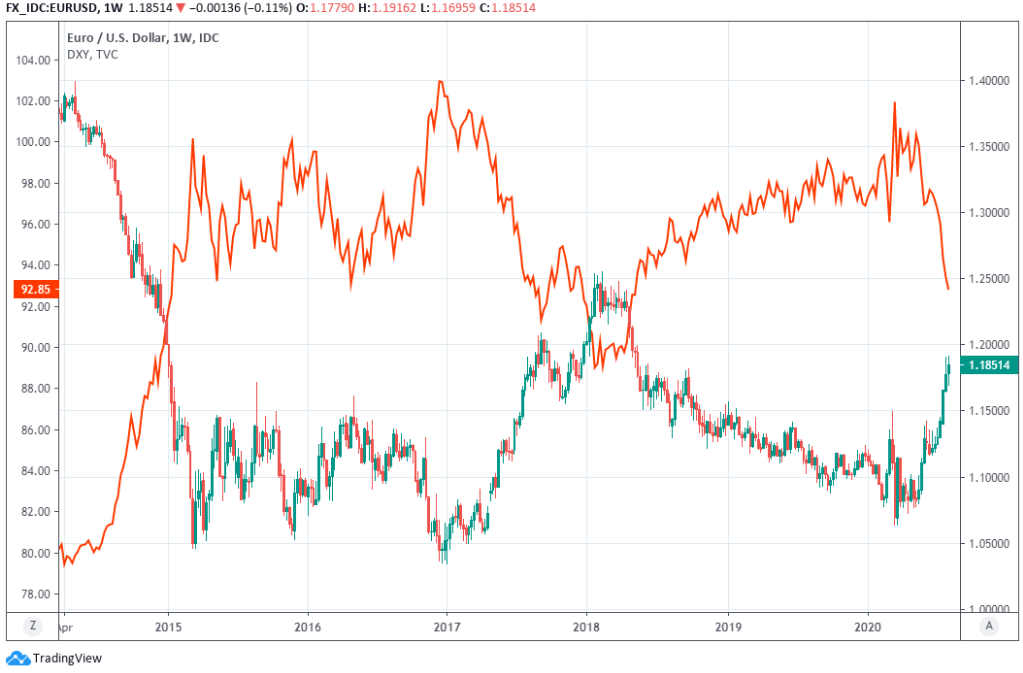 Above: Euro-to-Dollar rate shown at weekly intervals alongside Dollar Index (orange line, left axis).
---
Achieve 3-5% More Currency: The Global Reach Best Exchange Rate Guarantee maximises your currency purchasing power. Find out more.
Brexit Helpline: Free one-on-one financial, currency, pension and legal guidance and preparations for 2021.
Find out more

Invest in Spanish Property. A selection of discounted properties due to the covid-19 crisis, online viewings and transactions possible. Download the guide. Download the Guide
Featured Content
Mortgage Direct - a Spanish mortgage broker specialising in the provision of mortgages for expats - have confirmed they have secured their Spanish license.