ECB Signals Caution on Economy, Euro Gives Jekyll & Hyde Response
ECB President Mario Draghi. Image © European Central Bank, reproduced under CC licensing
- Euro slumps, then recovers during ECB press conference
- Risks to Eurozone economy seen to have increased

- Draghi suggests market expectations for 2020 interest rate hike are fair
- Euro-Dollar exchange rate @ 1.1372
- Euro-Pound exchange rate @ 0.8716
The Euro fell sharply before fully reversing its decline after European Central Bank President Mario Draghi told journalists the ECB now believe that risks to the outlook for the Eurozone economy have moved to the downside.
"The near-term growth momentum is likely to be weaker than previously anticipated," says Draghi, adding significant stimulus is still needed to sustain inflation. This marks a more cautious tone from the ECB which appears to have dropped its previous optimism on the trajectory of the Eurozone's economy in 2019, and makes it unlikely we will see an interest rate rise come under the stewardship of Draghi who will hand over the reins to a new President in 2020.
Draghi says that when markets moved their expectations for a first interest rate rise from 2019 to 2020 they "understood our reaction function," i.e. this expectation is a correct one.
"Mr. Draghi made one big, and probably widely expected, shift in today's press conference. In his economic assessment, the president noted that risks for the Eurozone economy have now "moved to the downside," reflecting recent weaker-than-expected economic data, and persistent external risks and political uncertainty. Taken at face value, this is a significant dovish shift, but apart from a knee-jerk move lower in EUR/USD and bund yields, the response was muted," says Claus Vistesen, Chief Eurozone Economist at Pantheon Macroeconomics.
The statement released by the ECB following their January meeting has however proven to be very similar to the previous statement, suggesting the ECB is not materially shaken by the recent slowdown in Eurozone economic growth and we would therefore expect the damage inflicted on the Euro by Draghi's comments to be relatively shallow.
This might explain why the Euro ultimately recovered after an initial knee-jerk decline.Indeed, while near-term risks have certainly materialised, the ECB believes the medium-term picture remains an optimistic one. "Looking ahead, the euro area expansion will continue to be supported by favourable financing conditions, further employment gains and rising wages, lower energy prices and the ongoing albeit somewhat slower expansion in global activity," says Draghi.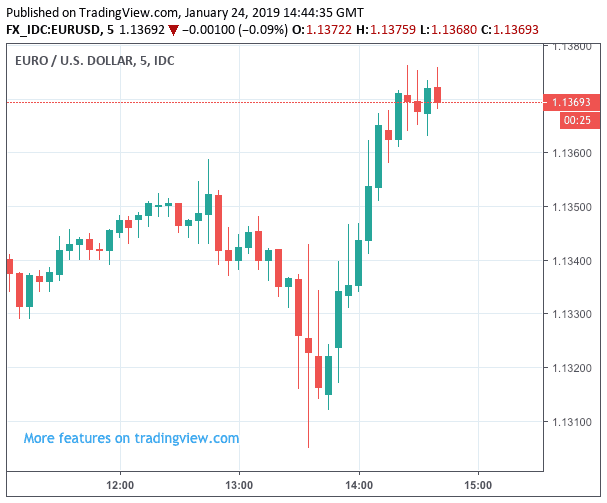 "In total, we are still just about willing to believe that the economic data will improve enough to allow/prompt the ECB to raise the deposit rate once this year. But today's message also was crystal clear; more of the same and it won't happen, though the only consequence of that will be that we, and other economists, will have to crawl back in our hole and admit that markets were right all along. In other words; no rate hikes in 2019 is a difficult story to trade, at least in fixed income markets," says Vistesen.
The outcome of the January policy meeting was made public at 12:45 GMT with no change to interest rates being made, as per expectations.
Currency markets care about interest rate settings as they are a key driver of interest rates, with the general rule-of-thumb being expectations of higher interest rates are positive for a currency.
Heading into the event, there has been a lot of talk about a more dovish and downbeat leaning tone, in light of a recent run of softer economic data and worrying downside risks to the Eurozone and global economy.
Just hours before the event we received a slew of economic survey data covering the Eurozone that shows the economic growth slumped at the turn of the year, suggesting the slowdown might be something more than a mere blip. "The downside risks to the economic outlook have increased further. The current weakness may last longer and become more entrenched. ECB President Draghi will acknowledge this in his press conference after the Governing Council meeting today, without announcing a policy shift though," says Florian Hense, an economist with Berenberg.
Time to move your money? Get 3-5% more currency than your bank would offer by using the services of foreign exchange specialists at RationalFX. A specialist broker can deliver you an exchange rate closer to the real market rate, thereby saving you substantial quantities of currency. Find out more here.

* Advertisement