Buy Pound Sterling, Sell the Euro says IG's Mahony
Market analyst Joshua Mahony at spread-betting providers IG issues a short-term trade idea that seeks to profit on a rise in value in the Pound against the Euro.
The trade involves a "sell" on the EUR/GBP exchange rate pairing with risks related to the Catalonia issue and expectations for better-than-expected data to come out of the UK economy this week.
Mahony cites potential for "another couple of days" of uncertainty surrounding the Catalonia independence question where Madrid has given authorities in Barcelona until Thursday to back away from secession. A failure to do so would potentially see direct rule by Madrid imposed.
For Mahony this presents a "significant risk event" for the Euro which could well experience losses against Sterling over coming days.
"I think there is some good downside to be had," says Mahony.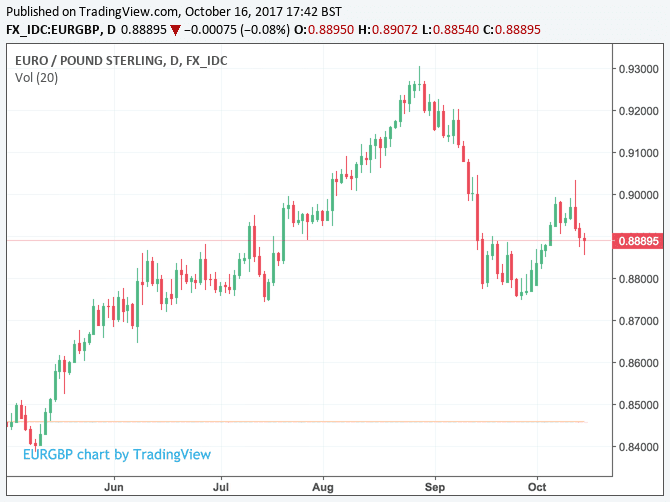 The call comes as the UK currency firms against its major competitors as markets shift their gaze from politics and Brexit to the UK economy and Bank of England policy matters.
"After a few weeks of highly charged political focus, we expect the narrative for GBP to slowly shift towards the November 'Super Thursday' BoE meeting," says Viraj Patel at ING Bank N.V. "We prefer to focus on how robust underlying UK inflationary pressures are - and whether any upside surprises prompt the Bank to signal the start of a 'more than a withdrawal of stimulus' hiking cycle next month."
In addition, Mahony's studies of the EUR/GBP exchange rate's charts shows "it does a little more worrying for this pair and it does play into this idea that we could see further downside" and any near-term strength in the Euro is likely to be a "near-term phenomenon".
The break below 0.8906 is said to be "very telling" and the "wider perspective does point to further downside". (Or a break above 1.1228 in Pound-to-Euro exchange rate terms if you are looking at this from the other direction).
But be warned, we find few major institutional analysts who agree that the Euro is likely to suffer on the Catalonia issue.
Analyst Esther Reichelt at Commerzbank says politics only impact the Euro at times when they have the potential to change politics on a Eurozone level - "and only then".
"That would also explain why the crisis in Catalonia has so far not had an effect on the euro. It would have to escalate much further, including the involvement of Brussels, until an effect on euro policies could be expected," says Reichelt in a note dated October 16.
"The Catalonian crisis remains a risk. However, the market has correctly treated it as a predominantly idiosyncratic risk for Spain that would not have wider consequences for the Eurozone. Any renewed flaring up of the situation would therefore be of more concern for Spanish spread levels than for the currency, where we expect the Euro to hold up well," says Chiara Silvestre, Economist at UniCredit Bank in Milan.
Nevertheless, there are other drivers behind the EUR/GBP pair, including UK data releases such as inflation and wage data, due out this week.
And technical studies for Euro weakness and Pound strength to look compelling, indeed it's not just Mahony who reckons the Pound should benefit against the Euro.
Robin Wilkin, a technical analyst with Lloyds Bank says the EUR/GBP exchange rate has slid through the 0.8900-0.8880 support region "suggesting we are now shifting into a range pivoting around 0.8850. Intra-day resistance lies at 0.8915/20, and while below we maintain the immediate bear bias."
The 0.8900-0.8880 support region in EUR/GBP translated into a resistance region of 1.1236-1.1261 for the GBP/EUR exchange rate. The new range is therefore expected to pivot around 1.13 while above 1.1217 look for a bullish bias.
Get up to 5% more foreign exchange by using a specialist provider by getting closer to the real market rate and avoid the gaping spreads charged by your bank for international payments. Learn more here.