May Reboots Brexit Process with Florence Speech
Pound Sterling fell as May's speech offered little concrete detail on the exit bill but a positive tone and committement to a transitional deal should keep losses limited and indeed paves the way for progress in negotiations.
Sterling eased back against key partners ahead of the weekend as markets are given no fresh information on the UK's position regarding Brexit by UK Prime Minister Theresa May in a speech delivered in Florence.
Anticipation had built ahead of the speech that major concessions would be given that would allow the EU and UK to move onto the more substantive elements of the negotiations.
The speech was scant on detail but broad on symbolic gesture and delivered an optimistic tone.
While it was confirmed the UK would seek out a two year transition period, it was also confirmed the free movement of EU citizens would be subject to their registration.
Importantly, no numbers were given with regards to the sums the UK is willing to pay to settle its financial obligations.
This could be the area where the EU response will be most keenly focussed on and unfortunately for May we don't think there will much by way of welcome.
Make no mistake, May struck a positive and upbeat tone and showed a great deal of respect to her EU partners.
While this is positive for the tenor of upcoming talks, it does not necessarily compensate for the lack of details markets were perhaps expecting.
While Sterling is lower on the day, it is worth pointing out it is more or less where it was mid-week. We are witnessing the Pound slip into something of a consolidative period.
What appears clear at present is the Bank of England's view on future interest rate levels that really matters for Sterling.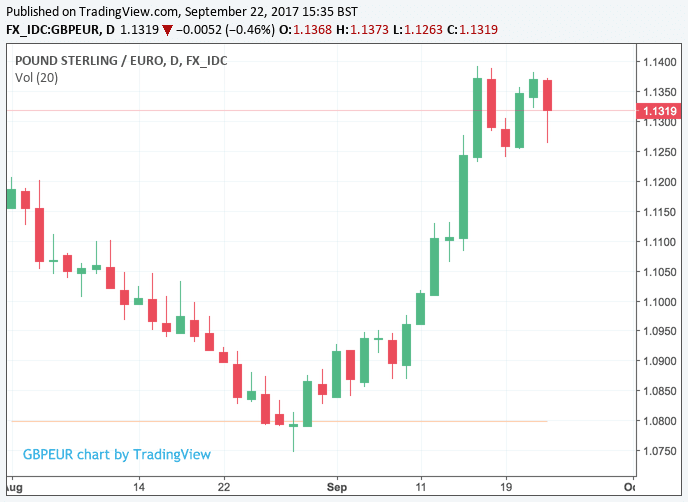 "Overall, the Pound is lower than it was before she spoke, suggesting that she may have glossed over some key details that are crucial to determining the future of the Brexit negotiations," says Kathleen Brooks at City Index.
But by no means was the speech an all-out negative for Sterling.
Brooks notes that May hinted an implementation period might need to last for as long as it takes to get a smooth exit for the UK from the EU, which could be longer than 2 years.
"This was the only time during her speech when the Pound bounced, and the financial markets warmly received this point," says Brooks.
Neil Wilson at ETX Capital identifies the key takeaway of the speech as being the UK is no longer pushing for a bespoke transition deal, which ultimately kicks Brexit down the road by two more years.
Instead the UK will continue to accept EU regulations and continue paying its dues during this period.
This "is more likely to be acceptable to the EU and suggests we will see a smoother exit and this ultimately may prove positive for Sterling," says Wilson.
This news was seen as positive for the UK financial sector as it makes the future after March 2019 a little clearer, and UK banks have risen on the back of May's speech.
"Barclays, which has a large investment bank and a large global presence, is at its highest level for a week, suggesting that May's speech has indeed soothed fears in the City about Brexit and removed the 2019 cliff edge," says Brooks.
The Future Trading Relationship

May said the task of negotiators is to establish a new framework that allows for a close economic partnership but holds those rights and obligations in a new and different balance.
It was made clear that there is no template that the UK and EU should adopt - for instance a Canadian or Norwegian-style deal as the EU and UK already enjoy near-perfect equivalence.
"We do not start with a blank sheet of paper, like other external partners negotiating a free trade deal from scratch have done," says May.
She added it there is no need to impose tariffs where we have none now,"and I don't think anyone sensible is contemplating this."
The Prime Minister reminded her audience that the UK is the EU's largest trading partner, one of the largest economies in the world, and a market of considerable importance for many businesses and jobs across the continent. And the EU is our largest trading partner, so it is in all our interests to find a creative solution.
Trade disputes should be settled by an external body, neither UK nor EU courts should enforce the relationship.
An initial response from the CBI observes it is "significant to hear PM reference regulatory cooperation with the EU for the first time. This is key to fricitonless trade."
Get up to 5% more foreign exchange by using a specialist provider by getting closer to the real market rate and avoid the gaping spreads charged by your bank for international payments. Learn more here.
What Markets were expecting

UK Prime Minister Theresa May is expected to announce an "open and generous" offer to the European Union that removes uncertainty over Brussels' ability to finance its spending commitments up to the end of 2020.
The speech is to be delivered at 14:00 and the event forms the focus for markets ahead of the weekend.
Sterling enjoyed a late-day recovery on Thursday, September 21 as a series of leaks regarding the speech were fed to journalists.
Of note, there was confirmation the UK would be seeking a two-year transitional deal and would be willing to commit to an exit bill of up to €20bn, but this would be contingent on single-market access.
The Florence speech is seen as an attempt by the British government to move currently-stalled negotiations with Brussels past the so-called "divorce bill" and onto the subject of the UK and EU's future trading relationship.
"Concessions from May on the exit bill would probably kick-start stalled negotiations, allowing for progress to be made on the divorce settlement when the fourth round of Brexit negotiations begins on Monday 25th September," says Finn McLaughlin, an economist at Capital Economics.
It could see May offer to pay Brussels more than €20 billion in order to push the negotiations along, although this is thought by at least one analyst to be a separate payment to that which will ultimately come dressed as the "divorce bill".
"We expect the 'divorce bill' due from the UK to cover legacy commitments made while the UK was an EU member to emerge as a separate discussion and a separate sum of money," says Andrew Benito, an economist at Goldman Sachs.
However, price action on Friday suggests markets are wary of any pro-Sterling outcome.
"Based on the details that have been drip-fed through the media, Theresa May's speech is unlikely to provide much support for the Pound at current levels. May will have to go beyond the idea of continuing to make payments to the EU under the current Multiannual Financial Framework, which will help alleviate the problem of a budget gap for the EU before the current MFF ends," says Lee Hardman, an analyst with MUFG.
MUFG highlight the more contentious issues around the financial settlement involve "yet to pay" or "reste a liquider" (RALs), which amount to around EUR 239bn - the UK could be on the hook for about 10% of that total.
"The EU is looking for is a more detailed proposal on how the UK envisages calculating its financial settlement. Despite the recent deluge of position papers from the UK on different aspects of Brexit, there has been nothing on the financial settlement," says Hardman.
An indication of a proposal on how to calculate the financial payment to offer the EU would help keep expectations high that there may be movement in the fourth round of negotiations starting next week.
"On a trade-weighted basis, (BoE NEER) the pound is nearly 5.5% stronger since 23rd August. We see a greater risk of a correction weaker than further gains over the short-term," says Hardman.