Pound Forecast to go as Low as 1.05 Against the Euro by One Analyst but Another Argues it's Actually Deeply Oversold

Theresa May will govern with the support of Northern Ireland's DUP. What does the fresh shot of uncertainty injected into the UK political landscape mean for the GBP to EUR conversion?
Foreign exchange markets have settled as we move through early afternoon in London.
Helping restore some confidence in the British Pound is an announcement by Theresa May that she will govern with the help of the DUP. In a statement outside Downing Street the Prime Minister stated that it was now time to "get to work" with no mention being made of her party's poor performance overnight.
Markets appear to have been assured by May's determination to restore some certainty.
Nevertheless. we can report is that major analysts are now looking to recalibrate expectations for Sterling amidst renewed uncertainty.
The Pound to Euro exchange rate has this morning set a fresh low at 1.1286 as traders got to their desks in London, it has since stabilised at 1.1372 at the time of writing.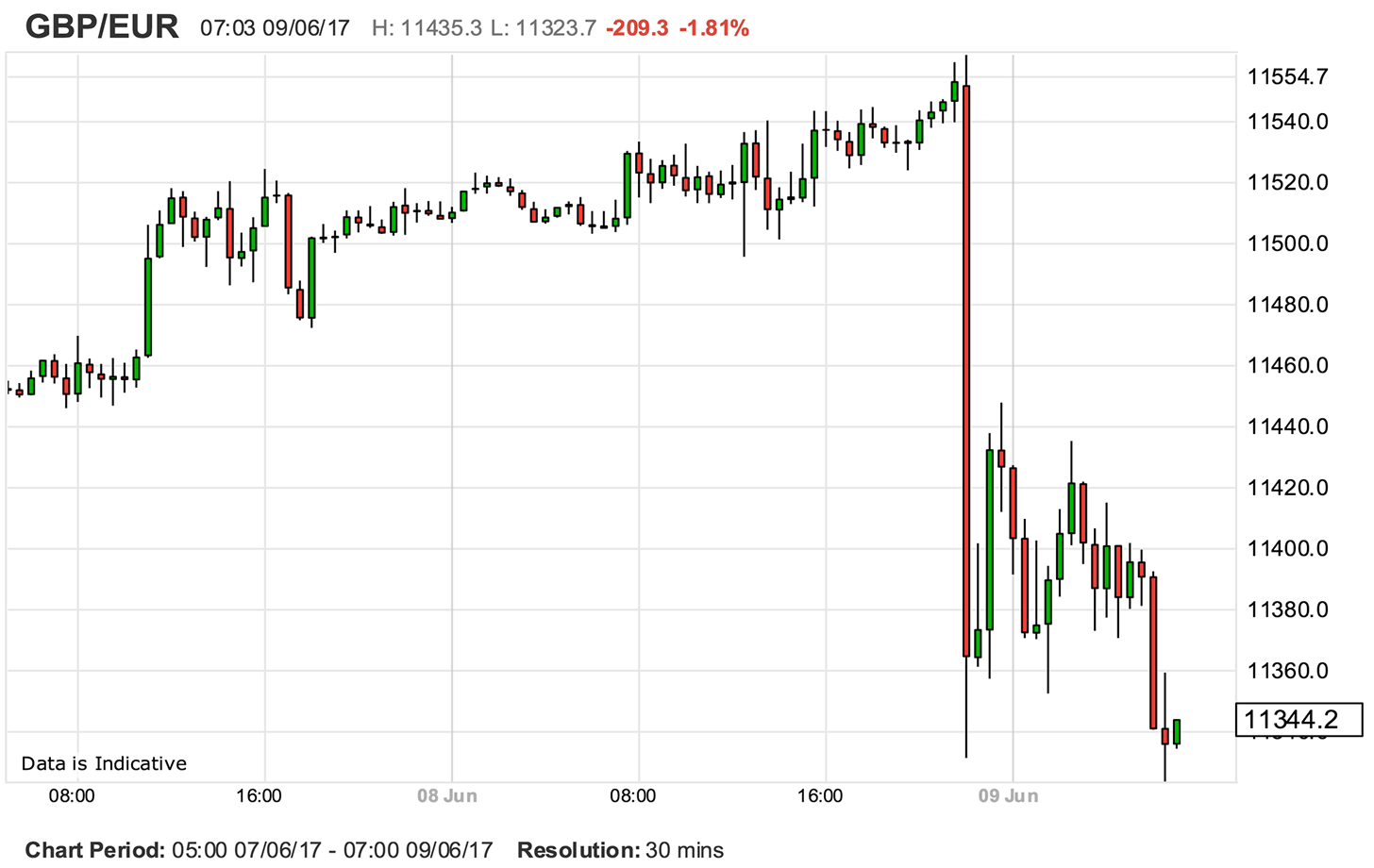 Chaos for the Pound
Sterling fell sharply when it became clear that market expectations for May to extend her majority had been dashed.
In fact, the Conservatives failed to win so much as a majority in parliament.
This is the worst-case scenario for Pound Sterling as there exists a state of uncertainty where no party controls parliament just as the country approaches Brexit negotiations.
"A hung parliament is surely not a GBP-positive scenario. Rather it could prove to be the long-term worst scenario for GBP although we would not expect a major beating to the GBP even in a confirmed hung parliament scenario," says Andreas Steno Larsen at Nordea Markets.
Analyst Viraj Patel at ING doesn't mince his words when he says a hung parliament will result in chaos for Sterling:
"There is no doubt that a hung parliament is the worst case. We noted that maximum chaos would be if the Conservatives are only able to get somewhere between 290 to 325 seats; it's the grey area where it's not enough for a Conservative majority, but also potentially not enough to see a stable Labour-led coalition being formed quickly."
The analyst believes potential pressure for the Prime Minister to resign would only add to political uncertainty and further add to the Pound's woes.
That May has not resigned will certainly have helped settle the currency.
Concerning levels the Pound might go to, "the best playbook for the Pound under a hung parliament is the 2010 election," says Patel. "GBP/USD continued to fall in the days after the election as major parties scrambled around to form a coalition."
Under a similar environment, ING won't rule out GBP/USD falling to as low as 1.24 and EUR/GBP moving up towards 0.90."
EUR/GBP at 0.90 means a fall to 1.11 in GBP/EUR.
However, the views from ING are interesting in that they do now believe that Sterling is starting to look oversold. For more on this particular discussion please read here.
Of note, analysts believe the UK is inevitably heading for a soft Brexit as the Conservatives will have to rely on the support of the DUP to govern and this Northern Irish party understandably have their own agenda when it comes to Brexit.
Analyst Kit Juckes at Societe Generale meanwhile tells us that the his expectations for the GBP/EUR on initial signs of a hung parliament would be for a fall to 1.11.
"The possibility of a labour-led coalition that could trigger a much softer Brexit with access to the Single Market - or even another vote - isn't really being considered yet. GBP might eventually benefit from a Labour win, but only after a period of even greater uncertainty weakened it further," says Juckes in a note to clients.
UniCredit Could Downgrade Forecasts for the Pound
The UK is reliant on the inflow of foreign investor capital to keep the value of Sterling elevated and its economy oiled.
When these inflows dry up Sterling must fall in order to create a discount for further inflows.
UniCredit Bank point out that during the years of the Eurozone debt crisis (2010 to 2012) the UK experienced a surge of portfolio inflows as growth was firming and the economy was perceived to be a safe haven amongst G10 countries.
"But this has changed since the Brexit vote: indeed, balance of payments data for 4Q16 show that foreign portfolio investment is going into reverse. This process should gain more traction now that domestic political risk premia rise even further," says UniCredit's UK economist Daniel Vernazza.
As a result, UniCredit say their already bearish GBP forecasts (GBP-USD at 1.28 and EUR-GBP at 0.89 by year-end) "are now subject to deeper Sterling downside risk".
Note that EUR/GBP at 0.89 equates into a Pound to Euro exchange rate at 1.1236.
UniCredit see a fairly good chance that EUR-GBP rises to 0.90 rather swiftly and potentially towards 0.95.
In Pound to Euro exchange rate terms this equates to 1.11 and 1.0526.
Pre-election rate spreads suggested that Pound Sterling was actually looking expensive against the Euro.
"With the prospects now that over the next few weeks UK yields come under increasing pressure and Gilt-Bund spreads narrow even further, more upside for EUR-GBP seems inevitable in our view," says Vernazza.
"And to the extent that over the medium term U.K. yields rise as a reflection of elevated risk premia, any potential re-widening in the spread is unlikely to offer support to Sterling. Both short-term and medium-term GBP's prospects appear daunting to us."