British Pound a Buy Against the Euro say BNP Paribas Strategists
Pound Sterling trades back below 1.17 against the Euro at the time of writing as the 2017 recovery continues to fade. The GBP/EUR exchange rate went as high as 1.18 in the previous week but has since withdrawn.
Despite the declines we hear the outlook remains broadly Sterling-positive, from both a technical and fundamental perspective.
The GBP/EUR last week broke above its six-month downtrend and therefore - from a technical perspective at least - retains an offensive stance.
According to one well-noted City analyst, the focus has turned to 1.1829 which is currently resisting further advances.
Technical analyst Karen Jones at Commerzbank believes that a move above here will trigger gains initially towards the 1.1880 200 day moving average - a point in the market where selling pressures are forecast to build.
The selling pressure could halt advances towards the 1.2042 December high.
Intraday weakness is likely to fade circa 1.1662/1.1628, "although the intraday Elliott counts are conflicting," cautions Jones who does nevertheless add that in her opinion the upside risk has increased.
Jones assumes that 1.1298/1.1296 is a short term bottom for the market.
Meanwhile, BNP Paribas strategist Clara Leonard says her bias to bet on further gains in GBP.
Sterling has rallied sharply over the past two weeks, consistent with Leonard's view that:
(1) the market has already priced in very negative expectations for the Brexit impact on GBP and
(2) the market is positioned very short GBP as signalled by BNP Paribas FX Positioning Analysis.
"This past week we took profit on our GBPUSD upside recommendation and initiated a new EURGBP downside recommendation," says Leonard.
Note that the decision to target the Euro also reflects the bank's broader bearish view on EURUSD.
BNP Paribas target EURGBP at 0.80 year-end and have recommended to buy a ratio put spread 0.8480/0.8000 in 1x1.5 (expiry 26-Jul-17).
From a GBP into EUR perspective this equates to a target of 1.25 year-end.
Recall that BNP Paribas have told clients previously that the Pound is likely to undergo a period of strength as downside pressures fade in line with the Brexit story losing relevance.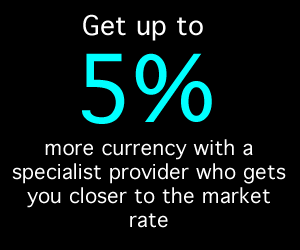 Pound Sterling Undervalued
According to BNP Paribas' in-house fair value estimation models, Sterling is notably undervalued.
The bank's CLEER™ model - which stands for Cyclical Equilibrium Exchange Rate - provides a fair value for exchange rates based on macroeconomic variables.
"The model adds value by providing a quantitative framework around which we can analyse the impact of different Brexit scenarios on Sterling by simulating what happens to the model's input factors, one of which is the UK's broad basic balance of payments (BBBoP)," says Lynton-Brown.
In recent years there have been substantial inflows into the UK – over the past 12 months (through Q3 2016) foreign direct investment and portfolio investment inflows have totalled 19% of GDP.
This easily outweighing the 5-6% of GDP current account deficit.
The result is that the UK is currently running a very positive broad basic balance of payments position.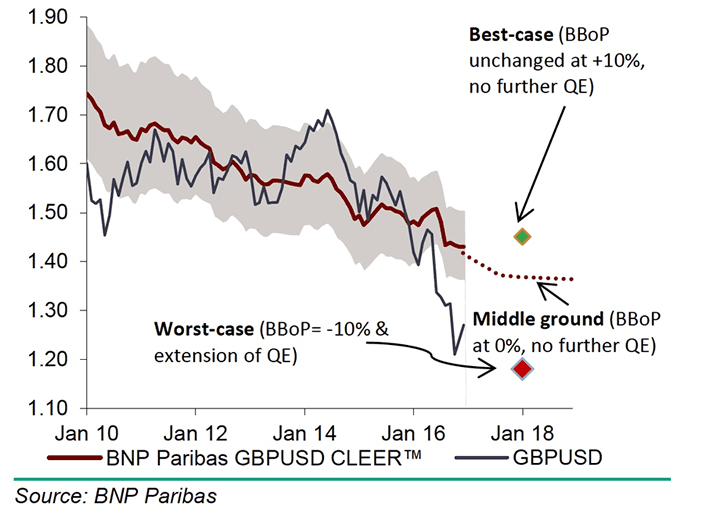 The argument made by many forecasters is that the UK will be unable to sustain foreign direct investments owing to uncertainty concerning the country's future relationship with Europe.
This would necessarily mean the Pound shifts lower as per the above graphic.
However, the Pound is already pricing what looks like a substantial loss of incoming investment suggesting these low levels might be unwarranted.