Euro Exchange Rate Forecasts 2016 through 2017: Stronger Now, Weaker Later
Morgan Stanley tell us why they maintain a bullish stance on the single currency ahead of Thursday's ECB policy decision but they forecast weakness longer-term.
A weaker Euro remains a distant prospect in the near-term with the ECB unlikely to impact the currency in a negative fashion.
Since interest rates at the ECB are already record low, lowering them yet further is likely to reap diminishing returns.
This is especially true in when it comes to weakening the currency, since even lower rates will further weaken banks, and make it harder for the Eurozone to lend money to international borrowers.
By exporting a currency, you are essentially weakening it by increasing its supply.
"The EUR and CHF should remain supported as both regions have financial institutions with weak balance sheets and so are unable to export sufficient local-currency-denominated long-term capital to compensate for the current account surpluses," says Morgan Stanley's Hans Redekker.
Morgan Stanley have confirmed they are bullish on the Euro in the near-term while looking further out into 2017 the single currency is forecast to fall back.
The Euro remains supported by rising 'real' yields – which are the interest investors earn from lending money in the form of bonds.
The 'real' yield is the yield minus the rate of inflation, and is relatively high in the Eurozone due to chronically low inflation.
Redekker sees continued low inflation persisting due to, "resistance from core EMU countries to more aggressive policies that could push inflation rates higher."
This would almost certainly be Germany where politicians and commentators remain fiercely opposed to the impact the ECB's policy of cutting rates has had on savers.
Still-high unemployment is also likely to drag on inflation.
"Internally, the EMU may find it difficult to boost inflation given the slack within its labor market, its poor corporate profitability and weak financial institution balance sheets preventing credit picking-up," says Redekker.
Latest Pound/Euro Exchange Rates
* Bank rates according to latest IMTI data.
** RationalFX dealing desk quotation.
The share price of Eurozone banks is positively correlated to bank lending to a high degree as shown in the chart below which illustrates how when bank shares rise or fall, so does lending.
However, the recent sharp drop in bank share prices has yet be reflected in a commensurate fall in lending, which is expected to happen imminently, and will further constrain inflation in the Euro-area.
The recent roll-over in commodity prices will keep international levels of inflation constrained, with Chinese imports likely to become even cheaper after recent data showed exchange rate adjusted PPI in China falling by 7.5% - PPI is factory gate prices.
Therefore, cheap Chinese imports are likely to keep Eurozone inflation further constrained.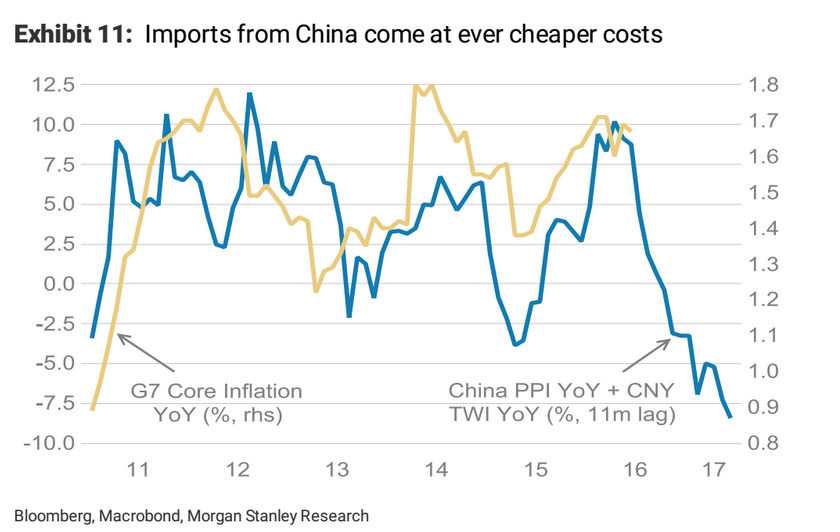 Morgan Stanley's Redekker sums up the case for a higher euro below:
"The EMU's (Eurozone's) disruptively high real rates could not only undermine fixed asset investment prospects within EMU they may also take the EUR into overvalued territory.
"The EUR does not rise due to a better economic outcome within EMU. Instead it may rise due to the lack of capital exports held back by balance sheet constraints of EMU financial institutions and too high real EUR rates allowing the recycling of EMU's current account surplus at current FX levels."
Redekker concludes that, "Due to the 'exhausted' position of EMU's yield curve, there is very little the ECB can do to prevent EUR strength."
Weakness Against USD and GBP Longer-Term
Looking to the longer-term it would appear that this pro-EUR stance gives way as the bank see the Euro notably lower.
A look at the following chart on the Euro to Dollar exchange rate hints that while Morgan Stanley are above consensus in their forecasts on the short-term, they are below consensus longer-term:
The EUR/USD rate is forecast at 1.18 in the fourth quarter of 2016 and from here it declines to 1.12 in the first quarter 2017, 1.08 by mid-year 2017 and 1.01 by the fourth quarter 2017.
The Euro to Pound exchange rate is seen as high as 0.94 in the fourth quarter 2016, 0.88 in the first quarter 2017 and down to 0.82 by mid-year.
The EUR/GBP is forecast to close 2017 at 0.75.