Sharp Downgrades to British Pound vs Euro & Dollar Forecasts at Goldmans and JP Morgan
JP Morgan has released their updated post-Brexit forecasts on the pound to euro and pound to dollar exchange rates while sector peer Goldman Sachs have made a second post-Brexit downgrade to the GBP complex.

The Pound to Euro exchange rate is at 1.1709 today
Pound to Dollar exchange rate is at 1.2962.
Where is the bottom for the British pound?
Of course the currency cannot be sold indefinitely, but a look at the latest FX forecast updates coming in from the institutional research sector suggests there is still some downside to be had.
The world's largest investment bank, JP Morgan, have revised lower their forecasts for the British Pound following the UK's decision to quit the European Union following the referendum on June 23rd.
JP Morgan's FX Strategist John Normand is bearish the pound as a result of the combination of zero rates and a widening current account deficit.
In plain english this means that the combination of these two factors has reduced radically - or will reduce - the amount of foreign investment coming into the UK, which translates into less demand for sterling.
Normand and his team see the GBP/USD pair falling to a low of 1.29 by September.
The Euro to Pound Sterling exchange rate (EUR/GBP) is forecast to rise to a best level of 0.89 by March 2017.
From a GBP into EUR angle 0.89 equates to 1.1236.
Latest Pound/Euro Exchange Rates
* Bank rates according to latest IMTI data.
** RationalFX dealing desk quotation.
"Short GBP is our highest conviction trade as the prospect of zero rates is incompatible with the largest current account deficit of any major economy. Maintain a short positon in cable (cash and options), and sell GBP/JPY and GBP/RUB cash for a short GBP basket independent of risk markets," says Normand.
The strategist also highlights the 500bn in foreign liabilities which will have to be serviced with a weaker pound, as a further factor leading to their strong bearish conviction:
"The reason the forecast shows further depreciation - to 1.29 on GBP/USD and 0.89 on EUR/GBP - is that the currency will probably undershoot further given the UK's huge external imbalances (current account deficit of 7% of GDP, gross foreign liabilities of over 500% of GDP) and the tendency of FX rates to move in a non-linear manner when rates fall to zero or turn negative."
At the end of June the Office for National Statistics reported that the UK's current account deficit remains at an historical record of £32.6BN. In short this is because the UK imports far more than it exports, creating a simple supply and demand equation that requires the Pound to be significantly lower.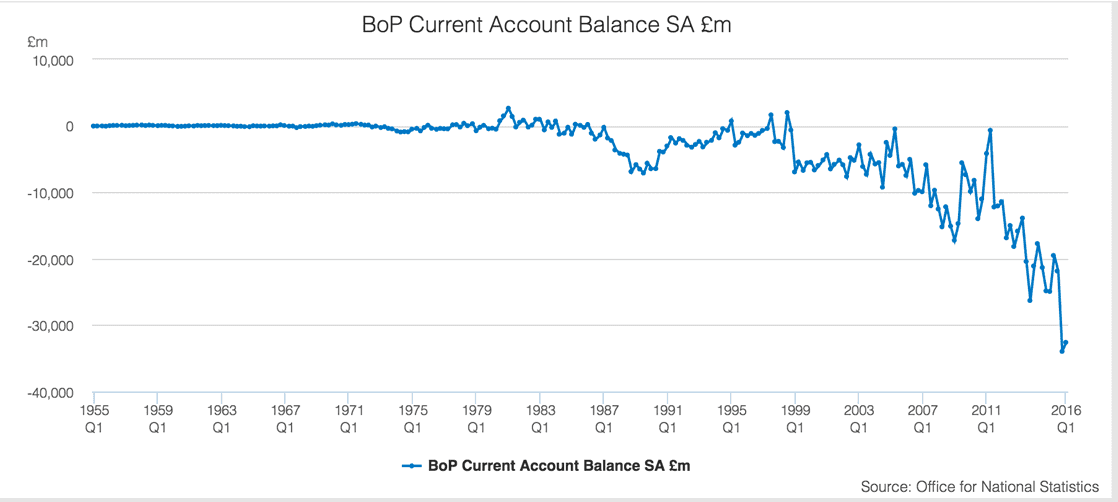 However, Sterling has traditionally been bouyed by the counterbalancing flow of foreign investment inflows. The fear by all the institutional researchers we follow is that these counterbalancing investor flows will dry up on Brexit, leaving GBP at the mercy of the levels dictated by the current account.
The Bank of England is meanwhile forecast to cut interest rates by 0.25% in July, and potentially once more in 2016.
With little return being offered on UK sovereign debt and yield being diminished across the UK financial bouquet as a result, investor inflows are likely to dry further, ensuring Sterling remains under significant pressure.
Goldman Sachs Confirm New Downgrades
Goldman Sachs have meanwhile told clients that have taken the knife to their initial post-Brexit forecasts.
"Now that markets have settled somewhat, we are switching to forecast a second leg of weakness for the Pound, as the Bank of England's policy response drives the currency weaker," says analyst Robin Brooks.
Brooks believes the market is not discounting the easing effect of asset purchases, the persistence of easier monetary conditions in the UK, and the US-UK monetary policy divergence that we expect nearly as much as it should.
"Next week, we expect the BoE to provide a further indication of the scope of the conventional and unconventional monetary policy measures we expect. This will be the catalyst for a further downward move in Sterling," says Brooks.
Goldman Sachs now forecast the EUR/GBP at 0.9 in three months, 0.86 in six months and 0.80 in twelve months.
The GBP/USD is forecast at 1.20 in three months, 1.21 in six months and 1.25 in one year's time.
UniCredit, Danske Bank Forecasting an Even Lower Pound
JPM's forecasts are actually quite mild compared to the much more bearish forecasts of Italian lender UniCredit, who foresee GBP/USD dropping like a stone to 1.20 and EUR/GBP rising to 0.93.
EUR/GBP at 0.93 = GBP/EUR at 1.0752.
UniCredit's perma-bearish view of Sterling is based on on their expectation that there will be an abrupt reversal of portfolio flows as a consequence of the Brexit referendum result, amplified further by the very high probability of a UK recession.
The abrupt reversal in portfolio flows already appears this to be happening, although it's still too early to say how severe it is.
Scandinavian lender Danske Bank's forecasts inhabit a middle ground in between Unicredit's supper bearish view and the less bearish JPM forecasts.
Danske's Thomas Harr expected GBP/USD to fall to lows of 1.22 in 3-6 months time before recovering to 1.30 in 12 months time.
As for EUR/GBP, Harr sees the exchange rate rising to a high of 0.90 in 6 months before retreating to 0.88 in a year's time.
0.90 - 1.1100 in GBP/EUR while 0.88 = 1.1364.
Harr cites prolonged political uncertainty as a rationale for his bearish position, as well as the current account deficit, and concerns about foreign direct investment:
"Near-term, we expect prolonged political uncertainty will weigh on the UK economy and interest rate policy. The UK runs a current account (CA) deficit around 5% of GDP. Given uncertainty about near-term FDI and portfolio flows into the UK, the Current Account will have to adjust, which should imply a sharp fall in domestic demand and a weaker GBP to support exports."
*A short trade is one in which the trader profits if the asset's price falls.