Pound-Euro Exchange Rate Sell-off Might End in 1.09-1.10 Region Forecasts Leading Strategist
- GBP/EUR down 1% on Tuesday
- Looks to find new equilibrium
- BMO Capital eyes levels below 1.10 as being likely
Above: File image. Prime Minister Boris Johnson and the Secretary of State for Northern Ireland, Brandon Lewis meet with First Minister, Arlene Foster and Deputy First Minister, Michelle O'Neill at Hillsborough Castle, Northern Ireland. Picture by Pippa Fowles / No 10 Downing Street
GBP/EUR spot rate at time of publication: 1.1004
Bank transfer rates (indicative guide): 1.0719-1.0800
FX transfer specialist rates (indicative guide): 1.0841-1.0905
More information on specialist rates here
A leading foreign exchange strategist who warned last week that the Pound was looking to expensive against the Euro has updated clients with his views on how far the GBP/EUR exchange rate could fall.
Stephen Gallo, European Head of FX Strategy at BMO Capital told clients last week's highs in the exchange rate around 1.1286 was not justified given the prospect of rising Brexit tensions.
Since the warnings was issued, the Pound-to-Euro exchange rate has fallen to 1.1011, with a 1.86% decline being recorded this week alone.
Gallo things "there is moderate room" for the decline to extend before the exchange rate finds a new equilibrium and attracts "better two-way flow".
Sterling has this week come under sustained pressure as the logjam in EU-UK trade negotiations has invited interventions from various senior politicians on both sides of the channel. Most notably, UK Prime Minister has indicated that unless a deal is struck in October it would perhaps be prudent for the two sides to cease negotiating and prepare for an Australia-style deal.
There is currently no free trade deal between the EU and Australia.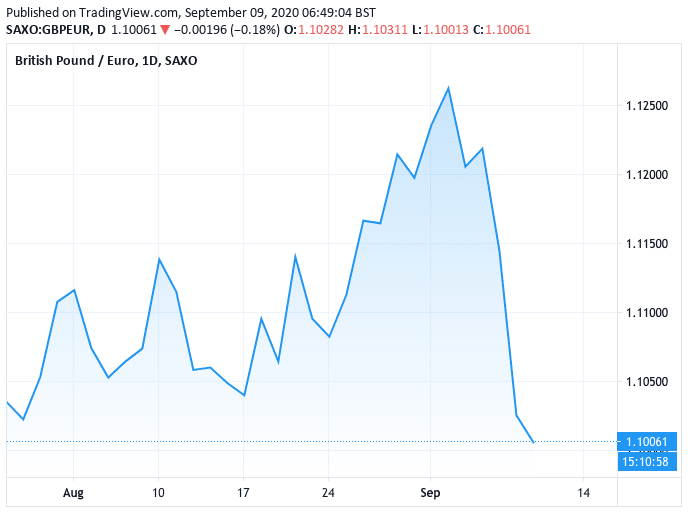 Above: The rise and fall in GBP/EUR in the August-September period.
Raising the ante, the UK are to present a new piece of legislation to Parliament on Wednesday that would see parts of the Withdrawal Agreement agreed with the EU last year superseded by domestic law in the event of a 'no deal' Brexit in 2021. The Government says the legislation would seek to ensure Northern Ireland's place in the UK market is protected, and apparently looks to circumvent the Withdrawal Agreement's requirement for customs checks between Northern Ireland and the remainder of the UK.
Critics say this would be a breach of international law, an observation all but confirmed by Northern Ireland Secretary Brandon Lewis on Tuesday.
The intended legislation has sparked an outcry from numerous European officials, and it raises political anxieties for Sterling which fell a percent yesterday alone.
BMO Capital's Gallo says the selling pressure might ease around 1.0990, an area that should provide short-term support.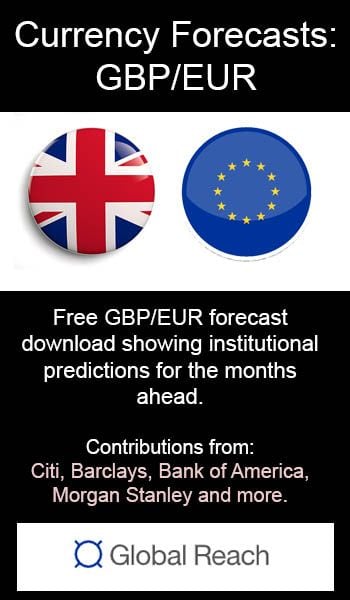 "We would expect more FX investors to think about fading GBP weakness from that area on the expectation that the two sides will eventually reach a deal," says Gallo.
Indeed, the majority of analysts we follow were cautious of Sterling's summertime strength, observing that a tense Autumn in which Brexit trade negotiations come to a head would generate the kind of uncertainty which would typically lead to weakness in the currency.
Most of these analysts do still see the odds of a deal being struck as being above 50%, noting that tensions will rise before a last-minute deal is struck. Under such a scenario, Sterling would be expected to then recover.
"That said, this pair remains a difficult one to trade, since FX investors will not truly take the binary outcomes of a WTO Brexit (or a FTA) seriously until the very last minute. For the time being, we could easily see the negotiations stretching until well into October," says Gallo.
---
Achieve 3-5% More Currency: The Global Reach Best Exchange Rate Guarantee maximises your currency purchasing power. Find out more.
Invest in Spanish Property. A selection of discounted properties due to the covid-19 crisis, online viewings and transactions possible. Download the Guide
Invest in Portuguese Property. A selection of discounted properties, online viewings and transactions possible. Download the Guide
Featured Content
Mortgage Direct - a Spanish mortgage broker specialising in the provision of mortgages for expats - have confirmed they have secured their Spanish license.