Swedish Krona Leads Pound Sterling as July's Best Performing G10 Currency, More Ahead
- SEK is top performer in July
- Gains can extend say SEB
- Sweden's soft response to covid = stronger economy
Image © Adobe Stock
The Swedish Krona was the best performing major currency ahead of a surprisingly strong British Pound, and economists at Swedish lender SEB say the Scandinavian currency has more ground to gain.
The Krona outshone all its major peers in July; since the recovery began from the depths of the covid-19 crisis in mid-March the Krona has strengthened by more than 8.7% on a trade weighted basis.
The Euro-to-Swedish Krona exchange rate is currently seen trading at 10.3055, having been as high as 11.38 on March 19. The Pound-to-Krona exchange rate is at 11.4557, having been as high as 12.77 in February. The U.S. Dollar-Krona exchange rate is at 8.7037, having been as 10.48 in March.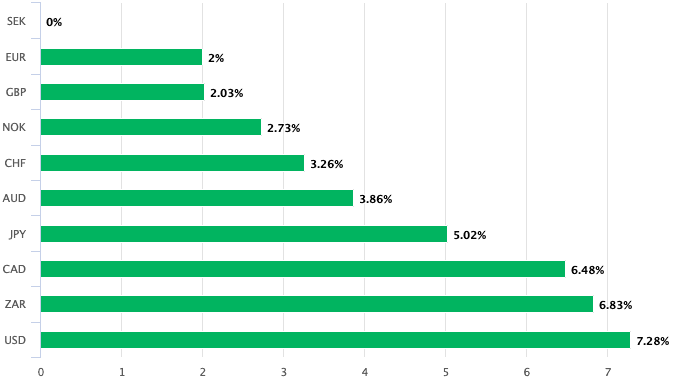 Analysts at Sweden-based European lending giant SEB say the recovery has been driven largely by the SEK's status as a 'risk on' currency, which makes it particularly prone to appreciation when global markets and commodity prices are rising.
"The SEK is branded by many as a risk dependent currency and for sure this time we have seen the krona appreciating during the time of risk appetite recovery," says Richard Falkenhäll, Senior FX Strategist at SEB. "But the recovery during the past month is stronger vs what may have come from rising equity markets."
Falkenhäll says this stronger-than-expected bounce back might stem from the SEK being "very weak" coming into 2020, with their SEB's models showing the trade-weighted SEK to be between 7% and 10% undervalued. Furthermore, positioning amongst the investor community was particularly 'short', meaning a rebalancing of the market required an increase in SEK purchases.
"The Riksbank rate hike to 0% in December last year started the process of unwinding core SEK shorts," says Falkenhäll.
We would also add our own view that the Swedish currency also appears to have gained an edge against other 'risk on' currencies such as the Australian Dollar, owing to its proximity to Europe, which has taken on a new glow in the investment space since EU leaders agreed a chunky €750BN rescue fund that saw the bloc take a sizeable step towards greater fiscal unity.
There is a rotation out of U.S. assets into EU assets underway at present, according to a number of economists we follow, and this will understandably support country's like Sweden and its currency. Another example of how important proximity is can be found in the case of the Canadian Dollar which is the worst performing major of the past month, a situation some say is due to Canada's reliance on the U.S. economy which is losing its 'outperformer' status.
Achieve up to 3-5% more currency for your money transfers. Beat your bank's rate by using a specialist FX provider: find out how.
Looking ahead, SEB are forecasting further Swedish Krona strength noting the currency to still be undervalued.
According to SEB's empirical models, the long-term fair value in the EUR/SEK is around 9.50-10.00 and just below 8.00 in the USD/SEK and thus the SEK is still undervalued against several of the G10-currencies.
(The EUR/SEK is currently at 10.3055, the USD/SEK is at 8.7037 and GBP/SEK is at 11.44).
"There is clearly still potential for the SEK to continue to appreciate and to also outperform the euro," says Falkenhäll.
Sweden's particularly relaxed response to the covid-19 pandemic - it famously opted not to engage in the harsh lockdowns the rest of Europe opted for - should show up in its economic growth data, due for release next week.
SEB forecast economist the country to report -8.0% quarter-on-quarter, -7.0 year-on-year. While deep, this is flattering compared to the Eurozone's -12.1% quarter-on-quarter reading and -15.0% year-on-year reading announced today.
In a world where relative economic performance provides a fundamental basis for currency valuation, such an economic read would typically be expected to be reflected in a stronger SEK.
"If anything, we also hold an upside surprise bias to the Swedish data and would expect the relative
outperformance of Swedish growth to be one factor for expecting the EUR/SEK to continue to decline over
the coming weeks," says Falkenhäll.
SEB forecast EUR/SEK to fall to 10.15 by the end of the third quarter and to 10.00 by year-end, they now expect the EUR/SEK to fall below 10.00 in the first half of 2021.
SEB's USD/SEK forecast is revised to 8.60 by the end of the third quarter and to 8.35 by the end of 2020.
---
Achieve 3-5% More Currency: The Global Reach Best Exchange Rate Guarantee maximises your currency purchasing power. Find out more.
Brexit will impact your UK pension if you are living in the EU. Capital Rock Wealth have developed a comprehensive guide to help you navigate the uncertainty ahead.
Find out more

Invest in Spanish Property. A selection of discounted properties due to the covid-19 crisis, online viewings and transactions possible. Download the guide. Download the Guide
Featured Content
Mortgage Direct - a Spanish mortgage broker specialising in the provision of mortgages for expats - have confirmed they have secured their Spanish license.