The Pound-to-Euro Exchange Rate to Reverse some of its 2019 Gains this Week say RBC Capital
Image © Savo Ilic, Adobe Stock
- Buy the Euro, sell the Pound this week say RBC Capital
- Prospects of a second referendum seen falling back
- "Little prospect of cross-party cooperation" on Brexit deal
The British Pound is expected to reverse some of its recent "impressive performance" by foreign exchange strategists at global investment bank RBC Capital.
The Pound has advanced 2.0% against the Euro thus far in 2019, with the exchange rate currently quoted at 1.1390, but having gone as high as 1.14 in the previous week.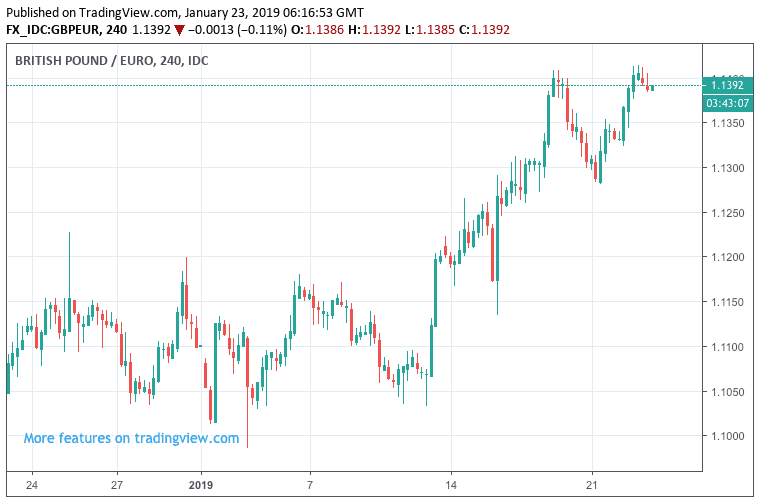 Above: Has Sterling put in a peak against the Euro?
Strategist Adam Cole at RBC Capital's London unit says the Pound's "impressive outperformance in January has been driven by a rising perception that Brexit deadlock will be resolved through a second referendum with a high risk of a vote to remain and also some talk of supportive M&A flow."
However, Cole says proxy measures of the probability of a second referendum peaked last week and, in the near-term that probability is likely to fall further as the risk of exit with no deal rises.
Ladbrokes has lengthened the odds of another UK EU referendum before end 2019 to 7/4, from 6/4 Monday, "a fact that may concern GBP bulls," says Robert Howard, a foreign exchange analyst with Thomson Reuters. "A second referendum to clear the Brexit fog would be good for GBP – especially when one of the other options is an early general election, which might only thicken the murk."
RBC Capital's Cole says the prospect of a 'no deal' Brexit is actually rising as Prime Minister Theresa May remains determined to find a solution that unites the Conservative Party, "and intransigence on her red lines suggests little prospect of cross-party cooperation," says Cole.
The call was made on the day Prime Minister May returned to the House of Commons to brief on her next steps. While May said she is keen to continue sounding out the opinions of various interest groups, it was made clear that her primary objective is to head back to Brussels with fresh demands for concessions on the Northern Irish backstop. If successful May should placate a swathe of Conservative MPs who voted against her Brexit deal 'version 1' as well as Northern Ireland's DUP.
"We expect GBP to reverse some of 2019's gains in the near-term," says Cole.
The Euro is meanwhile liable to strengthen this week, with the European Central Bank meeting being a potential catalyst for gains.
"Heading into Thursday's ECB meeting, there is a widespread expectation that the Draghi will deliver a dovish message at the press conference. We think it more likely that he will defer major changes to the outlook to the March meeting, when revised ECB forecasts are due," says Cole. Currently markets are expecting the ECB to sound a sombre tone in light of the slowdown in Eurzone economic growth over recent months, and traders have been cautious of the Euro as a result.
Therefore, a stoic ECB on Thursday could see the Euro rise.
If this strategy of buying the Euro against the Pound proves to be correct, RBC Capital would expect the EUR/GBP exchange rate to rise up to 0.9030, which gives a GBP/EUR exchange rate target at 1.1074.
Time to move your money? Get 3-5% more currency than your bank would offer by using the services of foreign exchange specialists at RationalFX. A specialist broker can deliver you an exchange rate closer to the real market rate, thereby saving you substantial quantities of currency. Find out more here.

* Advertisement