Brexit-boost to UK Exports May Not be Over Just Yet say Capital Economics
-March slowdown in UK export growth erases post-referendum boost.
-But data shows order books are still healthy so this may be temporary.
-While falling inflation should aid the consumer and support the economy.
© Winterbilder, Adobe Stock
The UK economy's Brexit-related boost to exports may not yet be over, according to economists at Capital Economics, despite a fourth-quarter contraction in the value of net trade and first-quarter recovery of Pound Sterling.
This call comes amidst a broad first-quarter UK economic slowdown, with GDP growth having fallen from 0.4% to 0.1% for three months to the end of March, and after an eight month period of gains for Pound Sterling.
It also comes closely on the heels of the annual growth rate in the UK's export values having declined to just 1% during March, marking an almost complete reversal of the 20% increase that was seen in September 2017, a little more than a year after the Brexit referendum result sent Sterling tumbling by double digit figures against its international rivals.
This is relevant because although the Brexit-related devaluation raised the level of UK inflation to more than 3% by November 2017, which has crimped the level of real GDP growth, it also provided a significant stimulus to the UK's exporters by making their products cheaper for overseas customers to buy and more competitive when stood next to rival goods.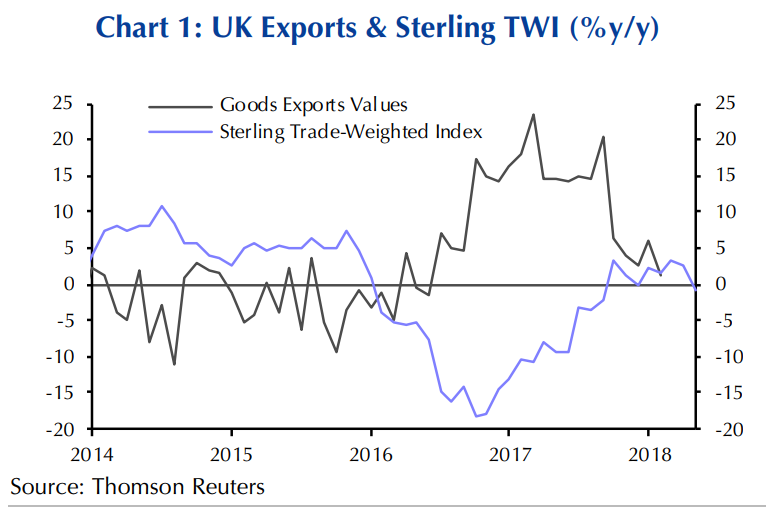 Above: Capital Economics graph showing UK export values and Pound Sterling Index.
That stimulus made a contribution to UK GDP growth in the first three quarters of 2017 and was expected to support the economy as it adjusts to the post-Brexit world, so economists are now asking whether the recent slowdown heralds the end of this Brexit-boost, or if it is merely a blip in what is a volatile set of economic statistics at the best of times.
"While the beneficial effects on exports of the pound's depreciation may now be fading somewhat, it is too early to conclude that the sterling boost to growth is over," says Jonathan Loynes, chief economist at Capital Economics. "The annual growth rate of export values has slowed...Meanwhile, having made a positive contribution to GDP growth in three of the previous four quarters, net trade was a drag in Q4 2017 and is unlikely to have contributed much in Q1."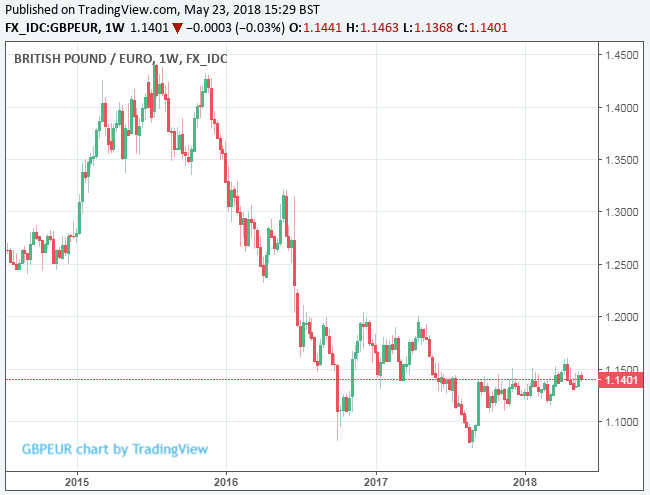 Above: Pound-to-Euro rate shown at weekly intervals.
Loynes notes that, assuming this is the end of the post-referendum boost to exports, it will have been much shorter-lived than that seen in the aftermath of past UK currency devaluations.
Notably, while the currency effect of joining the European Exchange Rate mechanism in October 1990 damaged UK industry and membership prevented an effective response to the recession that began in mid-1990 and ran until the middle of 1991, the Sterling-devaluation brought about by the UK's 1992 exit from the ERM spurred "several years" worth of export growth.
"Recent falls in exports to the rest of the EU have been particularly disappointing at a time when the European economy has been expanding solidly," says Loynes. "One explanation for the disappointment is that exporters have squandered some of the benefit of the depreciation by raising their sterling prices and hence preventing foreign-currency prices from falling."
Loynes flags that Sterling export prices have risen by 10% since the post referendum devaluation, more than offsetting the 7% trade-weighted-discount that remains attached to the Pound, as a possible explanation for why shipments to Europe have slipped during recent months and export growth has slowed more generally.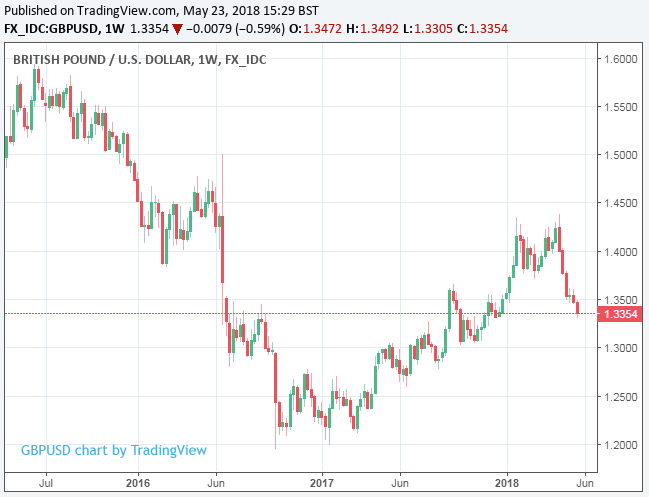 Above: Pound-to-Dollar rate shown at weekly intervals.
"While this has provided a short-term boost to exporters' profit margins, it has prevented them from using their increased competitiveness to gain a stronger foothold in overseas markets," the economist writes.
Despite the apparent poor data Loynes and the Capital Economics team argue this recent slowdown in export growth is still in its very early days and could still prove to be a temporary phenomenon.
They also flag that survey data detailing the level of export orders submitted to the UK's manufacturers, such as the CBI Distributive Trades survey and IHS Markit manufacturing PMI surveys, shows that order books are still at historically high levels.
This, taken together with the fact that global economic growth slowed broadly during the first quarter of the 2018 year, provides further grounds to think the recent downturn may only be temporary. Only time will tell if it is.
"And finally, even if the positive effect on exports of the pound's depreciation is now coming to an end, the same appears to be true of the negative effect on household spending," Loynes writes. "Given the much greater importance of household spending than exports to the economy, the net effect of these developments on growth may well be positive."
Advertisement




Get up to 5% more foreign exchange by using a specialist provider to get closer to the real market rate and avoid the gaping spreads charged by your bank when providing currency. Learn more

here

.