Euro Exchange Rate's Outlook Dented as Inflation Data Shows Prices are not Going the ECB's way
- Eurozone inflation slowed to 1.2% in April and core inflation to 0.7%
- Euro falls as doubts over an end to the ECB's quantitative easing grow.
- Slowdown attributed to one-off Easter-effect but the damage is done.
© European Central Bank, reproduced under CC licensing

Inflation in the Eurozone slowed markedly in April, according to data released by Eurostat on Thursday morning, clouding the path forward for European Central Bank monetary policy, and by extension, the Euro.
Headline inflation rose by only 1.2% in April, down from 1.3% in March, while core inflation slowed to only 0.7% from 1.0% in March.
Expectations had been for headline inflation to remain unchnaged at 1.3% and the core measure to fall only one basis point to 0.9%. In the end, the reality was worse.
The Euro sold off on the news, with EUR/USD falling from a pre-release level of 1.1984 to 1.1972.
Against the Pound, however, the Euro strengthened as Sterling was kept down by a subdued services PMI reading, released half an hour before the Eurozone inflation data. The Pound-to-Euro exchange rate fell from a pre-release level of 1.1338 to 1.1331.
Core CPI is the more important of the two individual inflation subsets, as it is a purer gauge of organic economic performance which doesn't include volatile food and fuel components; the rule of thumb goes that rising organic inflation is symptomatic of an economy that is firing on all cylinders in which pay packets for workers are rising.
Inflation remains low globally, particularly in the Eurozone.
Until inflation rises substantially closer to the European Central Bank's target of just under 2.0%, interest rates will remain low and monetary stimulus in play as these help feed inflation.
Low interest rates and monetary stimulus, however, depress the Euro, because they reduce the attractiveness of the region as a destination for foreign capital to park.
$EUR resilience around 1.20 following the EZ core CPI miss indicative of the following ECB policy approach...
Plus a lot of bad news already priced in (can it actually get worse now...) pic.twitter.com/mw3ENaqTJV

— Viraj Patel (@VPatelFX) May 3, 2018
A decline to 0.9% had been expected as a consequence of an 'easter effect' due to Easter falling at the end of March, rather than fully in April as it usually does. This would have depressed Easter-related inflation in holidays. airfares, leisure, and entertainment which all charge a premium over the holiday period.
A key foundation of the Euro exchange rate's rally through 2017 was the expectation that the ECB would step back from its aggressive monetary stimulus programme in 2018, with a view to raising rates in 2019 as inflation rises to 2.0% thanks to a growing economy.
All signs are however that this withdrawal of stimulus might be delayed as inflation is not heading in the right direction; and we can therefore expect the Euro to retrace some of its gains with the Dollar and Pound potentially benefiting.
However, Claus Vistesen senior European economist at advisory service Pantheon Macroeconomics, says the slowdown is within the normal bounds expected by the Easter effect.
"To us, today's report does not change the main story. Eurozone inflation pressures remain low and will continue to support an overall accommodative stance by the ECB. But the trend in both headline and core likely is up, slowly. Energy inflation will rise further in coming months, and the core rate will rebound next month."
The data miss has not made the economist change his stance on ECB policy which he still expects to tighten at the end of 2018.
"Market-based interest expectations for December 2019 are falling to their lowest level since December last year. We worried that this might happen on a downside surprise, but we highly recommend investors to reject the urge to change their assumptions about ECB policy and bond yields based on these headlines," says Vistesen.
Data for a sample of individual member states showed German inflation in April was slightly above the -0.1% expected at 0.0% but this was still a decline from the previous month's 0.4%. Italian inflation rose by only 0.1% from 0.3% in March and was below the 0.2% forecast. Finally, Portuguese inflation came in at 0.7% in April down from 1.9% in March - there was no official consensus estimate for Portuguese inflation, however.
"Eurozone energy and food inflation almost surely rose last month, and base effects in oil point to further upside for the former in coming months. Elsewhere, we are fairly confident that core inflation is rising, slowly. Today's advance CPI report for April, however, won't take notice of any of these trends," said Pantheon's Vistesen.
The average decline in inflation on years with an early Easter is 0.5%, says the economist, and the chart below shows the working.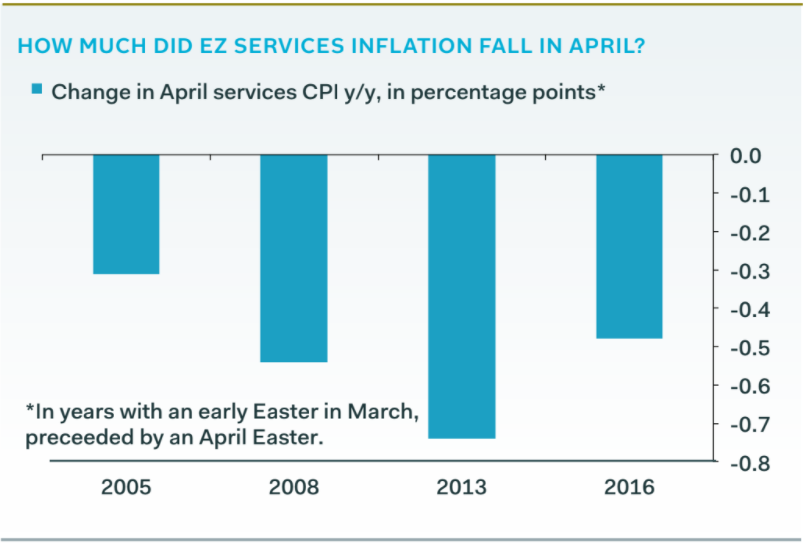 Despite the influence of Easter the Euro was expected to be extra sensitive to a lower inflation reading, given this is its Achilles Heal, said Vistesen.
"Investors shouldn't care about a slightly bigger-than-expected seasonal dip in core inflation due to the timing of Easter, but they probably will, if it happens," says the economist.
Furthermore, the Euro's recent run of poor form might leave the single-currency relatively immune to softer-than-forecast data in the short-term.
Hence why we have seen the Euro spurn the advances of other currencies, particularly the bully-boy of global FX at present; the US Dollar.
"The muted reaction in EURUSD following the CPI miss suggests that a lot of bad news in the price. Part of this however, may be due to caution ahead of tomorrow's US payrolls, where wages will garner considerable attention in the wake of the Fed's "symmetric" reference. Further, the evolution of European equity flows suggests that an impending turn in a credible EUR reversal remains absent," says Mazen Issa, Senior FX Strategist with TD Securities.
Advertisement




Get up to 5% more foreign exchange by using a specialist provider to get closer to the real market rate and avoid the gaping spreads charged by your bank when providing currency. Learn more

here

.