Services PMI: Uncertainty Over Economy's Future Grows
Pound Sterling was bid higher on Thursday, August 3 following the release of better-than-forecast service sector data; but concerns regarding future activity continue to mount.
IHS Markit and the CIPS report that their monthly Service PMI for July read at 53.8; higher than the 53.6 forecast by economists.
The service sector represents the largest component of UK economic activity and the reading thus confirms the UK economy is seeing steady growth at the beginning of the third quarter of 2017.
The data provides some relief regarding economic activity as flagged by Wednesday's Construction PMI which showed an unexpectedly large drop in activity.
A report accompanying the data release from IHS Markit and the CIPS revealed a solid rate of new business expansion was recorded in July, although the latest improvement was one of the weakest seen since last autumn.
A number of firms commented on rising sales linked to new product launches and successful promotional initiatives, but some noted that post-election uncertainty and worries about the economic outlook had dampened client spending.
And the trading outlook as perceived by firms is where the picture turns a little cloudier with Stretched household budgets were also cited as a headwind to new business growth in July.
"Firms' prospects for the coming year have slipped to a level which has previously been indicative of the economy stalling or even contracting, having taken a lurch downward since the general election, largely reflecting heightened uncertainty about the economic outlook and Brexit process," says Chris Williamson, Chief Business Economist at IHS Markit.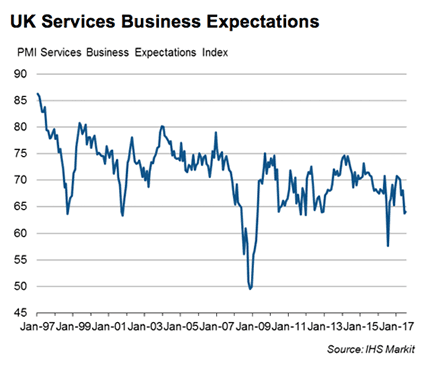 Adding to the view is Duncan Brook, Director of Customer Relationships at the CIPS:
"Hopes of a stronger performance in the latter half of the year are ebbing away, with business confidence close to its lowest since 2012. July's data has presented a worryingly mixed bag of results reaffirming the impact economic uncertainty and the weak Pound can have."
The weakness of Sterling remains a key risk to the UK economy and is why some are suggesting that the Bank of England will soon start targeting a lift in Sterling's value.
On a positive note, staff recruitment continued to gain traction, reaching its strongest pace since the start of 2016.
Increased payroll numbers were attributed to long-term expansion plans and rising business requirements.
"One good piece of news related to the strong employment figures. With jobs growth swelling at the fastest level since January 2016, at least in the short-term, firms have the workforce in place as they seek to increase marketing and business investment despite weaker trading conditions," says Brock.