Pound Off Day's Lows as UK Unemployment Falls, Wages Grow 2.4%
Pound to Euro exchange rate today: 1.1668, day's low: 1.1606, day's best: 1.1672
Pound to Dollar exchange rate today: 1.2947, day's low: 1.2905, day's best: 1.2944
The Pound briefly jumped on news that the UK's unemployment rate has fallen unexpectedly.
The ONS reports that UK unemployment has slipped to 4.6%, better than analyst forecasts for the rate to stay at 4.7%.
However, the Pound's move higher was short-lived as it was confirmed wage growth remains at 2.4%, where analysts had expected it to be.
Falling unemployment is simply not translating into higher wages as the productive capacity of the UK worker remains underutilised.
Until that productive increases, and wages respond, the Bank of England is unlikely to raise interest rates. Therefore, Sterling will not likely see a lasting boost on the back of the data and we will need to wait for unemployment to fall further and wages grow faster.
The Bank of England's MPC's judgemes that the unemployment rate is able to drop to 4.5% without generating markedly increased wage pressure.
Once this equilibrium unemployment rate is found wages are unlikely to find notable upside traction.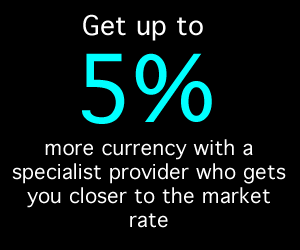 "Reassuringly for income growth prospects, however, employment picked up further and posted a much larger-than-expected increase over the quarter," say Lloyds Bank in a written response to the data. "Overall, the data suggest that any remaining slack continues to be absorbed."
The numbers employed as of the January-March quarter were 122k higher than in the preceding 3 months, accelerating from the 43k in the previous reporting period.
It could be a matter of time then before we start to see some real moves in wages.
Indeed, employees are likely to become more assertive in demanding higher pay as this week's higher-than-expected April CPI outturn showed that inflation is still accelerating in response to last year's Sterling decline.
Inflation is at 2.7% confirming prices are rising faster than paychecks, suggesting that the UK consumer is in fact becoming worse off.
"Weakening productivity and slower pay growth, coupled with rising inflation, will continue to squeeze real household earnings," says Alpesh Paleja, Principal Economist at the CBI.
This could have knock-on effects for retail spending which is a major driver of the UK economy and is one reason why a number of analysts continue to forecast a weaker Pound, particularly over the coming three months.
Solving the Productivity Puzzle
"The labour market is creating jobs at a steady rate and unemployment is at its lowest level for more than four decades. But the decade-long productivity puzzle persists - with British output per worker once again languishing below trend and far behind that of many European countries," says Mariano Mamertino, EMEA economist at the global job site, Indeed.
What is driving the recent weakness in wages? It could still be that there is a margin of slack in the labour market, an argument the BoE has emphasised.
However, it's difficult to argue that slack has increased lately given the further fall in the unemployment rate, only a small rise in inactivity, and the fall in underemployment.
There are a number of possible explanations argues Daniel Vernazza, Chief UK Economist at UniCredit Research:
"More likely, firms may be trying to offset the rise in other labour costs (the new apprenticeship levy, immigration skills charge, and the continued phasing in of workplace pensions and automatic enrolment) and non-labour costs following the past depreciation of sterling.
"Also, firms may be unwilling to raise wages amid Brexit-related uncertainty. Looking at the industry-level breakdown of pay growth, construction stands out as the sector where average pay has fallen sharply, which may be related to the effects of higher non-labour costs and Brexit-related uncertainty."
The CBI meanwhile argue the Government should seek to maintain the UK's reputation as a great place to do business, for example by increasing R&D spend to 3% of GDP by 2025, will help boost the UK's productivity.
"This is the only sustainable route to higher wages, and better living standards," says Paleja.