London Remains Europe's Chinese Yuan (RMB) Clearing Centre - Can it Hold its Crown?

The UK is conducting a good portion of Renminbi clearing on behalf of Germany and France but the Chinese currency has fallen in importance as a global international payments currency.
According to the most recent edition of SWIFT's RMB Tracker Hong Kong is still by far the leader in offshore RMB payments.
The next biggest contributor to global RMB payments by value is Europe, with the United Kingdom the largest centre in this region.
The UK overtook Singapore as of January 2016.
SWIFT have been tracking the progress of the Chinese Yuan's internationalisation since 2011.
The most recent clearing centre appointed by Chinese authorities was Switzerland in November 2015, bringing the total to 19 RMB clearing centres globally.
Eight clearing centres are based in EMEA, of which two are non-Eurozone, three are in the Eurozone, two are in Africa and one is in the Middle East.
London Domination
Data shows that France and Germany continue to lag the UK for CNY clearing despite those two countries having a larger trading relationship with China than the UK does.
China is France's eighth-largest export partner and its third largest import destination.
French and Chinese banks have considerably diversified their banking service offerings in RMB to provide solutions aimed at supporting businesses, including SMEs and mid-caps: trade finance, opening of bank accounts and capital transactions.
SWIFT say that France, with its RMB clearing offshore centre running since 2014, is well positioned to increase the volume in RMB it clears.
Meanwhile, SWIFT's RMB tracker shows that RMB usage in Germany, Europe's first RMB centre to be set up, has been limited.
The evolution over the past years remains rather flat with a decrease of -24.9% compared to August 2015 (which was an exceptional month as mentioned in the introduction).
Looking at Europe, the United Kingdom represents a share of 67.3% of all RMB payments made between Europe and China/Hong Kong in August 2016, followed by France with 14.1% being the leading euro country.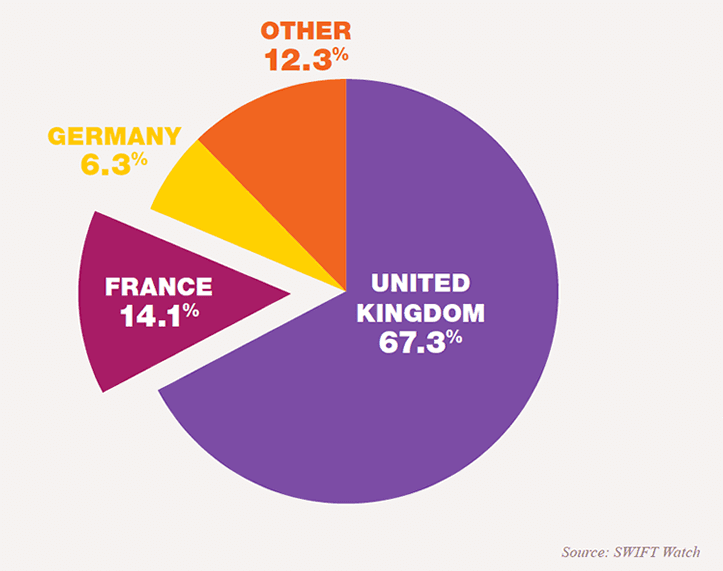 This would almost certainly suggest that a good portion of French and German clearing is being done through London which is of course still part of the European Union.
This makes perfect sense as all major French and German banks have offices in the UK capital, therefore it would make sense if the London operations of European banks were clearing for their continental clients.
Such a distinction in the data is not made clear but it would almost certianly be that this is in fact the case.
The discrepency between UK-China trade and UK-China clearing is far too large to be explained in any other way.
This does aid the argument that despite a looming Brexit, London remains far too large and systemically important to lose its top spot in European finance.
The worst-case scenario would be Eurozone-headquartered banks losing the ability to clear CNY through London, but it is hard to see this scenario being imposed.
Of course the issue of financial services passporting will be one of the most hotly-contested areas of the looming Brexit negotiations.
However, if Eurozone banks are clearing through London, surely the passport actually applies moreso to incoming business?
"In Europe, the UK is the largest offshore RMB hub outside Hong Kong, reflecting the importance of China to the UK. How this will develop in light of the UK's decision to leave the EU is hard to say," says Vina Cheung, Global Head of RMB Internationalisation, Global Liquidity and Cash Management, HSBC.
"While Germany, France and Switzerland are striving to increase their RMB business, the UK has achieved this status in an environment where there is nothing stopping other countries from doing so," says Cheung.
According to Li Biao, Chairman of the Board of China Construction Bank (London) Ltd, his bank will continue to support its CCB London Branch as the RMB Clearing Bank in UK.
Popularity of Chinese Yuan for International Payments Dips
According to SWIFT August 2016 data, the Chinese Yuan is for the second consecutive month ahead of the Canadian dollar when it comes to world payment currencies by value with a share of 1.86% of the market.
Just three years ago, in August 2013, the CNY (or RMB, if you wish) was ranked at position #9 with a share of 0.84%.
In the last three years, the RMB overtook several currencies, including the SEK, HKD, CHF and CAD.
Despite the fact that CNY is in the top five currencies the gap compared to JPY remains high (3.37%) and it is difficult to predict if and by when the RMB might be in fourth position.
It overtook JPY with a record high share of 2.79% in August 2015 then fell back, likely due to the devaluations of the RMB that took place in that month.
As from then, the CNY usage has been negatively impacted by the volatility in the Chinese market and the slow-down of Chinese economy.
Overall, in the month between July and August 2016, global CNY payments increased in value by 4.81%, while payments across all currencies increased in value by 7.21%.