Yuan to Challenge Pound Sterling for 3rd Place in World Payments League
The Chinese Renminbi continues to be increasingly used as the currency of choice to settle global payments as the world's leading financial centres expand their CNY clearing capacities.
According to the August data from SWIFT, the Chinese Yuan (Renminbi / CNY) enjoyed higher acceptance in the global market and became the fourth most active global payment for the first time.
The Yuan overtook the Japanese Yen to claim fourth spot accounting for 2.79% of the total payments made via SWIFT.
SWIFT is a member-owned cooperative that provides the communications platform, products and services to connect more than 10,800 banking organisations, securities institutions and corporate customers in over 200 countries and territories.
The US dollar remains far and away the world's currency of choice for international payments:
The British pound sits in third and accounts for 8.45% of global SWIFT payments suggesting there is still a great deal of ground to be made if the Chinese currency is to surpass sterling.
However it is the Yuan that continues to enjoy break-neck growth rates suggesting sterling could soon be challenged for number the number three spot.
"New CNY offshore centres appointed in the past two years will continue to facilitate and drive use of CNY. Outside of Hong Kong, eight offshore CNY centres have recorded double digit year-on-year growth as of August 15," says Angus T.Y. Tsang, Global Head of RMB Internationalisation at HSBC.
However, the UK financial sector is likely to benefit from the CNY's ascension up the global payment ranks as London remains the second most important global clearing destination for the Chinese Yuan with volumes increasing 17% year-on-year in August.
Singapore remains the most important international hub when China and Hong Kong are excluded: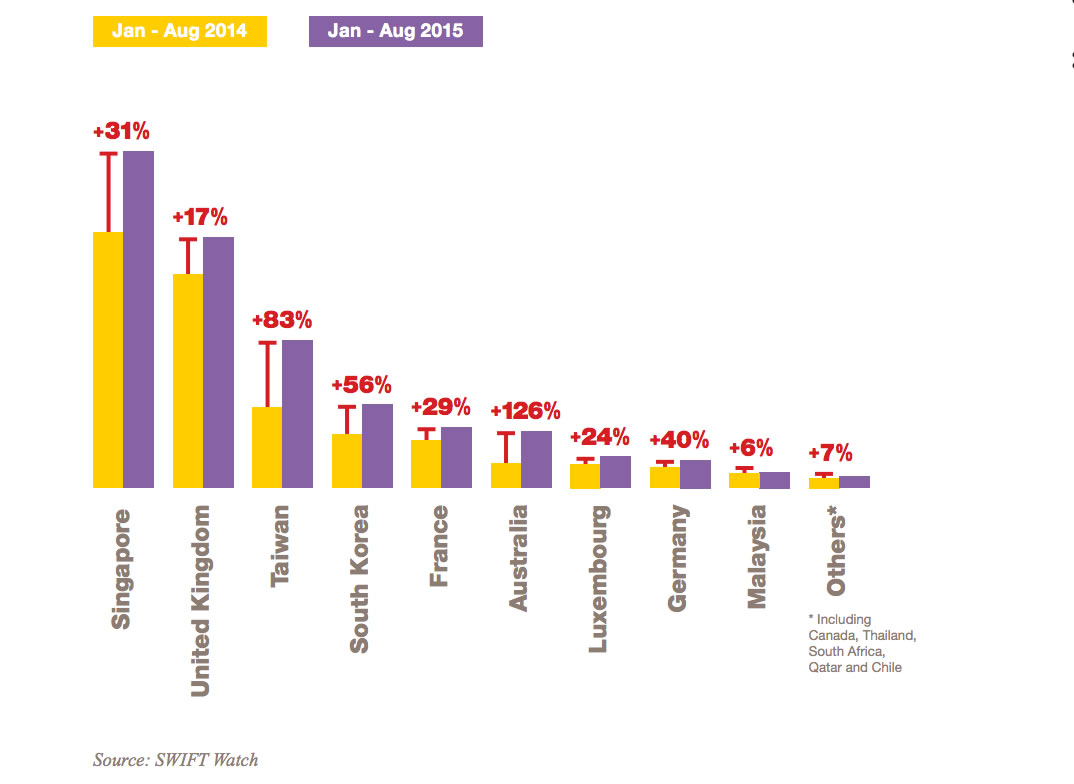 While London is second to Singapore in the clearing stakes it is notable that more than 50% of CNY FX trading activity conducted outside of Hong Kong and China is done in the UK, "which is a reflection of the strong position London has in the global FX market," says a briefing from SWIFT.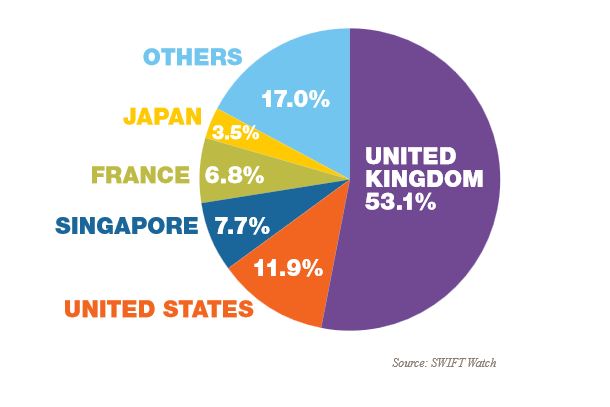 In 2015, five new clearing centres have been appointed, including Kuala Lumpur, Bangkok, Sydney, Chile and recently South Africa.
"Despite the recent devaluation, Swift data shows that it has grown to become the fourth most important currency for settlement. We continue to see our local clients switching into yuan invoicing to take account of the benefits it provides," says John Cairns at Rand Merchant Bank in Johanessburg.
In the last three years, the CNY has overtaken seven currencies rising from position number 12 with a share of 0.84% in August 2012.
The currency has also further established itself as the dominant currency for trade finance behind the USD.