UK Inflation Rate Holds Steady in May, Forecast to Tick Higher Through Remainder of 2016
ONS data has confirmed inflation held steady just above the no-change market in May as price falls in food offset rises in transport costs.
It was no change for inflation this June as the CPI index was unchanged at 0.3% for May, with rises in transport, restaurants and hotel bills offset by falls elsewhere.
Economists had forecast a reading of 0.4% to be reported.
According to the ONS, clothing fell by 0.2%; food and alcoholic beverages were down 0.4%, while games, toys and hobbies also fell in price very slightly.
Against this were rises in restaurants and hotels (0.5%) up from 0.2% in April and the cost of an overnight stay in a hotel was a little higher than in 2015.
Meanwhile, transport costs were up, powered by a 2.8p rise in the cost of petrol. Meanwhile the retail price index was up to 1.4% from 1.3% in May.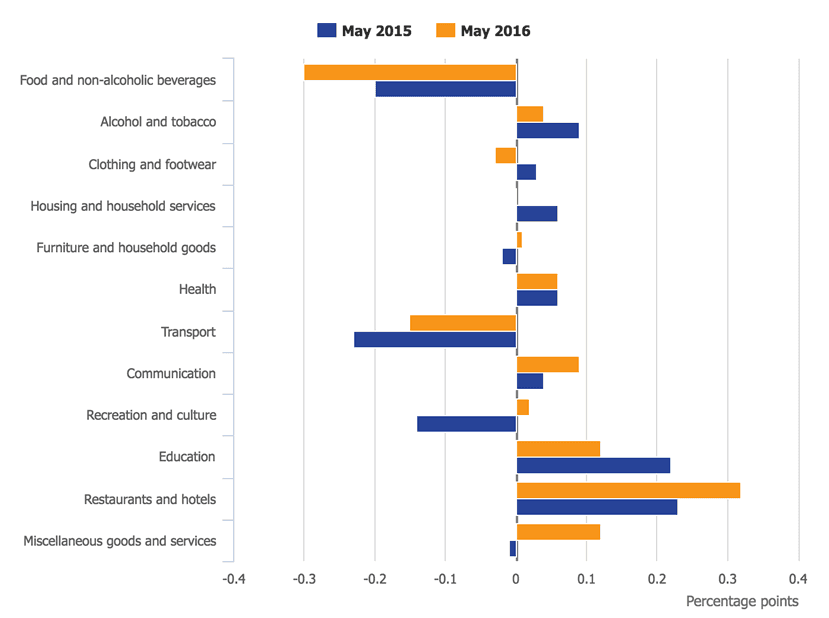 April had been an unusually low month with inflation down 0.3% from 0.5% in March – a 15 month high.
April's fall had been the first drop since September, but even so experts had been predicting inflation to bounce back a little.
Overall, though, it continues a theme in which inflation has been hovering a little above zero for some time.
Moving forward, experts do believe that inflation will rise a little, but even so it will be some way below the Bank of England's 2% target.
The Bank, meanwhile, is continuing to issue warnings about the likely impact of next week's EU Referendum vote.
With Brexit taking a lead in some polls, the Bank warns that Britain could enter a technical recession as sterling plunges.
It has cut is growth forecasts to 2% in 2016, 2.3% in 2017, and 2.3% in 2018.
On Thursday it is expected to announce interest rates will remain at 0.5%.
Inflation Forecast Higher Whatever the Referendum Outcome
Sterling meanwhile, continued to fall after a bad day on Monday as betting companies continued to slash the odds on Brexit. A YouGov poll for the Times gave Leave a 7% lead (46% versus 39%).
The implied probability of a vote to leave is now placed at 57% - down by 20 points on last week's figures.
Regardless of the vote, though, most experts are suggesting inflation could remain relatively subdued throughout most of the second half of this year before experiencing a rebound in 2017.
Paul Hollingsworth of Capital Economics suggested that either result would place an upward pressure on inflation.
"There are clearly risks on the horizon," he explained. "If the UK votes to leave the EU next week, we expect sterling to fall sharply, which would put significant upward pressure on inflation further ahead.
On the other hand, if the UK votes to remain, then sterling could recover a bit.
But the economy would probably get a post-referendum rebound too.
So whatever happens, we expect inflation to regain some momentum over the coming quarters, and should be closer to 1% around the turn of the year.
James Knightley at ING also said Brexit would over-shadow any reaction to these figures:
"Reaction is likely to be limited as Brexit is the far more important theme for central bank policy in the near term," he said.
"For what it is worth, if the UK stays in the EU, the growth outlook will look positive and we think headline inflation will be back towards 2% this time next year."
Overall, the battle to return inflation to 2% is likely to go on for the rest of this year.
Inflation may be just about in positive territory, but May's figures change little.
As with most financial data at the moment, these results struggled to gain attention against the growing fascination with the referendum.