Bank of England Interest Rate Cuts Are Coming
Above: Governor Andrew Bailey addresses broadcasters post-decision. Still courtesy of Bloomberg.
---
Markets and analysts alike have brought forward their expectations for interest rate cuts at the Bank of England following a decision by Threadneedle Street to keep rates unchanged on September 21, a development that explains the ongoing weakness in the Pound.
The Bank emphasised interest rates would be kept at elevated levels for a prolonged period, but it did not convince markets it stood ready to hike interest rates any further, which invited speculation on the timing of the first cut.
"The Bank of England has been clear that it won't be lowering rates any time soon. But in practice, we suspect we could see some initial cuts by the middle of next year," says James Smith, Developed Markets Economist at ING.
UK bank yields fell as markets raised bets for such interest rate cuts, in turn dragging the Pound lower.
Falling yields represent an easing in financial conditions, which would be counterproductive to the Bank's objective of bringing inflation down. Could Governor Bailey and other Monetary Policy Committee members row back on recent dovishness as a result?
---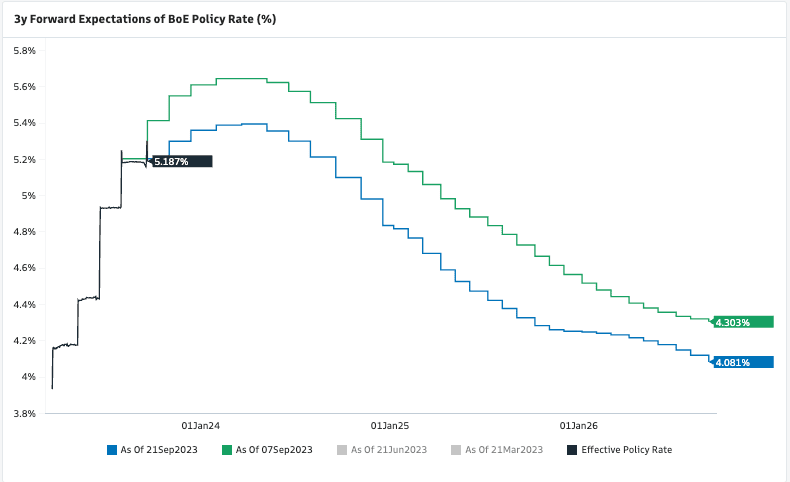 Above: Expectations for the path of Bank Rate have fallen notably in just two weeks. Image courtesy of Goldman Sachs.
---
The September decision was not followed by a press conference, but Bailey nevertheless felt he should speak to the press, appearing eager to push back against any prospect of rate cuts in the near future, something that could help explain the Pound's recovery from its earlier lows.
"We have not had any discussion on the Monetary Policy Committee about reducing rates because that would be very, very premature," he told a pool of broadcasters.
"We can't be complacent about this... our job is to get inflation back down to the 2% target and to sustain it there. So the job isn't done yet," he added.
The Federal Reserve has recognised the risks associated with prematurely easing financial conditions and has successfully deployed a strategy that aims to keep markets on notice for further hikes, even if it has effectively paused.
This strategy has successfully kept at bay expectations for U.S. rate cuts, maintaining tight financial conditions and supporting the Dollar.
Economists at Berenberg Bank say the Bank of England looks set to keep Bank Rate unchanged at 5.25% through Q4 2023 and Q1 2024 before the first cut comes in Q2 2024.
For end-2024 they project a 4.0% bank rate, implying 125bp of total cuts next year.
"Markets are likely to lower their bets for the path of bank rate early next year as economic weakness and a further fall in the pace of inflation forces the BoE to turn less hawkish and begin to lay the ground for rate cuts probably from spring onwards," says Kallum Pickering, Senior Economist at Berenberg.
The market for overnight index swaps (OIS) anticipates around 25bp in cuts in 2024, suggesting the potential for a significant repricing lower in the Pound, if Berenberg's predictions are correct.
Of course, from a currency perspective, what matters is whether this pace of rate cuts is matched, by other central banks.
ING's base case is that the Federal Reserve and European Central Bank will have begun cutting by that point too.
Bill Diviney, an economist at ABN AMRO, says although the UK will cut rates from spring 2024, the pace of cuts will likely be slow.
"The historically higher inflation expectations in the UK, combined with persistent labour shortages, means that it will likely take a prolonged period of economic weakness to fix the UK's inflation problem. As such, although we expect the BoE to start cutting rates from next May, the process of normalisation is likely to be slow-going," he says.
Should the pace of cuts be slower than elsewhere, the Pound can find itself supported.
ABN AMRO expects "only" three rate cuts next year, which Diviney reckons would leave Bank Rate still well into restrictive territory, at 4.5% by the end of 2024.
AXA Investment Managers says the Bank will keep interest rates on hold ahead of two 25bp cuts in 2024, one in August and another in November, bringing Bank Rate to 4.75% by end-2024.