Bank of England Is Done Hiking: Nomura, Goldman Sachs
Image © Adobe Images
---
Some major investment banks are now predicting the fall in UK inflation in August will be enough to convince the Bank of England it can pause its interest rate hiking cycle.
Names such as Nomura and Goldman Sachs have come out since it was reported headline inflation unexpectedly fell in August - as did all the key metrics the Bank of England watches - and said Bank Rate will be held at 5.25%.
"The August inflation print surprised meaningfully to the downside," says Sven Jari Stehn, an economist at Goldman Sachs, "we now expect the MPC to keep Bank Rate unchanged tomorrow and lower our forecast for the terminal policy rate to 5.25%."
Headline CPI inflation rose 6.7% year-on-year in August said the ONS, which was well under the 7.0% the market was expecting and below July's 6.8%. The month-on-month rise stood at 0.3%, which was less than half the expected 0.7%, albeit up on the -0.4% of July.
The Pound fell sharply as it was also revealed core inflation rose just 0.1% m/m, below the 0.6% expected and 0.3% in July. The y/y increase measured 6.2%, which is below the 6.8% expected and 6.9% of July.
"We have decided to change our call on tomorrow's BoE decision and now expect no change in rates," says George Buckley, an economist at Nomura. "Policy is restrictive and both the economy and now
inflation are responding. The time feels ripe for a pause."
---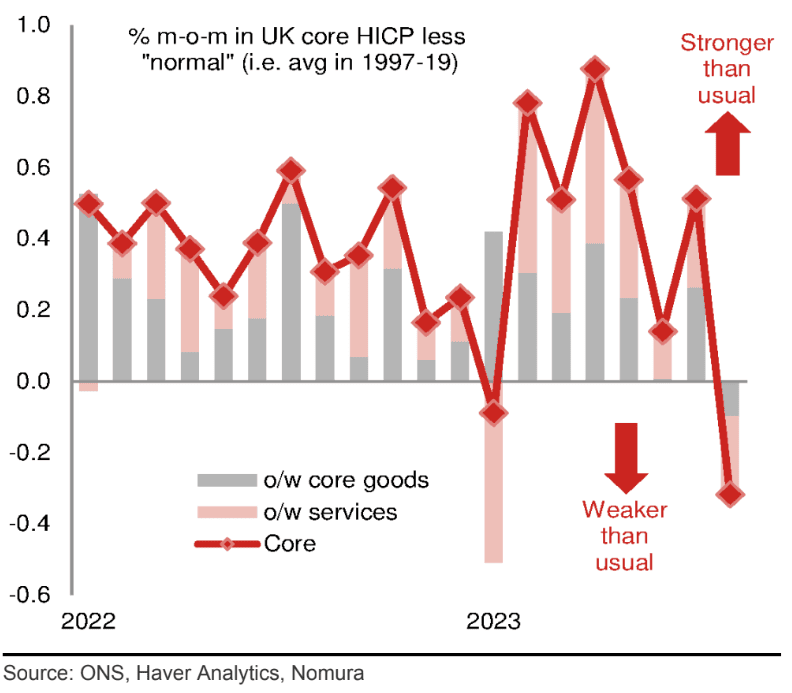 Above: "Excess core price momentum turns negative in August" - Nomura.
---
Services sector inflation slowed from 7.4% to 6.8%, something that will be particularly welcomed by the Bank of England given it has expressed concern over price rises in this particular section of the price basket.
"We have a significant slowing in the rate of inflation – and notably services inflation – relative to expectations, which presents a serious risk that the Bank of England ends up being stopped out tomorrow," says Buckley.
The Pound fell against the Euro, Dollar and other major currencies as market expectations adjusted notably to the inflation figures, with investors now seeing a roughly 50/50 chance of a hike, down from 80/20 ahead of the hike.
The risk for Pound Sterling is that the Bank says it is done with hikes but says it remains data-dependent concerning further hikes.
---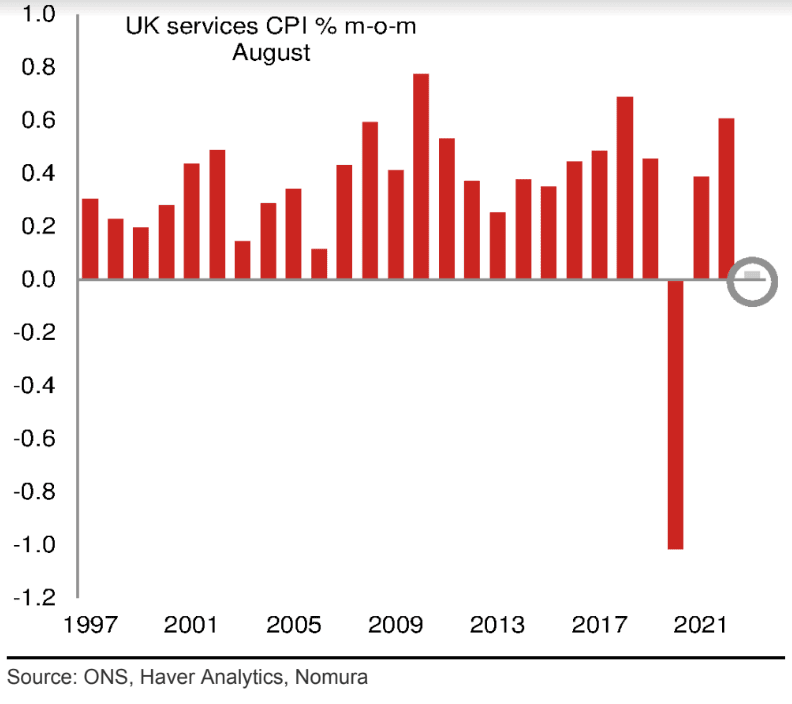 Above: "Service prices didn't rise in August – a weak outcome" - Nomura.
---
This would allow the market to bring forward expectations for rate cuts in 2024, which can result in further substantive weakening of the Pound.
"We continue to expect rate cuts only from the second half of 2024, though in the event that this new view proves correct and August was indeed the last hike we may have to bring forward our view of the first cut (currently November 2024) to an earlier meeting (August 2024, for example)," says Buckley.
Samuel Tombs, Chief UK Economist at Pantheon Macroeconomics, says the Bank will likely go with one further 25bp hike on Thursday, but the first rate cut will fall as early as May 2024.
This would place the cut well ahead of current expectations and implies material downside risks for the Pound.