Government Borrowing Lower than Expected in December thanks to Tax Intake Boost
Image © Adobe Images
UK government borrowing in December was less than expected, however the country remains on course to borrow more money this year than was the case last year.
Data from the ONS out midweek reveals UK Borrowing - defined as public sector net borrowing excluding public sector banks - in December 2019 was £4.8 billion, which is £0.2 billion less than in December 2018.
Public Sector Net Borrowing read at £4.04BN, which is below market expectations for a reading of £4.6BN.
The better-than-expected public finances were driven by UK tax receipts rising by 3.7% in December, whereas spending rose by 2.7%.
Central government receipts in December 2019 increased by £2.2BN (or 3.7%) to £62.2BN, compared with December 2018, while total central government expenditure increased by £1.7BN (or 2.7%) to £63.9BN.
As a result, central government borrowed £4.2BN in December 2019, a decrease of £0.4BN (or 8.9%) on the previous December.
The improvement in tax takings were driven by increases in National Insurance contributions (NICs) of £0.5BN, interest and dividends receipts of £0.3BN, and across many of the taxes on production (such as Value Added Tax (VAT), tobacco duty and stamp duty) totalling £1.1 billion.
While December might have seen borrowing come in below expectations, the UK is still on course to borrow more in this financial year than was the case in the previous year: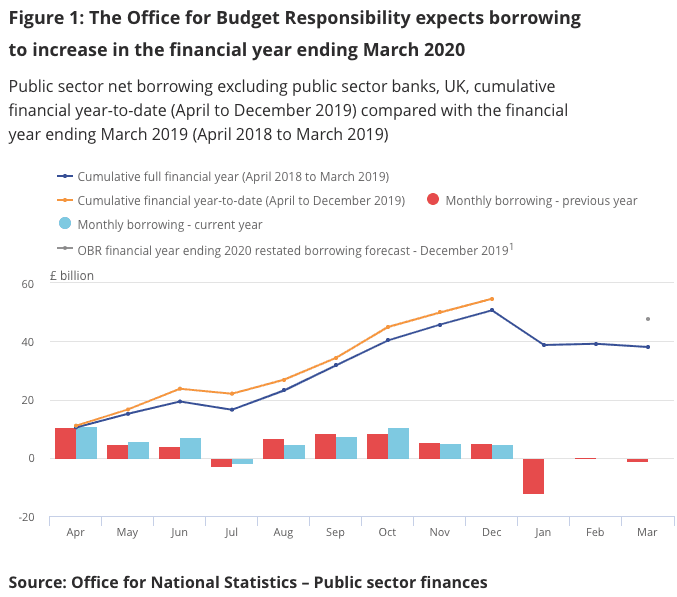 "This fiscal year the UK government has borrowed an extra £4 billion showing the scale of its fiscal boost so far. Total borrowed is £54.6 billion," says Shaun Richards, an independent economist.
However, despite the increase in spending relative to last year, Richards points out the UK's National Debt is falling in relative terms and is now 80.8% of GDP as opposed to 81.7% this time last year.
And, the cost of holding debt has actually decreased, with interest payments on the government's outstanding debt decreasing by £1.1BN, compared with December 2018. Changes in debt interest are largely a result of movements in the Retail Prices Index (RPI), to which index-linked bonds are pegged.
"The economy's sluggishness last year does not appear to have inflicted material damage on the public finances. Low borrowing this year, together will the new, looser fiscal rules set to be formally adopted by the Chancellor, will give Mr. Javid scope to set fiscal policy to stimulate the economy modestly in the Budget on March 11," says Samuel Tombs, Chief U.K. Economist at Pantheon Macroeconomics.
Featured Content
Mortgage Direct - a Spanish mortgage broker specialising in the provision of mortgages for expats - have confirmed they have secured their Spanish license.