Companies Stockpile Ahead of Brexit shows Manufacturing PMI Survey, IHS Markit's Dobson Warns of Looming Recession
Image © Adobe Stock
The first major economic release out of the UK this February disappointed against analyst expectations when the UK Manufacturing PMI read at 52.8, down from the 54.2 seen in the previous month.
Markets had expected a reading of 53.5. The impact of the reading on the value of Pound Sterling appears to be negligible, understandably so as the currency remains a function of the binary 'deal' or 'no deal' outcome to the Brexit impasse currently dogging UK politics.
According to IHS Markit, compilers of the PMI report, the manufacturing sector made a lacklustre start to 2019, as trends in output and new orders slowed and employment fell for only the second time in the past two-and-a-half years. IHS Markit also warn that the sector could be at risk of slipping into recession over coming weeks based on the evidence provided by January's survey.
The UK's PMI does however exceeded the Eurozone's, which fell to 50.5 in January, from 51.4 in December, a beat for the third consecutive month. However, it appears at this stage the outperformance is being driven by stockpiling.
Companies reported that Brexit preparations led to sharp rises in both purchasing activity and stockpiling of inputs at warehouses this January, mirroring a phenomenon reported in December. "Stocks of inputs increased at the sharpest pace in the 27-year history, as buying activity was stepped up to mitigate against potential supply-chain disruptions in coming months," says Rob Dobson, Director at IHS Markit.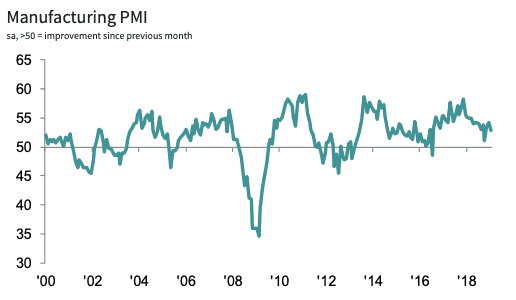 January saw a marked slowdown in the rate of expansion in new order inflows, companies reporting an increase in output mainly linked this to stock building activity.
"Component accumulation won't boost GDP, because manufacturers primarily are stockpiling imports. In theory, the stockpiling of goods by overseas businesses could provide a short-lived boost to manufacturing output," says Samuel Tombs, UK Economist at Pantheon Macroeconomics.
Brexit uncertainty, the exchange rate and signs of a European economic slowdown all weighed on sentiment.
"Despite the temporary boost provided by clients' prepurchases and efforts to build-up stocks, the underlying trends in output and new orders remained lacklustre at best," says Dobson.
The outlook for the UK manufacturing sector remained positive in January, with almost 46% of companies reporting they expect output to be higher one year from now.
Yet, Dobson warns that there are clear signs UK manufacturing could slip into recession over coming months:
"January also saw manufacturing jobs being cut for only the second time since mid-2016 as confidence about the outlook slipped to a 30-month low, often reflecting ongoing concerns about Brexit and signs of a European economic slowdown. With neither of these headwinds likely to abate in the near-term, there is a clear risk of manufacturing sliding into recession."
We therefore find Dobson's assessment, and the survey's findings for expected future output, to be at odds.