UK Trade Defict Widens in October as 2017's Gains Unwind
© Winterbilder, Adobe Stock
The UK trade in goods deficit widened further than was expected in October as imports continued to grow faster than exports, suggesting 'net trade' made little contribution to GDP at the beginning of the final quarter.
Britain's trade deficit widened to -£11.87 billion in October, from an upwardly-revised -£10.68 billion in September, when economists had looked for a deficit of -£10.5 billion.
Goods imports, which are a subtraction from GDP and add to a deficit, rose from £40.61 billion to £42.05 billion during the month. Meanwhile exports, which add to GDP and reduce trade deficits, rose only from £29.93 billion to £30.18 bilion.
That made the total trade deficit wider even after an improvement in the services surplus. Britain's goods and services deficit widened from -£2.33 billion to -£3.30 billion during the month, even after services exports rose faster than imports.
"Looking ahead, the slowdown in world trade likely will hit exports and imports in equal measure, while the recent decline in oil prices should reduce the monthly deficit by £0.4B," says Samuel Tombs, chief UK economist at Pantheon Macroeconomics.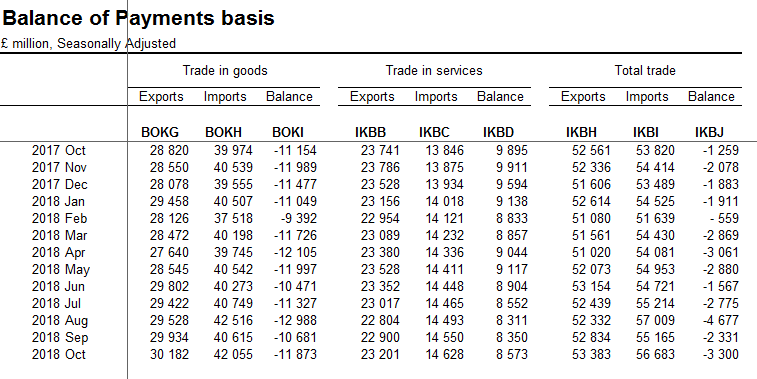 Above: Office for National Statistics graph showing UK's monthly trade balance.
Trade balance data measures the difference in value between a nation's imports and its exports. Currency markets care about it because the data provides insight into supply and demand of a currency in the "real economy", while also giving a steer on the likely pace of GDP growth in a given period.
A narrowing deficit suggests either that exports and their associated demand for a currency are rising, or that imports and their associated supply of a currency are falling. Both are typically good for a currency while a steadily narrowing trade surplus, or a widening deficit, is a negative influence.
The size and trajectory of a trade surplus or deficit is important for economic growth because imports are a subtraction in the calculation of GDP, while exports represent a credit to the value of economic output. As a result, rising exports and, or, falling imports can help boost the economy.
On a quarterly basis, the UK's trade in goods as well as total trade deficit also widened too, partly due to unfavourable revisions to earlier data by the Office for National Statistics.
Britain's trade deficit widened to -£34.99 billion in the third quarter, after imports rose by more than £3 billion and exports failed to keep pace.
Above: UK quarterly trade in goods as well as trade in goods and services balances.
Hopes were high for the export sector in the wake of the June 2016 Brexit referendum given this brought about a double-digit depreciation in the value of Sterling, which made British goods cheaper for overseas customers to buy.
However, and although the UK's manufacturing sector has since enjoyed its longest run of unbroken growth since 1988, the trade sector overall has failed to capitalise on the depreciation.
Some economists say exporters failed to reduce foreign currency prices, while others have blamed the referendum itself for deterring foreign custom.
Regardless of the reasons, the boat for a sustained trade pickup in the UK now appears to have sailed.
"The average level of goods and services export volumes in the first nine months of this year was revised down by 2.0%. At best, the trend in export volumes now looks flat. Revisions to import volumes were modest, so the average level of the nominal trade deficit in the first nine months of 2018 was revised to £2.6B, from £1.4B previously," says Pantheon's Tombs.
The UK's total goods and services trade deficit narrowed sharply in 2017, from -£30.88 billion to -£24.43 billion. The economy had looked as if it were on course to see the deficit narrow again, but revisions to earlier 2018 numbers that were published by the ONS on Monday have now put that idea to rest.
"The average level of the nominal trade deficit in the first nine months of 2018 was revised to £2.6B, from £1.4B previously," says Pantheon's Tombs. "The deficit, therefore, has widened since 2017, when it averaged £2.0B."
Above: UK's annual goods, as well as goods and services, trade balances.
Advertisement




Bank-beating exchange rates. Get up to 5% more foreign exchange by using a specialist provider to get closer to the real market rate and avoid the gaping spreads charged by your bank when providing currency. Learn more

here