The Global Economy is Headed for a "Reasonably Sharp" Slowdown says Capital Economics
© Adobe Images
The global economy is headed toward a "reasonably sharp" slowdown over coming years as activity is stymied not long after the U.K. will have left the European Union, according to Capital Economics.
There will not be a singular cause behind the downturn, the consultancy says, but a series of factors that collude together to send global growth tumbling.
This stands in contrast to the market consensus as well as estimates from the likes of the International Monetary Fund (IMF), both of which suggest the global economy will expand at similar rates to that seen in 2017 during coming years.
"It's rare for economic downturns to be caused by a single factor – most tend to have their roots in several different areas. Chart 2 shows our assessment of the factors that have contributed to recessions in the G7 economies since 1960. Monetary policy tightening contributed in a majority of cases – 29 out of 45," says Neil Shearing, group chief economist at Capital Economics, in a recent blog post. "The downturn in our forecast is no different."
Above: Capital Economics graph detailing causes of recessions in G7.
The global economy grew by 3.7% during 2017 according to IMF data, its fastest since the Eurozone debt crisis of 2011-12, after a series of strong performances by economies in Europe and Asia that took many by surprise.
IMF officials were hopeful in January that 2018 would be an even better year. But that was before President Donald Trump's so called trade war with China and the interest rate policy of the Federal Reserve (Fed) began to bite.
"While a trade war has the potential to inflict substantial damage on the world economy, it would require a significant escalation from the measures seen so far for it to be the trigger of the next global downturn. Instead, the slowdown in our forecast is led by the world's two largest economies – the US and China," Shearing says.
President Trump's imposition of tariffs on more than £250 billion of China's annual exports to the U.S. have already seen growth in the world's second largest economy begin to slow, while raising consumer prices at home.
The trade war could easily escalate again once into 2019 but despite this, and other headwinds, Shearing says central banks in the U.S. and China are more important for the outlook than the tariff fight between the two.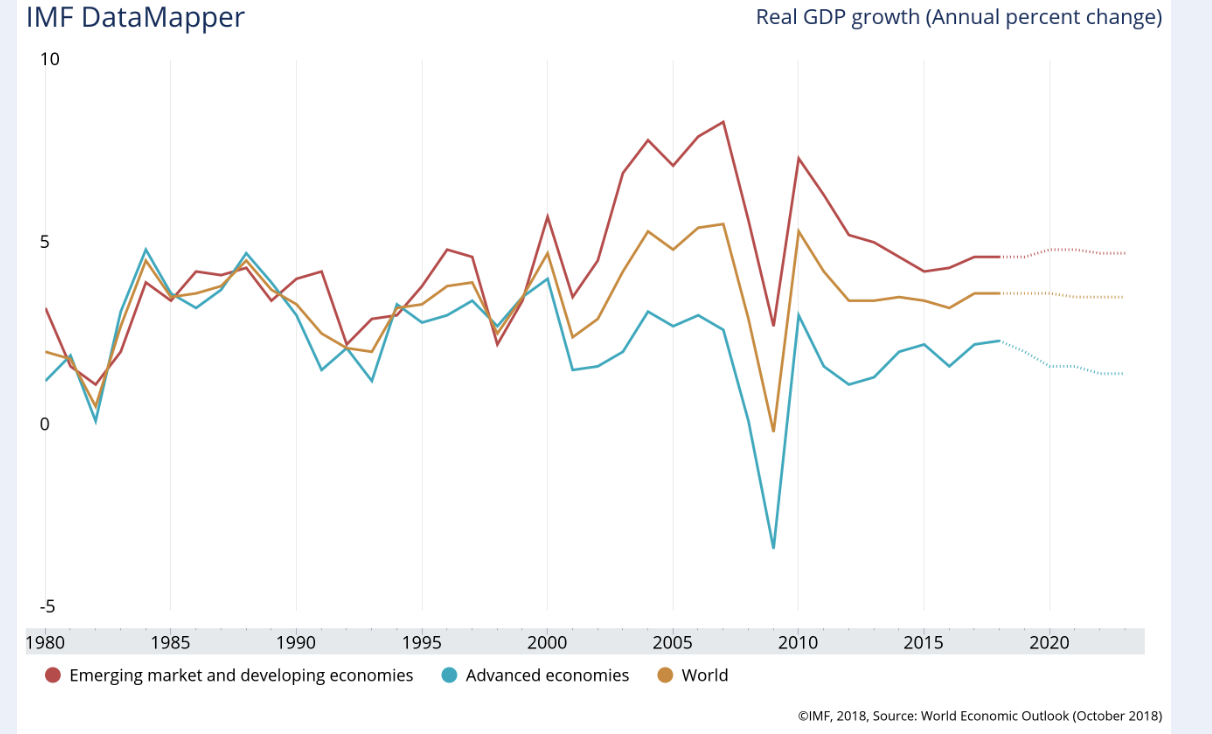 Above: IMF graph showing global economic growth (orange) over recent decades.
The Fed has raised interest rates eight times, to 2.25%, since the end of 2015. This lifted borrowing costs the world over and drained capital from riskier markets, particularly emerging markets, where growth is now slowing.
"In the US, we expect the downturn to be caused by old-fashioned monetary tightening. Real interest rates have already risen by 2%-pts since 2015," Shearing writes. "History suggests that it is the change rather than the level of real interest rates that may be more important."
Shearing says there are only four occassions where real interest rates have risen as steeply as they have done in recent years, and that on three of those occassions, the Fed's policy has sent the U.S. economy into recession.
He also flags that U.S. growth will slow automatically in 2019 as the effect of President Trump's tax cut fades. This will compound the effect of any interest rate-driven slowdown.
Above: Capital Economics forecast for global economic growth.
Meanwhile, the Chinese economy is slowing and the People's Bank of China's response to the slowdown may prove inadequate if Shearing is right when he says growth is slowing faster than official data give credit for.
Capital Economics forecasts that Chinese growth will slow to around 4% on an annualised basis in 2019, down from the 6.5% annualised growth reported by Chinese officials for the third quarter.
"Policy tightening is also behind the slowdown in China, which we believe is already well underway," Shearing writes. "Our China Activity Proxy, which we believe provides a better indication of the health of the economy, shows that growth has already slowed from around 6% a year ago to 5% now."
With both the world's largest economies, accounting for some 30% of global GDP between them, set to cool in 2019 an all-out global slowdown is unlikely to be far behind the downturn in the U.S. and China.
If forecasts are proven correct, then this slowdown will take place just after the U.K. departs the European Union in March 2019, which was already a task that many economists have feared will prove a headwind for growth in the U.K.
Advertisement




Bank-beating exchange rates! Get up to 5% more foreign exchange by using a specialist provider to get closer to the real market rate and avoid the gaping spreads charged by your bank when providing currency. Learn more

here