The Swiss Franc Could be Changing Trend
Image © Adobe Stock
- Signs build of a reversal in the trend for the Franc, especially versus Pound
- Weakening comes after Italian and Brexit risks diminish
- Scope for a move up to 50-day MA in mid 1.28s for GBP/CHF
The Swiss Franc has turned decidedly lower this week and our studies suggest further losses are in the pipeline.
The fundamental driver in the currency's about-turn appears to be improved sentiment on the back of comments from Italy's finance minister that he will not exceed the EU's budgetary rules and EU chief negotiator Michel Barnier said he thought a Brexit deal was close to being agreed.
With two major sources of risk now off the table the Franc, which is a safe-haven currency, and strengthens on bad news, actually fell on the good news.
"With easing concerns over a no-deal Brexit following the EU's Barnier's remarks and reports of the U.S. and the E.U. having constructive trade talks, which could be finalized in November, the CHF failed to find demand as a safe-haven on Monday," says Eren Sengezer, a correspondent for FXstreet.
Italy Economy Minister Giovanni Tria said on Sunday that the coalition will respect EU fiscal rules, and more progressive policies would only be introduced "gradually".
The policy mix would include an unusual mix of welfare and tax cuts which would be expected to worsen the deficit rather than narrow it.
"The programmes include both a new welfare tool advocated by the Five Star Movement and tax cuts promoted by the League," says a note from brokers Actionforex.
Economy minister Tria also acknowledged the need to bring down the 130% debt to GDP ratio. A reduction "may bring about a strengthening and consolidation of Italy's presence on financial markets, which will free up resources and attract investments."
Tria said there was no point in increasing the deficit as this would make borrowing more expensive because it would weaken investor's perception of the economy.
"It makes no sense to seek two or three billion euros of extra deficit if we then have to pay three or four billion more due to higher yields," says Tria. "As the government puts words into actions, the (bond yield) spread will return to more normal levels."
The more positive Italian new led to a narrowing in the spread between German and Italian yields.
At the time of writing, 10 year Italian yield is down -0.0972 at 2.947, back below the 3.000 handle.
And markets will be fully aware that the Franc's reaction to stabilisation in Italy will be welcomed by authorities in Bern.
The Swiss Franc has risen to what are likely to be uncomfortably high levels for the Swiss National Bank (SNB) amidst a period of appreciation following the Turkish currency and debt crisis and recent comments from the bank suggest it this is already having an effect on its monetary policy.
The SNB has a reputation for frequently intervening in currency markets to weaken the Franc, but more recently it appears to have allowed the currency free reign according to site deposit data, which tracks changes in its FX reserves.
Yet the neutral stance could be changing, particularly if recent commentary from SNB vice chairman Fritz Zurbruegg is anything to go by.
Zurbruegg said back in August that the SNB had to retain its ultra-loose monetary stance as a buffer against the currency's appreciation.
It is possible the strong depreciation of the Franc on Monday could be as a result of intervention by the SNB although until site deposit data is known for the period covering the fall, we will not know whether it is for sure.
A more active SNB to put a new ceiling on the Franc at 0.9650 USD/CHF, 1.1200 EUR/CHF and 1.2500 GBP/CHF, which the SNB may defend on future occasions.
Turning Trends
GBP/CHF is showing a strong spike higher which strongly suggests the medium-term trend may be changing - new uptrends often start with long updays such as these but mere corrections rarely do.
If Tuesday ends with a strong close that will add further confirmation of a trend change by forming a three white soldiers bullish Japanese candlestick pattern.
RSI momentum is also supportive after rising to a level where it was when the exchange rate was above 1.30 and this also indicates further upside on the horizon.
The 50-day MA at 1.2847 is likely to provide the next upside target for the pair as major MA's often act as tough obstacles and have the potential to reject the trend.
"Promising developments in Brexit negotiations and a delayed reaction to the recent steep retreat in Italy's yields has inspired a sharp move higher in GBP/CHF and there is considerable further room to run to the upside if a Brexit deal materializes after the brutal 10% move lower from the top earlier this year. Tactically, however, sterling could be in for a rough ride on further headline risk indicating the progress toward a deal is in doubt," says John J Hardy, Head of FX Strategy at Saxo Bank.
The EUR/CHF also shot up from the 1.1200 lows and is currently trading at 1.1318. Again a strong spike higher on Monday lays the groundwork for a reversal in the trend, although gains were more modest than with GBP/CHF so provide a weaker signal.
The next upside target for EUR/CHF will probably be at 1.1450 at the level of the August 28 highs and just below the 50-day MA.
Momentum is also strong and commensurate with gains of that magnitude.
USD/CHF has seen two strong up-days and reached the level of the 200-day MA at 0.9744. Since then it has pulled-back down to the 0.9730s and is consolidating. The MA is a major obstacle in the way of further gains and could even lead to a deeper pull-back.
A break above the 0.9760 highs would probably confirm a continuation higher.
Such a move could lead to an extension up to a target in the 0.9850s.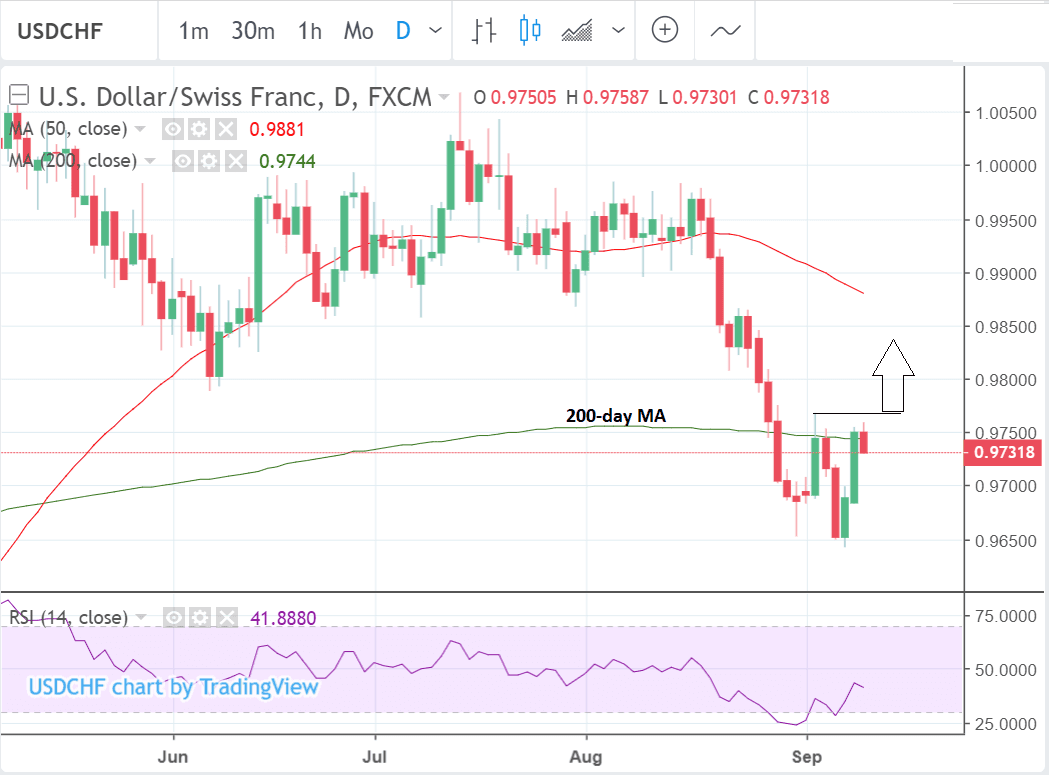 Advertisement


Get up to 5% more foreign exchange for international payments by using a specialist provider to get closer to the real market rate and avoid the gaping spreads charged by your bank when providing currency. Learn more here