Canadian Dollar Forecasts Downgraded at J.P. Morgan as Trudeau and Trump Trade Barbs
-CAD falls broadly as Trudeau-Trump spat escalates.
-J.P Morgan cuts CAD forecasts on souring trade outlook.
-USD/CAD and GBP/CAD to hold elevated levels till year-end.
The Chase Tower, New York © Kristen Cavanaugh, Flickr
The Canadian Dollar fell broadly Monday as markets contemplated the implications of a worsening spat between President Donald Trump and Prime Minister Justin Trudeau and, according to the latest forecasts from J.P. Morgan, the currency could remain under pressure through the rest of 2018.
A fast-souring outlook for Canada's trade relations with the United States prompted J.P Morgan strategists to cut their Canadian Dollar forecasts last week, in their latest "Key Currency Views" briefing, and also drove the Loonie lower on Monday.
This is after the latest so called G7 summit concluded Saturday with President Trump refusing to sign the customary declaration at the end, which would have committed the US to "free and mutually beneficial" trade as well as fighting "protectionism".
A press conference at the end of the summit, in which Prime Minister Trudeau made several statements relating to the US-Canada trade relationship, also prompted a slew of angry tweets from the US President.
PM Justin Trudeau of Canada acted so meek and mild during our @G7 meetings only to give a news conference after I left saying that, "US Tariffs were kind of insulting" and he "will not be pushed around." Very dishonest & weak. Our Tariffs are in response to his of 270% on dairy!

— Donald J. Trump (@realDonaldTrump) 9 June 2018
Fair Trade is now to be called Fool Trade if it is not Reciprocal. According to a Canada release, they make almost 100 Billion Dollars in Trade with U.S. (guess they were bragging and got caught!). Minimum is 17B. Tax Dairy from us at 270%. Then Justin acts hurt when called out!

— Donald J. Trump (@realDonaldTrump) 11 June 2018
The spat comes amid efforst to renegotiate the North American Free Trade Agreement, which have been ongoing for close to a year but are yet to yield any form of progress.
Securing a new deal is important for Canada and the Loonie because some analysts have estimated the currency could fall as much as 20% if the White House goes for the nuclear option and announces a US withdrawal from the agreement. This would set the clock ticking on a six month termination period.
"So two things can happen on NAFTA. We'll either leave it the way it is, as a threesome deal with Canada and with the United States and Mexico, and change it very substantially — we're talking about very big changes. Or we're going to make a deal directly with Canada and directly with Mexico," President Trump told reporters at the G7 summit on Friday.
President Donald Trump's combative approach toward nations with which the US has a perceived unfair trade relationship has placed markets on edge in recent months, particularly after the White House targeted China, the EU, Canada and Mexico with a series of tariffs that have prompted fears of a so called trade war.
The US and China are now in negotiations designed to reduce the bilateral trade deficit between the two countries, results from which President Trump has applauded on social media, even as the relationship with Canada becomes more rancorous.
China has agreed to buy massive amounts of ADDITIONAL Farm/Agricultural Products - would be one of the best things to happen to our farmers in many years!

— Donald J. Trump (@realDonaldTrump) 21 May 2018
"We have revised our CAD forecasts weaker in light of a more hostile trade policy environment, which may last through US mid-terms, and some supplybottleneck renewed downside risk in crude prices," says Daniel Hui, an FX strategist at J.P. Morgan. "We expect USD/CAD now to remain at 1.30 (prior forecast 1.25), the high end of the range seen recently, before moving back towards the middle of the range around the turn of the year."
Above: USD/CAD rate shown at daily intervals.
Back in May both markets and negotiators were hopeful that a "deal in principle" could be reached to radically alter but still save the NAFTA agreement. But since then an absence of progress in talks has seen the White House decline to extend an earlier exemption for Canada and Mexico from new steel and aluminium tariffs, leading markets to become more pessimistic about the prospect of a deal being reached.
"Revised forecasts now assume trade tension will remain elevated into US mid-term elections in November, that as a baseline, there is no NoFTA US pull-out, and a successful NAFTA 2.0 achievement is still possible and will come in 1H19," Hui adds.
Now, J.P. Morgan strategists expect the looming US midterms, which take place in November, to stymy progress in the negotiations until January 2019. However, the July 01 Mexican Presidential election also presents a threat to the talks and NAFTA more broadly.
This election threatens to seat frontrunner Andres Manuel Lopez Obrador, who has accused the incumbent President of "selling out the country" due to his soft stance in the talks, at the negotiating table. Obrador's rhetoric on the campaign trail suggests Mexico's stance toward the US may harden during the coming months, raising the spectre of the US simply withdrawing from the deal.
"Our primary framework for forecasting USD/CAD in 2018 was one in which the Fed and BoC hiking rates in parallel would keep rate spreads roughly sideways, and would thus impose a bounded side range for USD/CAD," says Hui."This is the main driver for our expectations that USD/CAD move back towards the middle of this year's recent range."
Hui and the J.P. Morgan team say the Bank of Canada is likely to raise interest rates again in July, marking the fourth rate hike in the last 12 months. This and other forthcoming rate hikes should prevent the Canadian Dollar from losing too much ground to the US greenback and other currencies, although ongoing uncertainties over trade with the US will also prevent the Loonie from making any meaningful gains.
They predict the USD/CAD rate will remain close to 1.30 until the end of September before declining gradually to 1.27 in time for year-end. This is expected to help keep the Pound-to-Canadian-Dollar rate steady around 1.74 until the end of September, with the GBP/CAD rate set to decline toward the 1.72 threshold in time for year-end.
The USD/CAD rate was quoted 0.62% higher at 1.3001 during noon trading Monday while the Pound-to-Canadian-Dollar rate was 0.56% higher at 1.7405.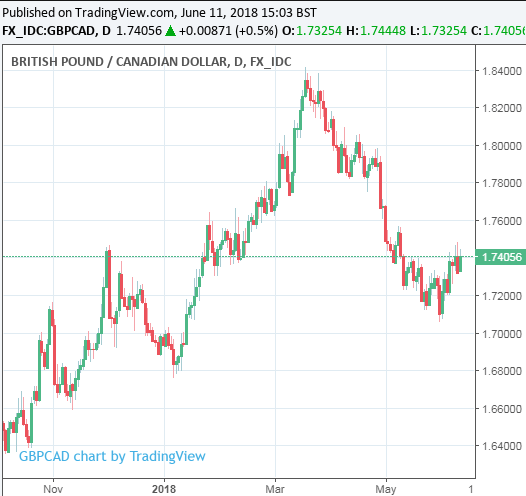 Above: Pound-to-Canadian-Dollar rate shown at daily intervals.
Advertisement




Get up to 5% more foreign exchange by using a specialist provider to get closer to the real market rate and avoid the gaping spreads charged by your bank when providing currency. Learn more

here