GBP v CAD Outlook Improves Amidst Broader Canadian Dollar Correction Lower
Analysts are taking a sombre view of the Canadian Dollar as the dust settles following its recent rally.
The currency rose at the start of the summer after the Bank of Canada (BoC) surprised markets by suddenly raising interest rates in reaction to steady economic growth and rising house prices which have some corners of society concerned as to whether a bubble in the sector might be brewing.
The path forward for CAD now largely depends on how soon further interest rate rises are delivered.
Future rate hikes will be more gradual, says Commerzbank's Antje Praefcke, in a briefing to clients in which he warns the Canadian currency might be due a retracement lower.
Praefcke suggests the BoC might be cautious on future rate rises as the economy is seen to be more "sensitive to higher interest rates" due to the large amount of debt accumulated during the lengthy period of low interest rates prior to the hike, which made borrowing very cheap.
Praefcke also cites persistently low wage growth and the BoC's aversion to an expensive currency as two other factors stalling further rate hikes.
Higher interest rates attract increased inflows of foreign capital, thus strengthening the currency, however, the BoC may not welcome this.
"The BoC will surely not welcome an excessive appreciation, because it could jeopardise the central bank's courageous inflation outlook. Moreover, it would weigh on the already diminished competitiveness of Canada's companies and exports," says Praefcke.
The BoC may also be keeping an eye on inflation, which is actually falling, and although they put this down to "temporary factors" , it is, nevertheless, a further potential reason for the Bank to operate with caution.
Pound to Canadian Dollar Rate Outlook: More Upside?
The long and the short of it is that Commerzbank forecast the CAD to correct, and indeed it appears to be doing just that.
Supporting this view is Scotiabank's FX strategist Shaun Osborne, who has now turned neutral-bullish GBP/CAD, for technical reasons.
"GBP/CAD continues to trace out a more constructive look to the short- and medium-term charts," says the analyst.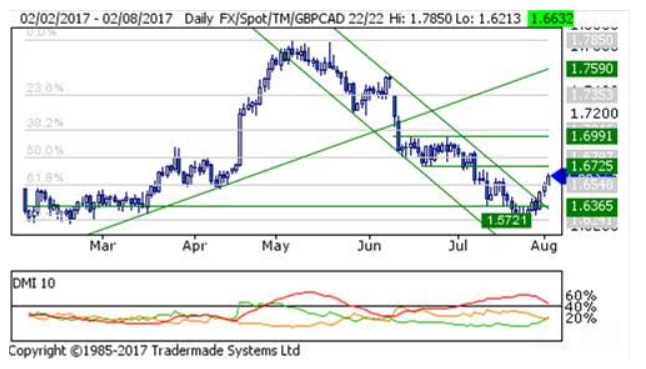 He sees gains going all the way up to, "retest the base of the June consolidation at least (1.6725)."
The pair could be establishing a solid base from which to rally, says Osborne, particularly if this week ends strongly, as this will form a bullish Japanese candlestick pattern on the weekly chart.
"A high close on the week (potentially the third leg of a bullish, weekly "morning star") would suggest a more important base is developing. There is not much in terms of evident resistance until 1.6725 on the daily chart. We see minor support now at 1.6450/60. Neutral here for now but leaning bullish," concluded the Scotiabank analyst.
Get up to 5% more foreign exchange by using a specialist provider. Get closer to the real market rate and avoid the gaping spreads charged by your bank for international payments. Learn more here.